by Josh Cahill
It's the final call at Gate 412 for flight TA635 to Tripoli. I have a whole bench to myself. I'm stretching my legs, and lean back overlooking the busy runway. I'm fairly tired. The airport seems very busy. It is a Thursday night and I still have a few hours to kill before I board my flight to Cairo, Egypt.
Suddenly I got disturbed by a guy who ran past me, his backpack almost hitting my face. He must have been late for his flight I guess. He was, and unfortunately the gate was already closed. They wouldn't let him board anymore, and even though the aircraft was still there he wouldn't be getting the on that flight. He took a seat just next to me. He seemed quite disappointed, and I didn't bother talking to him.
After a few minutes he decided to leave, leaving his sunglasses behind. I shouted after him and said, "Hey man, your sunglasses!". He looked at me, came back and grabbed his sunnies. He walked off without a single word of gratitude. Well, what could he say, he just missed his flight back to Libya. Maybe he shouldn't have been disappointed, wasn't it still considered a warzone? Well, wasn't Cairo too? Only four weeks ago 240 protesters died in just one day. Was Cairo safe? Do I need to worry? Well, that's why I was sitting here at Atatürk Aiport in Istanbul ready to board my flight to Egypt, ready to find out the answer to that question.
As a frequent flier, I usually book my trips on JustFly (great fares) or Momondo (best for Business Class tickets) for the best deals on the internet.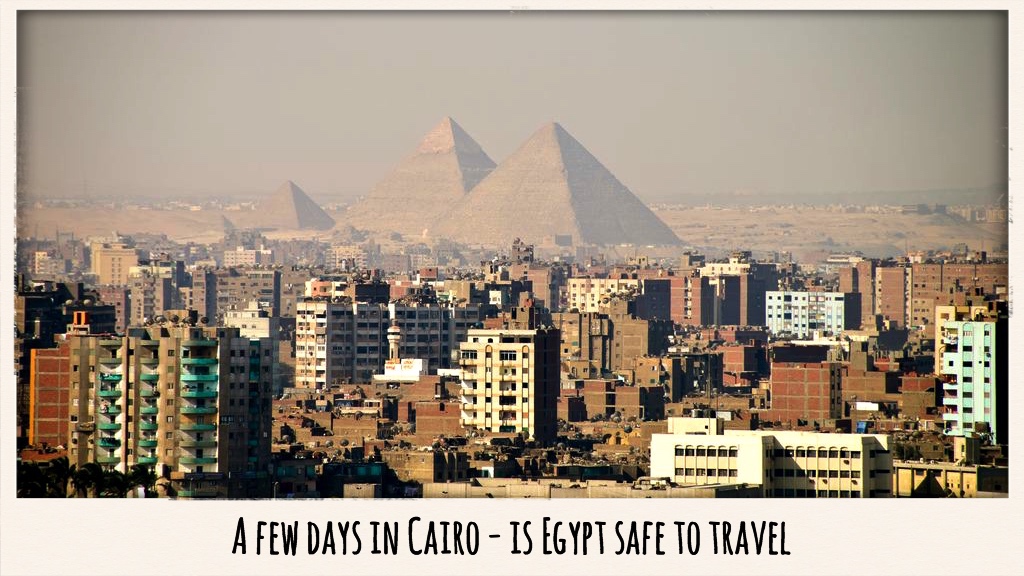 - Cairo Airport, Immigration Officers and visa issues -
When I got on the plane there were two things I noticed straight away. Surprisingly, the Turkish Airline flight was full. To be honest, I wasn't expecting that many people on the flight. Well, it kinda made me happy to see that. But the second thing was, I was the only Westerner on board.

Indeed, tourism to Egypt has declined in the past three years. In 2010, a year before the Arab Spring occured in Egypt the country recorded 14 million foreign tourist arrivals. Currently, by the end of 2013 only five million tourists found their way to the land of the pyramids and Pharaohs. It seemed that the Sphinx, Rameses and Cleopatra remained in hibernation.

The aircraft touched down at Cairo International Airport. After Johannesburg, it is the second busiest airport in Africa. My flight was great and Turkish Airline proved itself once again as Europe's best airline. I reached for my bag and walked my way towards Immigration, already facing my first problem. In order to enter Egypt you have to purchase a visa before you proceed to an Immigration Officer which costs USD$15. Unfortunately the cash machine at Immigration was out of order.

Mhhhhh...what was I gonna do now? I decided to join the queue without a visa, what else was I supposed to do? I was standing in front of the Immigration Officer and explained the situation. He seemed pretty relaxed and told me to leave my passport with him and to find a cash machine in the arrival hall. So I did and after withdrawing some cash I went back to get my visa stamped. "Congratulations" he said with a smile on his face, "Welcome to Egypt".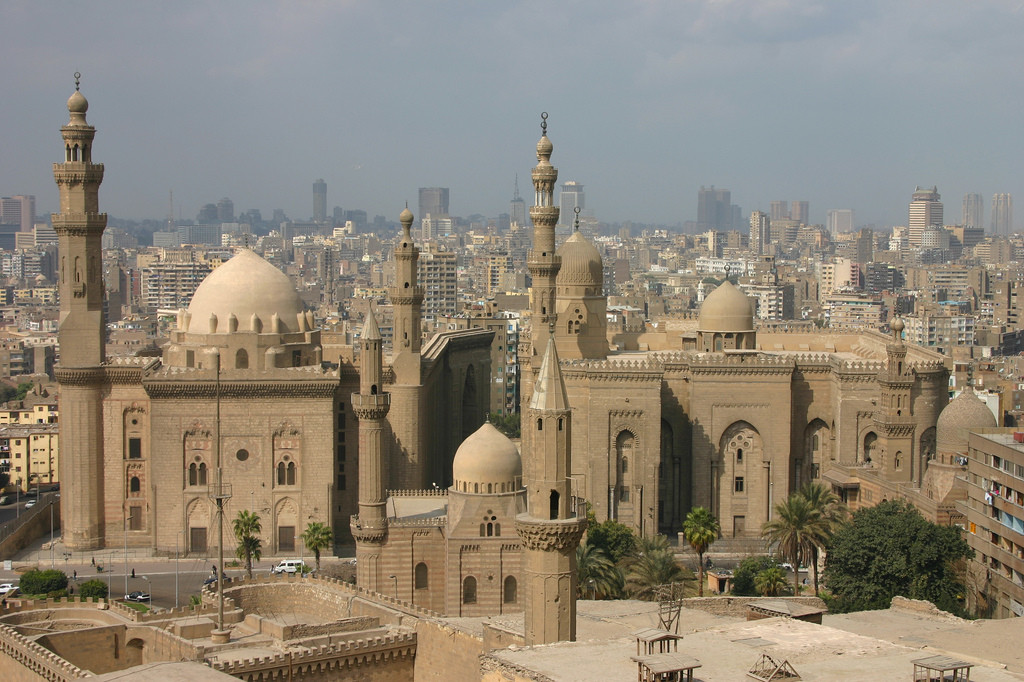 - Cairo by night, whiskey and taxi madness -
Do you know that feeling of walking out of the airport doors and inhaling that first scent of a new country? It's truly magical, and have you noticed that just about every country smells different? I remember when I first landed in Perth, Australia. The rising sun was just painted over the horizion in a beautiful orange and the air was super fresh.

I stepped outside the doors of Cairo Airport and a hundred taxi drivers threw themselves at me. I'd never felt that wanted in my life, well maybe in high school but this time my admirers definitely had more facial hair than back then. This is something you need to be prepared for, as the further you go more taxi drivers will join the mob. Cool, there was no official taxi line or anything that looked organized.

I was trying to take advantage of the situation and decided to sell myself to the best offer like a pig on the market. It worked well and from 200 pounds in the beginning I got the boys down to 75 Egyptian Pounds. How much is a taxi from Cairo Airport to the city? Well, later then someone told me that tourists easily agree to a rate between 100-150 pounds. I considered myself a winner of the taxi driver madness.

Off we went, and the next stop was downtown Cairo. The drive was pretty easy, not much traffic, just the usual very common kamikaze driving style, but I spent enough time in Tehran, India or Bangkok to remain totally calm. Nothing in the city really indicated of any riots or protests. Even Tahrir Square was open to the public and a couple of police officers killed their time there.

My taxi dropped me right at Talaat Harb Square, a few hundred meters off Tahrir Square. I had a reservation at the Hotel Grand Royal, a hotel located on the 6th floor for just $40 a night, which was quite a good deal for such a big room with a balcony, a modern bathroom and a big bed. I entered the building and took the elevator. The floors in between seemed abandoned.

A typical "ping" sound and there I was, right in front of the receptionist. Saeed, that was his name, greeted me with a big smile. He offered me a seat and served me a glass of scotch, on the rocks of course. He asked me where I was from and lit himself a cigarette,  and so did I. We had a great chat and it kinda felt like a time travel back to the days when you could smoke in the hotel lobby with a glass of brandy in your hand. What a Danny Archer moment that was.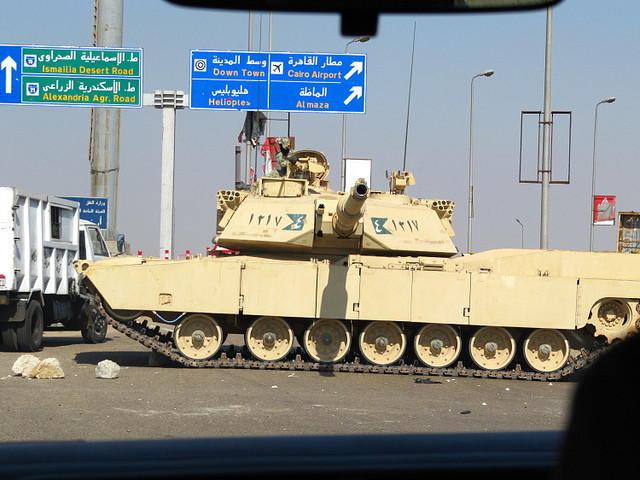 - Tea, tanks and road blocks -
It was Friday morning and I woke up to the sound of the A/C clacking. The sun was shining onto my face. I had a little breakfast before I decided to go for a stroll to Tahrir Square. It was prayer day. The revolution started on a Friday. Just right here, a hundred meters away. The biggest demonstration our planet had ever seen, it all started here. It was the end of Hosni Mubarak and the beginning of a new age, a first attempt at democracy. It lasted until July 2013, when the first democratically elected President of Egypt Mohamed Morsi was arrested, on a Friday...

The elevator took me down to ground level again. I went outside and noticed that something wasn't right. There were no cars and very few people on the street. Weren't we right in the city? I walked a little further and turned on the street leading to Tahrir Square. Now I knew why there wasn't any traffic, because tanks had blocked the street off. I walked towards the road block to talk to the soldiers, and they told me that the square would be closed for the next two days.

The Muslim Brotherhood had announced heavy protests for the weekend and the public holiday on Sunday and therefore Tahrir Square would remain closed for the next two days. I decided to walk back to my hotel and in the lobby I was introduced to Hussein, the General Manager. He offered me some tea and we had a very interesting chat about the current situation in Egypt. "What can be the solution?" I asked and he replied, saying "The Egyptian people would love to see the Army Chief Abdel Fattah el-Sisi to step down from his position and run as President at the next elections. He is a good man", Hussein said, and could lead the country out of crisis.
- Turmoil, tear gas and Police -
I packed my bags and in the meantime Saeed organised a taxi for me. Before I got to Cairo I was looking for a hotel to sponsor my stay and the Four Seasons at Nile Plaza gladly welcomed me. The taxi driver had to drive in a big circle around the inner city due to the roadblocks. I was welcomed with a huge smile at reception when I arrived. After I was handed my room keys, I went straight to the room to witness the first protest of my trip. A bunch of Muslim Brotherhood supporters had gathered on the street in front of the hotel facing the police, who were already lined up to control the crowd.
The police shot into the crowd with tear gas and some protesters responded with large stones. Nothing major, most of the people disappeared and the street slowly filled itself with cars and normal traffic took over again. It was like a little play, nothing too dramatic, more a little warm up for the upcoming public holiday. It was the 40th anniversary of the Yom Kippur War, when Egyptian and Syrian forces tried to regain some territory in the Sinai Peninsula, which was occupied by Israeli forces. Other than that, the city seemed quiet. I enjoyed the beautiful view of the Nile river and organised a tour to Giza for the next day. Let's see how that would turn out.
- A day trip to the pyramids in Giza -
My first night at the Four Seasons was really refreshing and I was ready to go for a little day trip to a place I've always wanted to go, the pyramids of Giza. One advantage of the crisis in Egypt are the good prices you get for every kind of tour you like to take. A driver would pick me up, take me all the way to pyramids of Giza and Saqqara and after a half a day he would drop back at the hotel, for just $15.

An older Egyptian man, whose name was Bob was very excited to meet me. He welcomed me with a firm handshake. On our way to Giza, he asked me for five Egyptian minutes to give me a little induction to our tour. He also mentioned the very difficult situation in his country. I was only the second customer this month. Back in the days he said he had 2-3 tours a day. These days he is happy if he gets at least one customer a month.

We drove through the suburbs of Cairo, and it does make you understand a lot. The living standard is fairly low. You see a lot of unfinished apartment buildings, some even without any windows. A sheet just covers the whole building. But all the buildings are occupied. People live in those buildings. Many of them took to the streets to demonstrate for a better life, for more possibilities but Egypt seems to stand still, it doesn't seem to go anywhere.

We continued our journey and I could see the peaks of the pyramids. It made me very excited that another dream was about to come true. We arrived in Giza and Bob dropped me at a friend's place. He offered me a camel tour for 1000 Egyptian pounds. Since I don't really like camels and I assumed that I was the only customer he had today I was able to haggle him down to 600. I guess that was enough.

There I was, on a stinky and very grumpy camel. There is nothing worse than riding one, I can vouch for that. Our first stop was a little mountain a bit off to the right of the pyramids. From there I enjoyed a majestic view and took a few photos. I tried every position. Jumping, the classic 'put your fingers on the tip of the pyramids' ones and of course a few topless shots too...just kidding.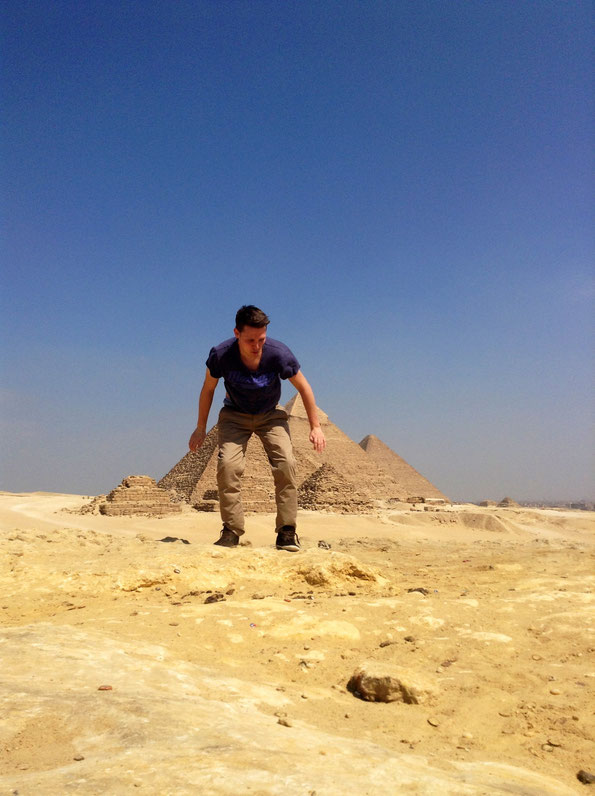 It is one of the most beautiful places you can visit on Earth, no doubt. But while I was wandering around I noticed something very interesting. There was nobody here but me. Yes there were a few Egyptian tourists but not a single American, European and, hold tight, not even a single Asian tourist with a Nikon 7000 super blaster camera. Nope, probably one of the most famous sights in the world, left behind. All the stands were empty. Just one had survived the last two years. That was probably also the reason that I didn't get harrassed by anyone. Everyone must have been gone a long time ago.

I'm standing right here, Cairo wasn't officially a war zone and also not a place where you need to fear your life if you come as a tourist. But the media control the world and they feed us with footage they want us to see. It scares us and it gives us the wrong impression most of the time. We should decide what we believe, everyone for themselves.
- In the middle of the protests -
Yes I need to admit that I'm a little action junkie. I joined the Green Revolution in Iran in 2009, walked through a mine field in Bosnia, chased a tornado in Kansas and I really wanted to be part of the Arab Spring as well. Here we go, here was my chance. The 6th of October 2013 was the 40th anniversary of the Yom Kippur War once held between Egypt and Israel. The day of Armed Forces, that's what others called this public holiday.

Many Egyptians celebrated this on the streets. I could see many flags all over the city, cars honking and F-16 fighter jets flying over the city. It was a special day for Egypt but also a good day for the Muslim Brotherhood to demonstrate and have their voices heard too.

I saw a few armed police unite down the road from my balcony. It looked promising and I decided to grab my camera to see what might happen down there. Once I got there I asked the police officer and he said they were expecting a few hundred Muslim Brotherhood supporters coming this way. I decided to get my camera ready and to wait there until they arrived.
Suddenly a police officer shouted something to the others guys and they started to block the street. No traffic was allowed to go through anymore. From one second to another the streets were empty. Like in these old western movies, when the sherrif and the banditos were facing each other for an epic battle.
I placed myself right behind the lined up police squad, facing the long street just next to the Nile river. Then at the end of the street a massive mob arrived. You could see flags and banners. Someone even lit a flare. It kinda looked like a a football supporter squad. They slowly walked towards us. I was getting excited and the police pulled their visors down.
It was only about 20 meters between us and the mob when the police started to shoot tear gas into the crowd. Then they advanced, well, they literally ran into the crowd. Everyone just disappeared in that massive cloud of tear gas. I ran after and once the gas disappeared I saw the police beating a few guys who weren't able to run away. I saw protesters jumping into the Nile trying to swim away.
It was just chaos and I was standing right in the middle of the whole action. It was like a movie and it was super exciting. The camera man next to me was shot in his leg. He hobbled away looking for someone to help him. More and more people got pulled out of the river. A few had hidden in the boats. Everytime the police dragged someone out of a boat random Egyptians came and hit them. It was kinda weird and the police didn't try to interfere. I had seen enough, so I decided to go back to my hotel which was literally a minute away from all the action.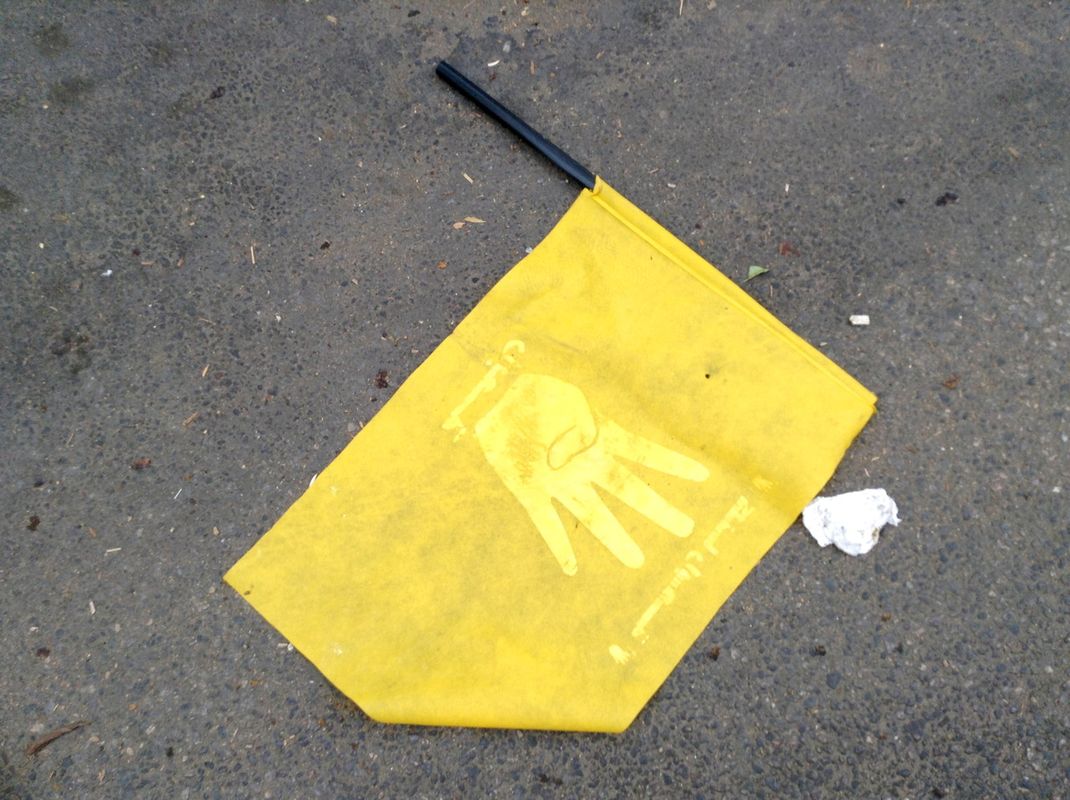 - Is Cairo safe to travel? -
Yes it is. I went for a stroll through the local markets in the night. I went to see the pyramids with no problems and I never had to worry about anything. Never was I in any danger. I joined the protest of my own free will, just for the experience. But even then I never felt unsafe or in particular danger. Cairo can be travelled without any problems.
Of course what we see in the news seems a bit disturbing but it doesn't get anywhere near that, at least not in the center of Cairo or close to the sights such as the pyramids or the National Museum. It seems like the military and the police are in control of the situation. There might be demonstrations here and there but they usually end as soon as the police interfere.
I personally felt safe for the entire trip. Of course you have to mind the usual every day situations but Cairo is not a battlefield. It operates as any other city in the world. I can recommend anyone who is thinking of visiting Egypt or Cairo in particular to do so. You don't have to be an experienced traveller or Indiana Jones. Just inform yourself and ask your hotel for advice if something seems unclear to you.
- What is important to know? -
A FLIGHT DURING CURFEW
There is a curfew every day from midnight to 5 am in the morning. During this time you can only travel if you have a flight to catch or if you need any medical assistance. If you have to go to the airport during the curfew you have to have a copy of your ticket and your passport. Either you provide your driver with one too (because he needs proof on his way back) or you just hand your copies to him at the airport.
FRIDAY CURFEW
On every Friday the curfew starts from 7pm until 5am the next day.
DON'T TAKE PHOTOS OF SOLDIERS OR TANKS
You are not allowed to take photos of any military property. That also applies to tanks and soldiers. I was caught and I had to delete those photos in front of the officer.
ASK YOUR EMBASSY
Your embassy is always updated with the latest updates on the current situation. Make sure you inform yourself before flying to Egypt.
ASK YOUR HOTEL STAFF
If you are off for the day make sure you ask at reception if they have heard of any unrest in the area you plan to travel to.

---
BEFORE YOU GO, READ ANOTHER STORY!
---
WHAT DO YOU THINK OF THE SITUATION IN CAIRO?