In early 2015 I was lucky enough to be one of the first to fly on an Airbus A350 and ever since that day I became a big fan of the most modern aircraft in skies. Only a handful of airlines are operating the plane to date. My journey started at the Breidenbacher Hof in Dusseldorf, Germany. Dusseldorf is the capital of Germany's most populated state North Rhine-Westphalia and home to many Asian companies European headquarters. 
The Check-In was easy and smooth and Cathay uses the Lufthansa Business Class Lounge at Düsseldorf Airport. The airport itself is very organised and super close to the centre of the city. The Taxi will take around 15-20 minutes, depending on the traffic. The lounge offers a small buffet, with German delicacies such as sausages and meat balls.  
Flight Details:
Flight Cathay Pacific CX379
Dusseldorf to Hong Kong, Thursday December 8th
Airbus A350-900 B-LRA
Duration: 11 hours.
Seat: 21A (Business Class)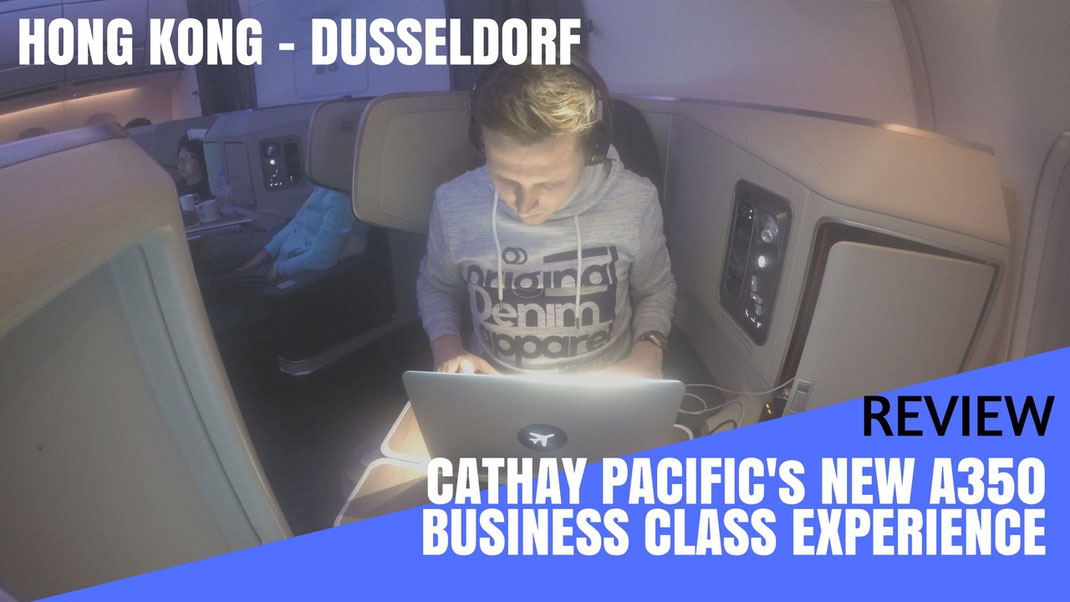 Check out my A350 Video Review ->
If you don't want to read the review (I know, too many words) you can just lean back and enjoy my video report which gives you a detailed inside of what it's like to travel with Cathay's A350.
Enjoy and if you liked it please give it a thumbs up and subscribe to my channel for more airline reviews.
Quick Boarding and Lufthansa Business Lounge
The lounge was literally a 2 minutes walk away from my gate. I also noticed a sky bridge from the lounge which seemed to be in use for A380's which means you can board directly from the Lufthansa Business Lounge. The boarding started 45 minutes before departure and was done in no time.
I was welcomed by a lot of smiling faces. Throughout the entire flight I was addressed by my name which adds a nice note to the flight. An orange juice and a hotel towel was given to me. I quickly found my seat, 21A, which was the last business class seat in front of premium economy, on the left side of the aircraft.
The Business Class comes in a reversed herringbone configuration. Similar to Sri Lankan's new business seats or the ones of Qatar Airways. The Cathay one however is a little wider and has a bit more room. Especially for taller people. It can turn into a complete flat bed and offers the perfect privacy.
Check out the Airbus A350 Seat Map.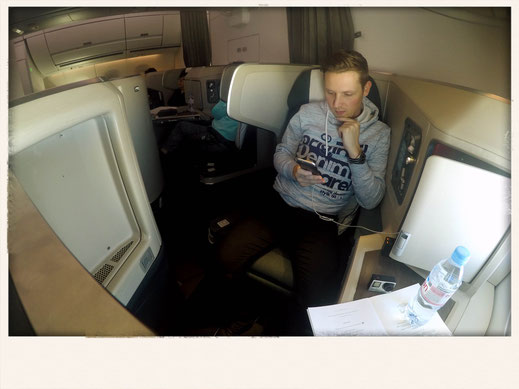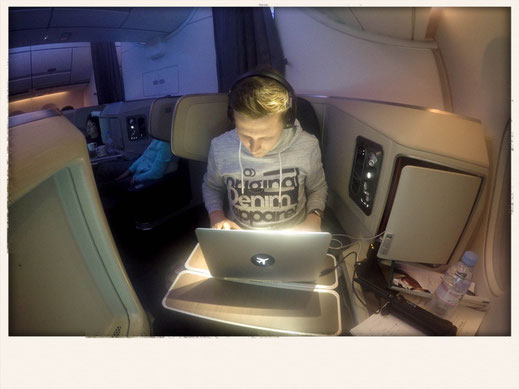 One of the best Business Class Seats I know
There is a little panel on the left which allows you to navigate the big TV screen in front of you. It also controls the seat. I also like how the screen "swings" out of the seat in front of you if needed. Also the table is stored to your right and can also swing out the console. There is a lot of storage room available as well as a little ottoman which becomes part of the bed. Head phones are stored in the little storage next to the window.
I had a lot of work to finish so I didn't watch a movie but I scrolled through the entertainment system and there was a great and vast choice of movies. I also played a quick round of angry birds, a game I really enjoyed back in the days... Most of the time I had the interactive flight map opened though since I'm always interested in knowing where we are.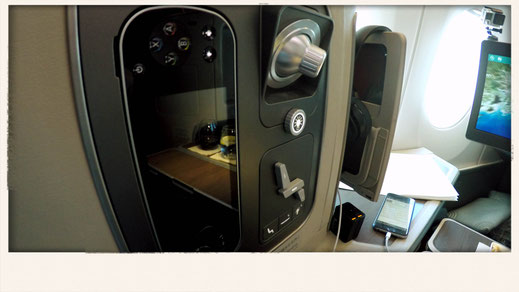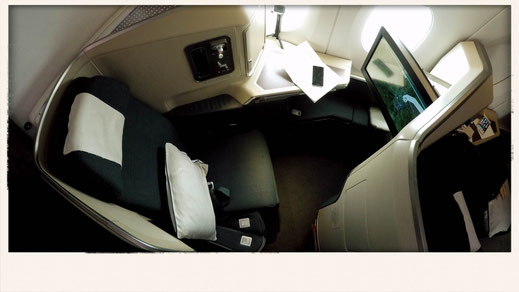 Fast and Affordable Internet
Everybody wants to stay connected, whether it is to stay in touch with your friends or to get some online work done especially on a 12 hours flight. On Cathay Pacific A350 flight you can purchase unlimited internet for just $20. The internet proved to be super fast and reliable. It is easy to connect and makes Cathay stand out from other airlines.
Be advised that you can only connect one device at a time though.
The boarding was finished in no time and we took off 10 minutes before our scheduled departure time. Almost every seat in Business Class was taken. My friend Sam Chui flew the day before with Singapore Airlines from Dusseldorf and he found himself in an almost empty Business Class Cabin.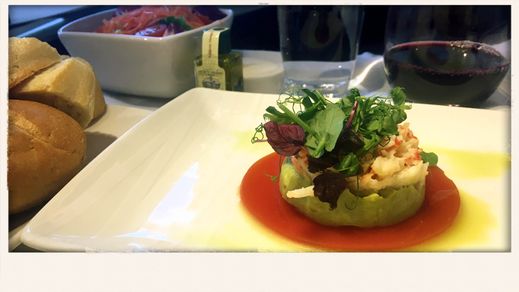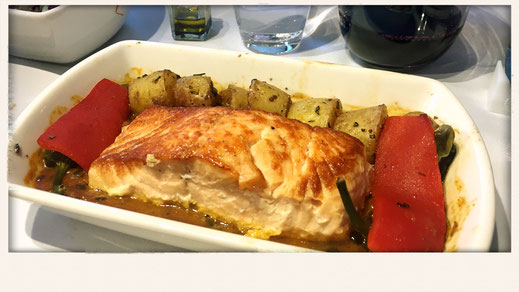 Dinner Time
Shortly after take off drinks were offered. I went for some Western Australian Shiraz and some water. Also some nuts were offered and menu's were given out. I decided to have a seafood day and therefor I started off with some avocado paste prawn cakes. Quite enjoyable and it was presented very well.
Next the main courses were rolled around on a little cart. Cathay Pacific is quite unique in that they don't take orders, but rather just roll a cart through the aisle which displays all the main course options. It's nice to decide what you'd like to eat by looking at the meals, rather than having to rely on the menu descriptions.
I'm a big salmon fan so I gave it a try and it turned out be very good, not too dry just the way I like it. For dessert I had some double nougat mousse with toasted hazelnuts and a coffee.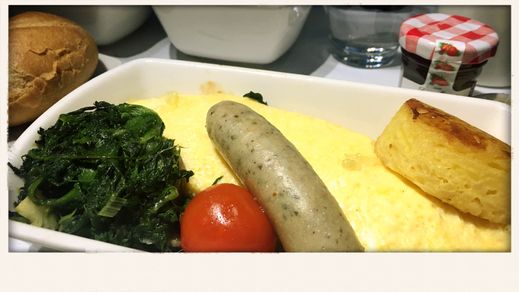 New Generation Cabin
After my coffee I decided to work a little bit. The cabin light was turned off and we fairly quickly cruised into the night since we were travelling eastwards. The crew was very attentive and checked on everyone from time to time without being annoying.
The thing I find most amazing about the Airbus A350 is the actual air conditioning. The cabins don't get as dry as on the older generation airplanes which makes a long haul flight so much more pleasant since you don't have to worry about your airways getting too dry. Which makes you sleep better and longer.
Two hours before our scheduled arrival time the breakfast service would start. You could choose between either a western breakfast or an Asian one. I had the omelette with a hash brown, sausage and some spinach. It was a lovely breakfast but nothing special either.
Cathay Pacific Economy and Premium Economy Class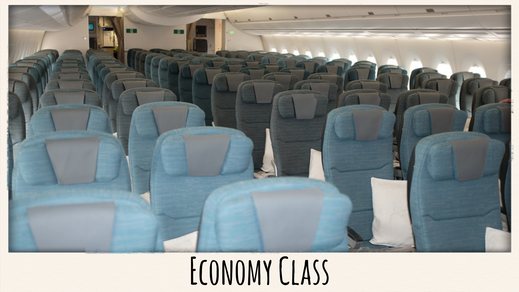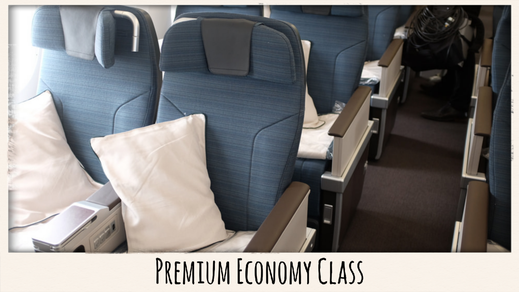 Wider Seats, Bigger Cabin and More Entertainment.
Since the economy and the premium economy cabin was right behind me and still empty after boarding, I snapped a picture of it on the way in. It looked pretty nice, and I especially loved the seat finishes. In terms of airplane cabins, this is going to be the future. Business Class will eventually replace First Class and Economy Premium will become the new 'Business' Product, while Economy Class remains the same.
Cathay's Premium Economy comes with a greater luggage allowance, more spacious seats and working space. Also the food presentation got upgraded a bit.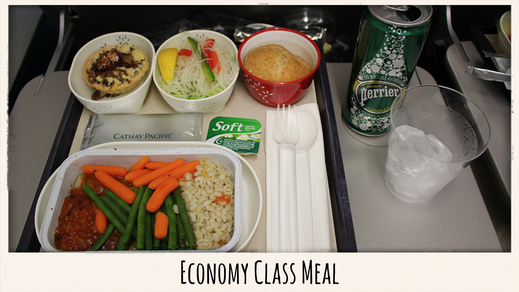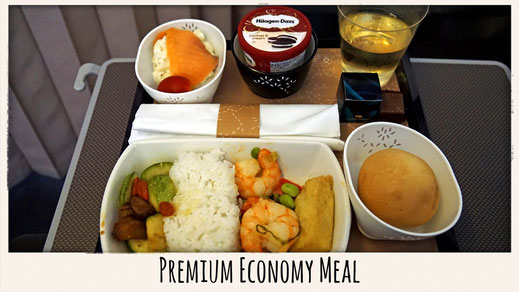 The Economy Class was also full and every seat was taken. You get the same choice of movies and entertainment as everybody else on the flight, plus you can also purchase the internet package. The Airbus A350 offers an extra wide cabin witch also gives you more space in Economy class too. 
Every time I fly Qantas, they would cut me off after 3 beers, for no reason at all... This is also something you don't need to worry about flying Cathay.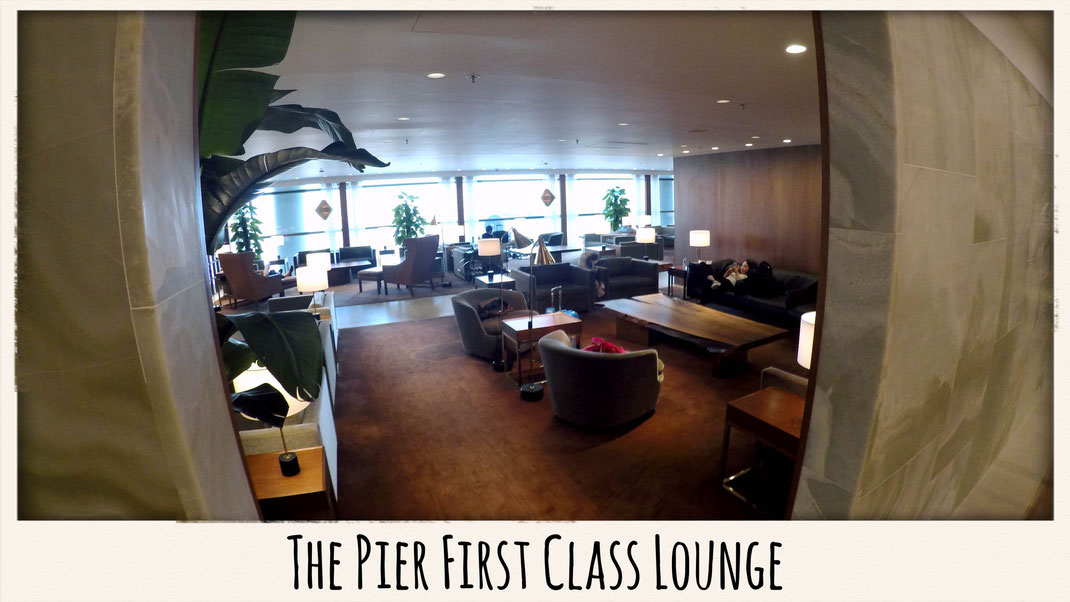 Awesome Shower Cabins and Day Suites
I left for the airport in Dusseldorf right after breakfast and I didn't get to sleep for the entire journey, thanks to the great internet connection on board which allowed me to get a lot of work done. When I arrived in Hong Kong early in the morning I started to get a bit slow.
The Pier is located near Gate 63 and it's truly an oasis of comfort. It feels like a home away from home. The first thing on my agenda was a shower. I loved the cabins, clean, classy and big enough. Great amenities were available and I literally felt reborn afterwards.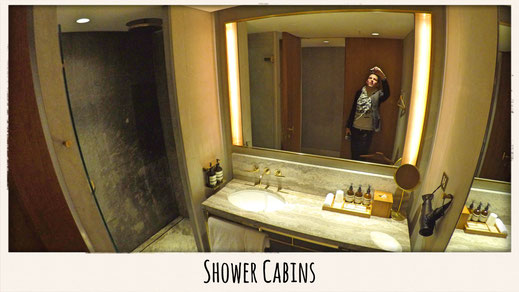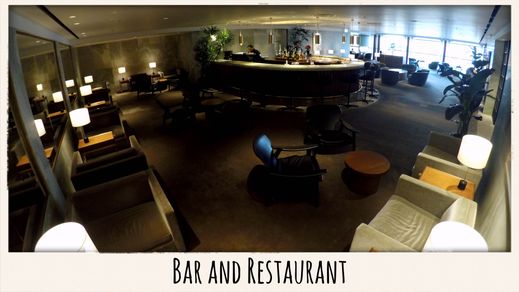 Spot on Service
The spa also offers complimentary foot massages but they would have put me to sleep right away, but for sure a great feature. Once I was done with all the grooming I went straight for the restaurant. It has an a la carte menu and my breakfast was high quality. Pretty good food and the service was outstanding.
The next move on my agenda was to catch up on some sleep. The Pier offers beautiful cabanas with beautiful tarmac view if you fancy. It is the perfect place to get some nice rest or to have a proper power nap.
Unfortunately the air-conditioning was on full blast and I couldn't find a way to regulate it. It was a bit chilly inside but I helped myself with a towel from the showers and used it as a blanket.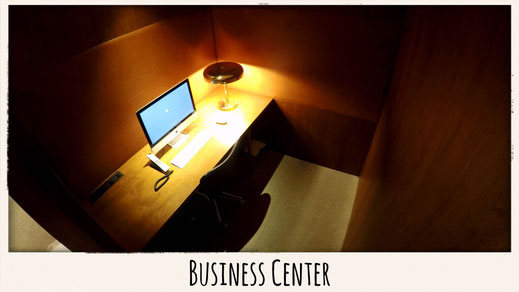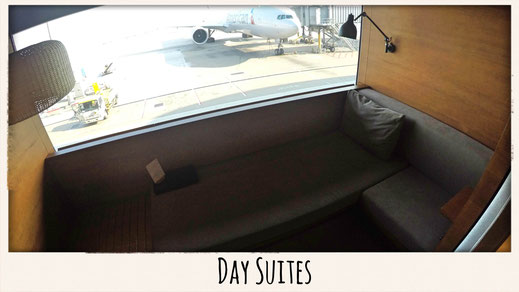 Great Breakfast, Awesome Lunch!
After a solid 2 hour nap I decided to get some lunch before my connecting flight to Beijing on Cathay Dragon. Once again I was offered a menu. I felt quite hungry and I decided to have the beef burger with a side of fries. The patty was medium done and super juicy. You could literally tell how fresh the food was.
Afterwards I decided to pack up and head to my gate. I have been to a couple of lounges and I must admit that the Pier is probably the best one I have been to so far. Solid product, super comfortable and great service. It offers everything you need and matches the great standards delivered on board Cathay Pacific.
Cathay Pacific Bottom Line:
I really love the hard product of Cathay and I reckon it is one of the best out there. The service is spotless, dedicated but sometimes a bit slow, especially in between courses. However, the flight was more than satisfying and their new Airbus A350 is a real game changer. The seat is perfect, it offers a lot of privacy and is among the most comfortable.
The Pier is amazing, and really stands out in comparison to other lounges. In particular the shower and napping facilities but also the service. The food was outstanding with plenty of options.
My Travel Hacks shared with you!
As a Frequent Flier, I usually book my trips on JustFly (cheapest fares) or CheapOair (great Business Class deals). Check it out!
I put together a whole article with my best Business Travel Hacks and Trips. Including how to get cheap lounge access, affordable airport pick ups or how to find the best seat on your next flight, check it out!
---
Before you go, read another story.
---