amI started my trip at The Langham, Hong Kong just next to the beautiful Victoria Harbour. I took the taxi to Hong Kong Airport and proceeded straight to the check-in counter. Everything went smooth and fast considering every seat on the flight was taken. I was offered access to the Qantas oneworld Lounge which is located right behind the security checks.
I have been on Emirates and China Southern Airlines A380's recently and since I really enjoyed their Business Class products I was very eager to give British Airways Club World a try as well. I had never travelled on BA before and therefore I was quite intrigued to review their product, especially on their flights from and to Asia. 
Flight Details:
Flight British Airways BA32
Hong Kong to London Heathrow, Tuesday January 19th
Airbus A380-800 G-XLEE
Duration: 13:15 hours.
Seat: 10G (Business Class)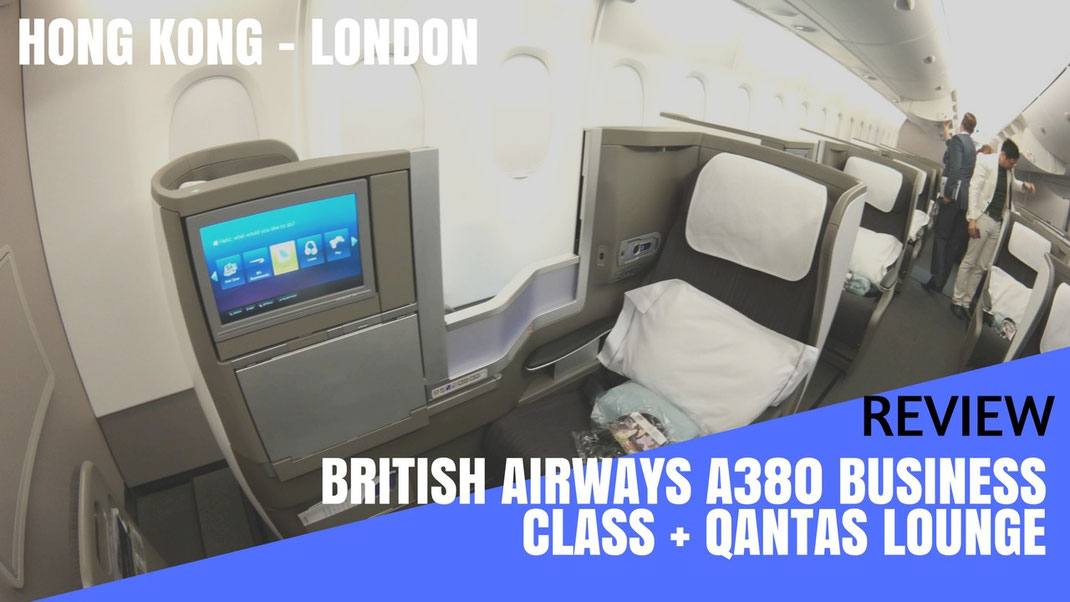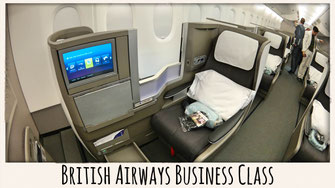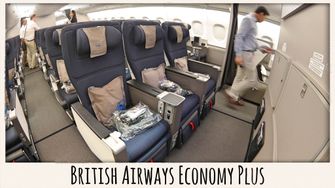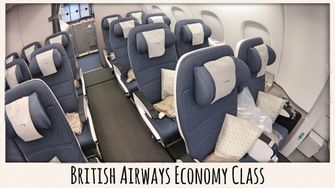 Check out my BA Video Review ->
If you don't want to read the review (I know, too many words) you can just lean back and enjoy my video report which gives you a detailed inside of what it's like to travel on British Airways Business Class.
Enjoy and if you liked it please give it a thumbs up and subscribe to my channel for more airline reviews.
Qantas OneWorld Lounge in Hong Kong
I was given access to the Qantas oneworld lounge at Hong Kong International Airport which is literally a 20 second walk after you passed the security checks. The lounge features a bar, a fairly decent buffet and a lot of space to sit and relax.
There is a business centre with fast internet. Also the showers are very clean and the cabins quite spacious. Considering that two British Airways A380's are literally departing Hong Kong to London at the same time, the lounge didn't get too busy.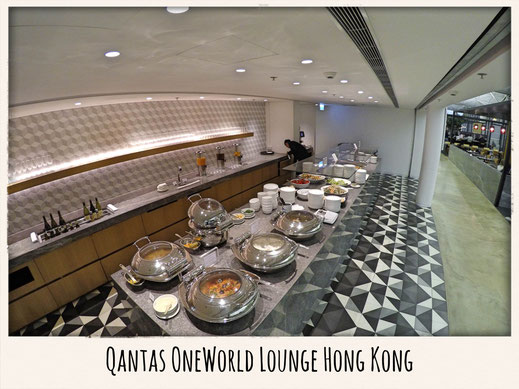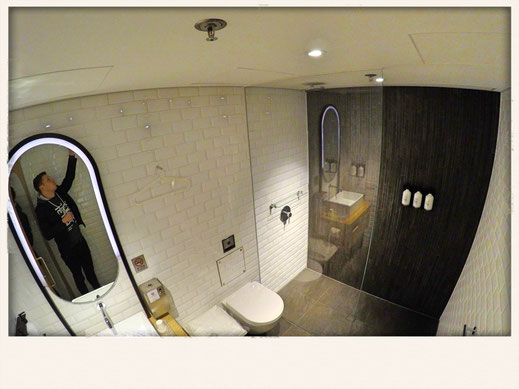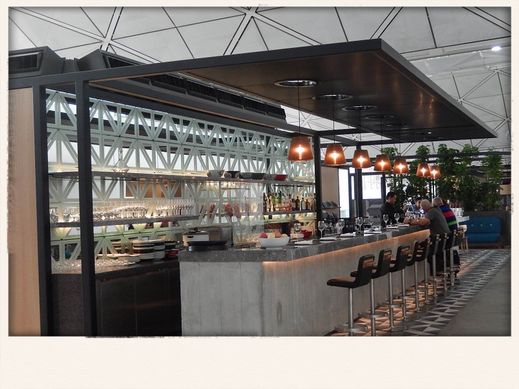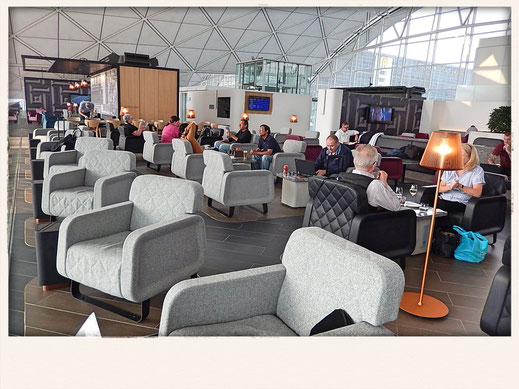 Boarding
The boarding turned out to be quite busy considering all 97 Business Class seats were taken which created a long queue. British Airways Club World or Business Class, however you want to call it, are distributed on both decks. I'd advise you to get a window seat on the upper deck since it is offering more storage space which I find are very limited on the main deck.
Soon after finding my seat, pre-departure drinks were offered and the cabin filled up quite quick. The Cabin crew was a mix of locals who only work on the Hong Kong - London sector and regular BA Crew. The first thing I noticed that all of them were a lot older than myself and I just reached the 30's last year. That probably explained the efficiency during boarding. We were expected to be the first airplane to land at Heathrow after the night curfew.
Shortly drawstring bags with amenities were given out. They were quite basic even though you would find a pen inside the bag too. That was new to me.
The British Airways Business Class Seat
British Airways Club World Seats are quite unique in the industry. The first thing you'll notice is that the window seats are facing each other which makes it a bit awkward during the boarding progress especially if you don't know your opponent.
However right after take off the dividers are erected. The seat is quite comfortable and well thought through. In my opinion, I prefer the reversed herringbone seats as offered on Qatar Airways or Cathay Pacific's A350 but I quite enjoyed the concept, depending on which seat you allocate for yourself. I put together a list of pro and cons below.
Check out the BA's Airbus A380 Seat map.
What I like about the seat
Window seats offer great privacy.
If you travel with a friend or partner you get a whole console in the middle which offers a unique experience.
You have 2 USB ports one located next to the bottom drawer and one next to the remote control.
You get a decent sleep since the seat doesn't narrow down on the ending like most other seats in the industry.
What I didn't like about the seat
Very little storage space on the main deck for personal things.
The aisle seats are quite exposed and offer zero privacy.
The TV screen needs to be tucked away for take off and landing.
The blankets are quite thin, so I used two.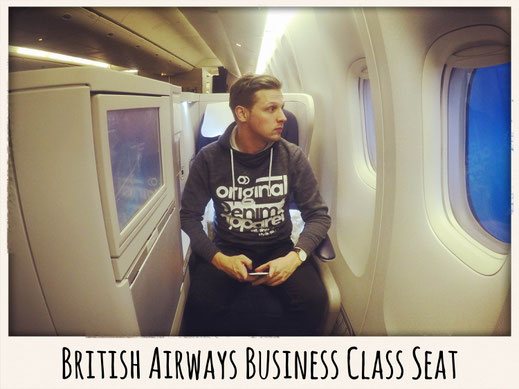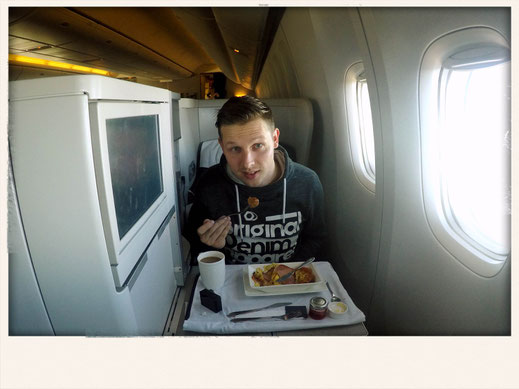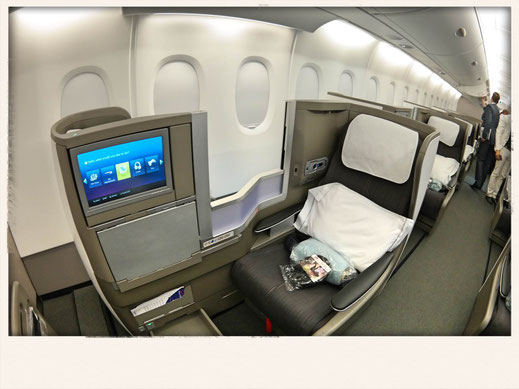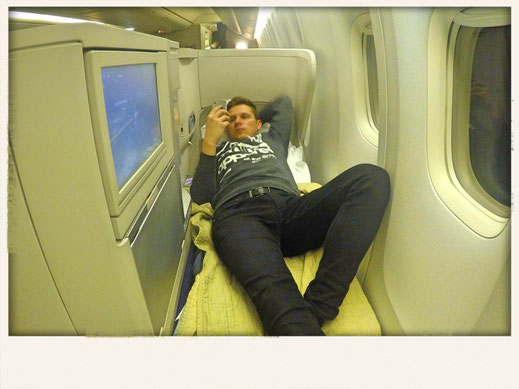 The Club World Dinner Experience
The service was quite fast, considering it was a red eye flight and everybody wants to get a fair bit of sleep. Menu's were handed out before take off and I decided to give everything a try.
For the starter I tried the spiced aubergine and mushroom with rock melon and a salad. Which was quite refreshing and lovely in it's presentation. For the main I was torn apart between the New Zealand beef or the Scottish salmon.
Since I'm a big seafood lover I decided to go for the second option. The rice was very dry as well as the Salmon, unfortunately. Even the sauce wouldn't add much moisture to the rice. The spinach however was great, and the size of the portion quite big actually.
I decided to skip dessert to get a bit of sleep since I was quite tired. I was given a bottle of water and prepared my bed for some well needed rest.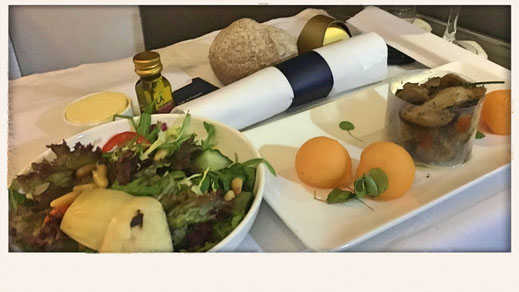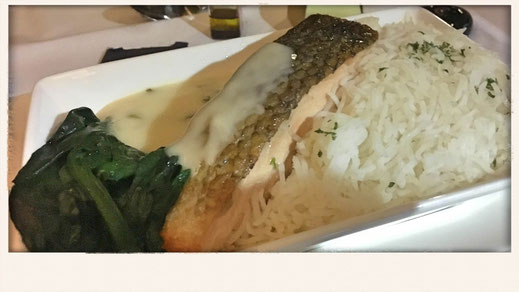 The Club World Entertainment
I had a solid 6 hours sleep and I woke up somewhere over Russia. Since there is no internet on the flight I decided to scroll through the entertainment options. First of all the interactive flight map is great! Very detailed and somehow I always love to see where we are at.
The movie choice is not too overwhelming, however they feature some really good movies. I watched War Dogs first, brilliant movie by Todd Phillips about 2 young guys sealing gun deals with the Pentagon. I think Jonah Hill is an exceptional actor and I'm a huge fan so I really loved the film. Afterwards I decided to go for a second movie. I watched Anthropoid, a film based on the Reinhard Heydrich assassination in 1942. The acting was very lame and as dry as my salmon I had for dinner. I didn't even bother finishing it.
Emirates and Qatar Airways Airbus A380 also offer a bar for Business and First Class passengers, unfortunately you won't find that on BA's Super Jumbo.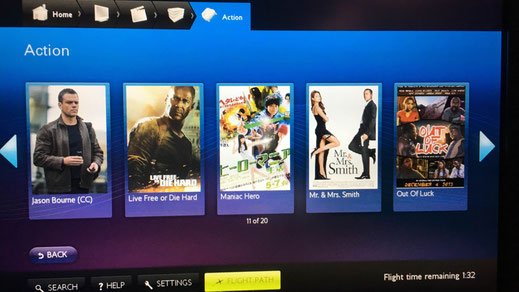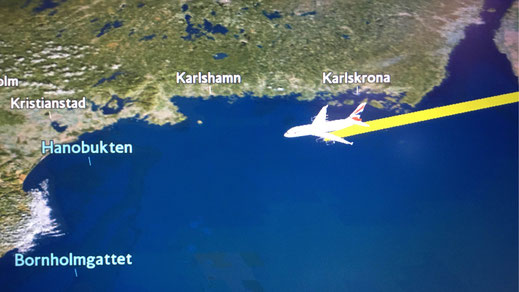 The British Airways Breakfast Experience
The breakfast service started with coffee or English Breakfast tea of course. First I was given a choice of fruits or blueberry muesli which was nicely chilled and quite rich. It was full of flavour as well as the bread rolls and croissants, which were super fresh and warm. The jam was very delicious and once the crew noticed that I finished my bread I was immediately offered some more which I loved. Great attention was given.
The main breakfast course was a full English One consisting of scrambled egg, seared bacon, grilled sausage, roasted tomato, grilled mushrooms and sauteed potatoes. It was lovely and I couldn't have asked for a better start into the day.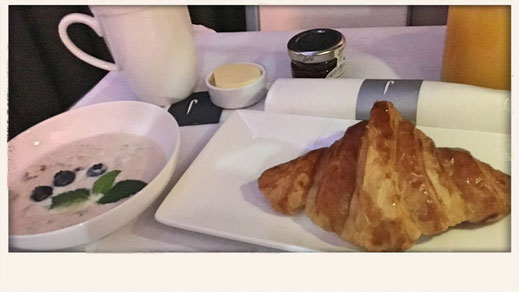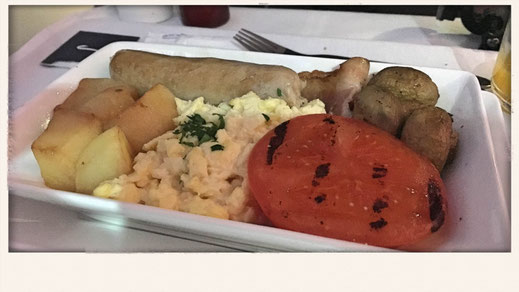 British Airways First Class
The hard product of British Airways First Class is quite similar to Qatar Airways Business Class seat. They are not as spacious as the private cabins China Southern Airlines uses on their A380 or the ultimate luxury cabins you'll find on most of Emirates Super Jumbos. However the finishing of the seats looks amazing and I'd say that this seat is the ultimate luxury version of the reversed herringbone ones.
Before you ask me, no there are no showers on board as you might have seen it on Emirates.
What to expect:
Ergonomic seats converting into fully flat beds.
15.4 inch personal in-flight entertainment touch screen and noise-cancelling headphones.
Personal in-seat power and 2 USB Ports.
Extra mattress, pillow and duvet including pajamas.
A la carte Menu and dine on demand service.
Exclusive lounge access.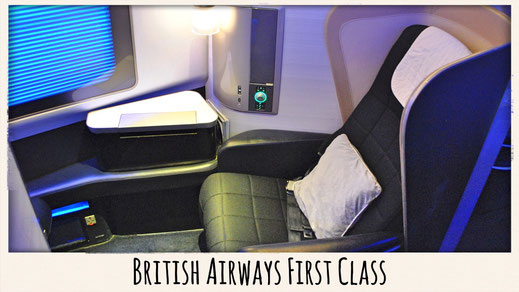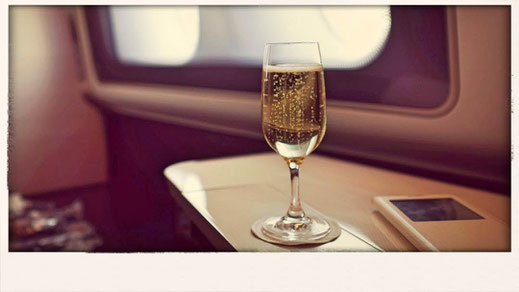 British Airways Economy Class
BA's Economy Class or how they call it "World Traveller" is located on the main deck and has 303 standard seats in a 3-4-3 configuration and 2-4-2 on the upper deck. I took a tour and I found every seat taken. All seats come with a personal entertainment screen.
The seats feature a in-seat power socket and a personal USB port and complimentary food, drinks and refreshments.
What to expect:
Adjustable hammock-style headrest providing greater support for relaxation and sleep as well as seat offers a 31" pitch.
Ultra soft fleece blanket and amenity kit.
8.9 inch personal in-flight entertainment touch screen.
Complimentary bar service and snacks.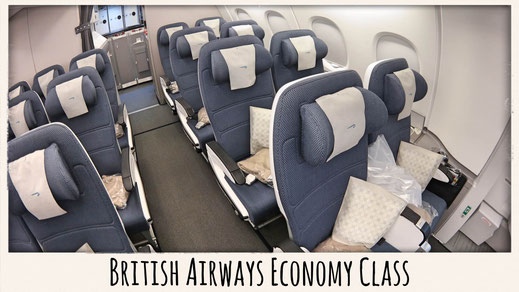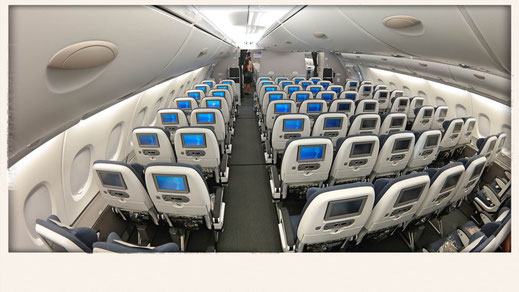 British Airways Economy Plus
I also checked out the Economy Plus cabin was is located on the upper deck only right behind the Business Class one. The seats are wider than the regular seats in Economy class organised in a 2-3-2 configuration. You have 55 World Traveller Plus seats on the 380'.
Every seat has a personal entertainment which is almost identically to the one in Business Class in terms of size with more than 200 entertainment options. It also features 2 personal USB ports and an in-seat power socket which doesn't need to shared unlike in Economy Class.
What to expect:
Seat offers a 38" pitch.
10.6 inch personal in-flight entertainment touch screen with noise-cancelling headphones.
Ultra soft fleece blanket, amenity kit and hot towel service.
Pre-take off drinks.
Entrees from the Club World menu and warm bread.
Complimentary bar service.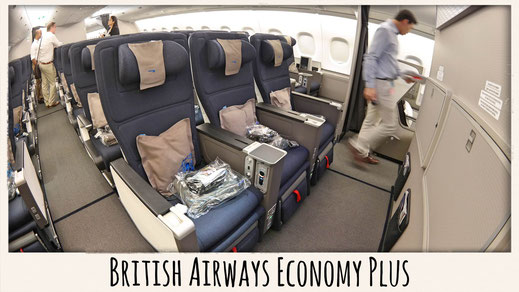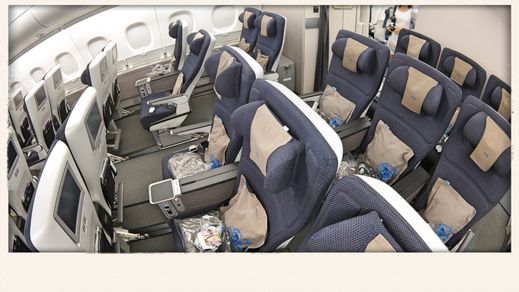 The London Heathrow Arrival Lounge
Our Airbus A380 was the first airplane to land in Heathrow after the night curfew at 4:30 very early in the morning. I couldn't check-in my hotel, The Hari in Belgrave before 2PM so I decided to freshen up a little bit at the arrival lounge. It's a really nice concept and located on the first floor at the arrival hall of Terminal 5.
The lounge offers a spa, a business centre, a great breakfast choice and heaps of shower cabins. They also offer dry cleaning. It's the perfect hang out if you arrive quite early or if you need to get some work done before heading downtown or to simply grab breakfast. It's just a 5 minutes walk from the lounge to the Tube station which takes you straight to London City.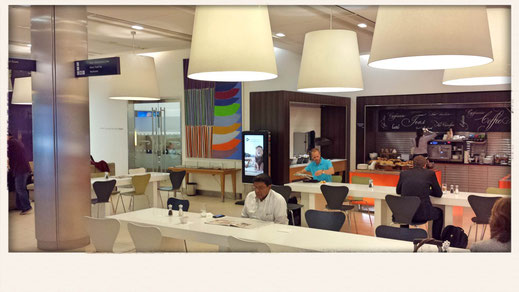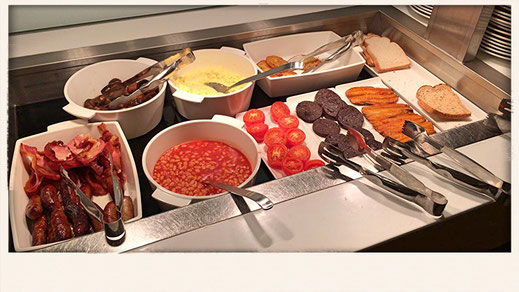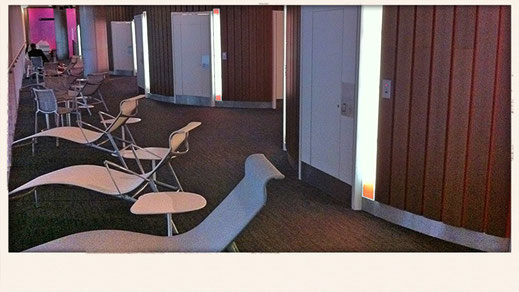 British Airways A380 Bottomline:
Overall I had a very pleasant flight on British Airways Airbus A380. The highlights included the fantastic cabin crew and the fresh breakfast, the good selection of drinks. The BA hard product is an interesting concept but nothing too extraordinary. While the breakfast was amazingly fresh and tasty, the dinner was a bit of a let down. However, it's a great, solid product.
I'd certainly fly with British Airways again if they were the most convenient airline and especially pick them over any Chinese Airline when flying back to Beijing, though I also wouldn't go to far out of my way to fly them.
My Travel Hacks shared with you!
As a Frequent Flier, I usually book my trips on JustFly (cheapest fares) or CheapOair (great Business Class deals). Check it out!
I put together a whole article with my best Business Travel Hacks and Trips. Including how to get cheap lounge access, affordable airport pick ups or how to find the best seat on your next flight, check it out!
---
Before you go, read another story.
---