My trip started in Belgrave at the Hari Hotel. It's literally just a 5 minutes walk from there to the Piccadilly Line which takes you straight to Heathrow Airport. I was scheduled to fly out at 16:20 but I decided to leave early, so I could spend some more time at the airport and the lounge, to see what it's like.
All British Airways flights leave from Terminal 5. The Terminal itself is quite neat. I went to the special check-in counter for Business Class travellers and I was handed my boarding pass in no time. The security checks for Business Class customers are located right behind the counter. It took me less than 2 minutes to clear those and I found myself inside the departure area.
There was no immigration at all which left me a bit puzzled. I was going for an international flight to China and nobody wanted to check my passport? That has never happened to me. Maybe they checked my passport during my Check-In? I still don't know...
Flight Details:
Flight British Airways BA39
London Heathrow to Beijing, Saturday January 21st
Boeing 777-300 G-STBH
Duration: 10:05 hours.
Seat: 14K (Business Class)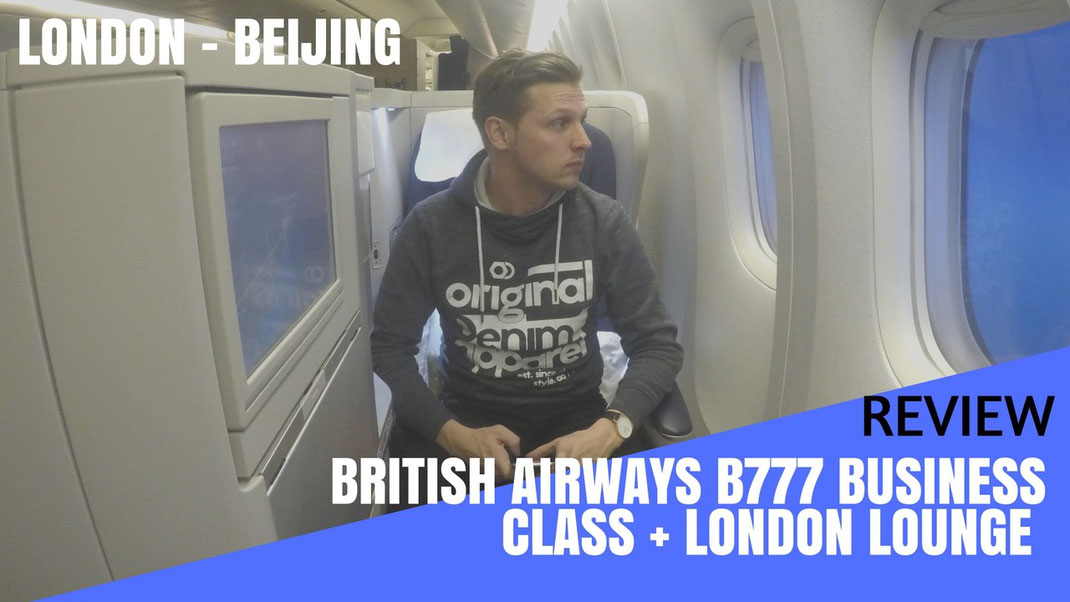 Check out my British Airways review ->
If you don't want to read the review (I know, too many words) you can just lean back and enjoy my video report which gives you a detailed inside of what it's like to travel on British Airways Business Class.
Enjoy and if you liked it please give it a thumbs up and subscribe to my channel for more airline reviews.
British Airways First Class Lounge Heathrow Airport
Terminal 5 offers 3 lounges. First- and Business Class lounge as well as the Concorde Room. Even though I was 'only' flying Business Class I was given access to the First Class lounge, also known as Galleries Lounge. My first impression? It was incredibly busy around lunch time and super hectic. If you were looking for some relaxed lounge time than you wouldn't find it here, especially around the buffet area.
However I moved to the "Champagne" Room which was deserted. It has a beautiful set up with a station in the middle with nice, chilled Champagne. The buffet was quite alright but a bit overrun at this time. It offered a nice variety of food though. Also some desserts and a couple of coffee machines were at your service as well.
If you like to spot aircrafts and enjoy watching those beautiful 747's taking off, you should move to the end of the lounge, where you can find a little "balcony". From there you can enjoy a wonderful view over the tarmac.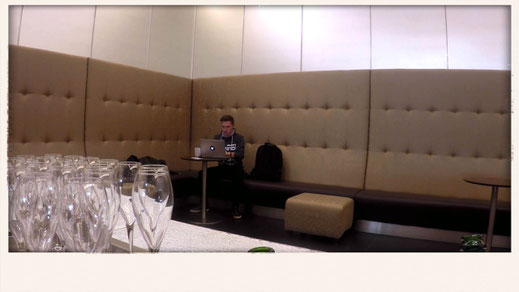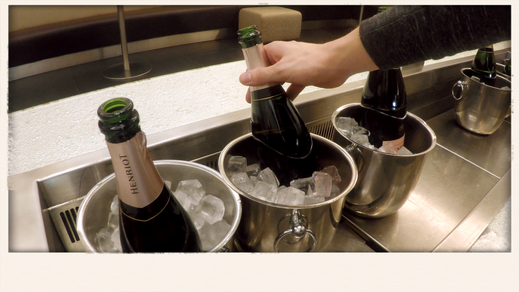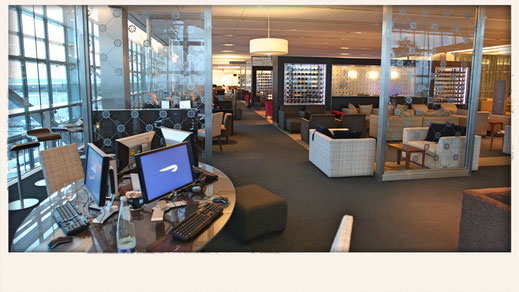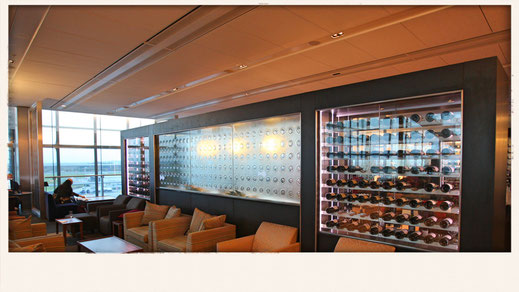 Boarding and Pre-departure Service
In order to get to my gate from the lounge I had to take the train, which takes another 10-15 minutes. It was still part of Terminal 5 but I did require a bit of time to get there. Make sure you locate your gate before spending too much time at the lounge. The boarding process however was easy and smooth, considering that Chinese will start lining up 2 hours prior boarding.
The Boeing 777 is a beautiful airplane and designed to be extremely crew-friendly. The staff consist of local Chinese crew which is based in Beijing and only flies this specific sector and London to Chengdu which discontinued though. Shortly after I took my seat, Jo introduced herself and offered a pre-departure drink. She would perform a great service throughout the flight. She had a great British humour and was extremely helpful. I can't remember the last time I enjoyed such excellent service on an European carrier.
Before take off, amenity kits were handed out as well as the dinner and breakfast menu. The food orders were taken 20 minutes after we were airborne. 
The British Airways Business Class Seat
I was lucky to score a window seat this time offering me the perfect privacy. In my opinion it does make a huge difference on British Airways Business Class whether you get a seat in the aisle or at the window. The seats in the middle are the perfect choice if you travel with your partner, wife or friend.
After take off a divider will be raised between the two seats separating you from the rest of the cabin. Now you have your own little suite. The TV can be tucked away and the table is also foldable.
I find the personal storage space a little limited though. Which isn't particular a problem but I usually carry a lot of gear with me which needs to be stored while taxing or take off.
There are also 2 USB ports, one next to the bottom drawer and the other next to the remote control near the arm rest. Here once again, if you want to charge your phone there is no room for your phone unless you want to put it on your arm rest, which isn't ideal.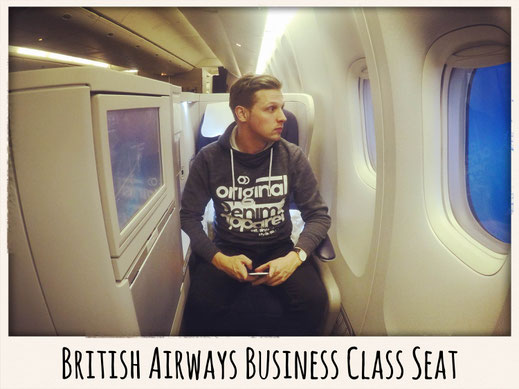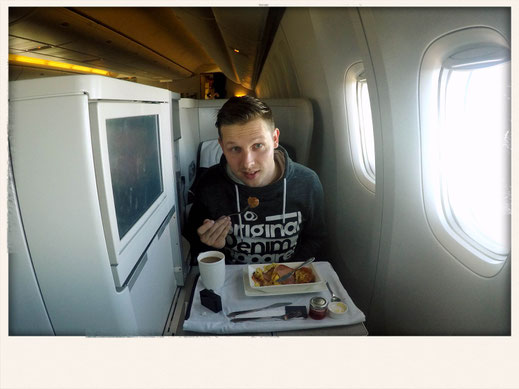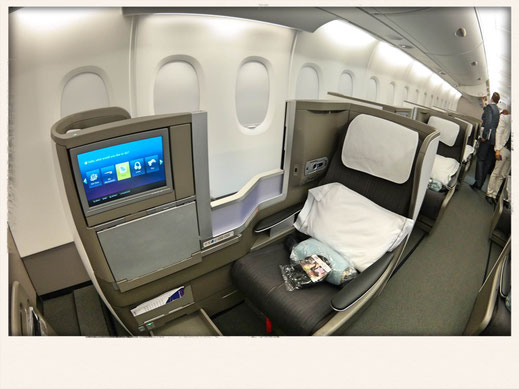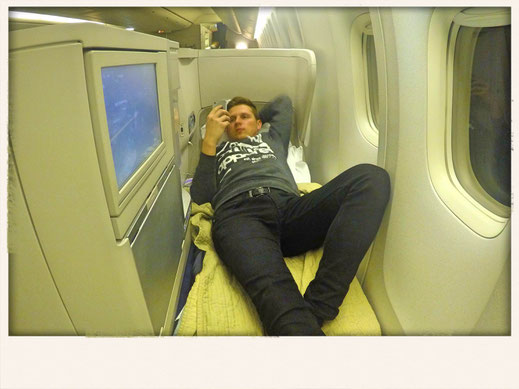 Dining
The food service would kick off fairly quick and for a starter I went for the Rosary Ash goat's cheese mousse with pickled vegetable salad and samphire. It was fresh, looked good and the goat cheese was delicious. No complaints. As soon as I finished, Jo cleared my starter and asked whether I was ready for my main course. That's the way I like my dinner service. There is nothing worse than long waiting times between courses as I experienced on Cathay Pacific's Airbus A350.
For the main course I had to pick between a Beijing Duck, Seared Beef fillet or Salmon again. The Salmon was terribly dry on my flight from Hong Kong to London so I thought I was gonna try the steak. It came with a side of dauphinoise potato, roasted peppers, pattypan squash topped with a red wine sauce.
I usually like my steak raw and I gotta admit that it's hard to top the amazing steak I have had on my flight to Calgary with Hainan Airlines and indeed it was a bit too well done for me. However, the potato was delicious and the sauce was also quite nice. I had some nice Chateau de Malleret with the main, a really nice Bordeaux.
For the dessert I decided to skip the cheese and go for the berry cheesecake which was as good as a cheesecake can be. Loved it.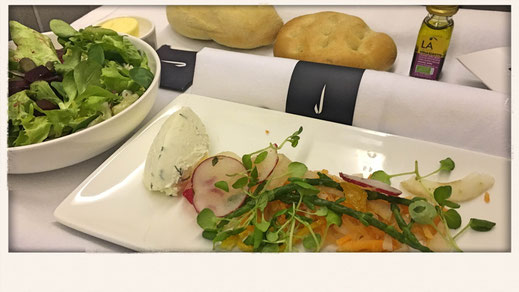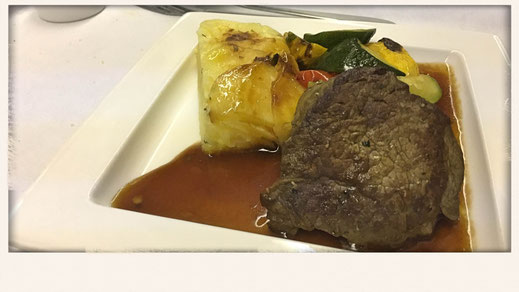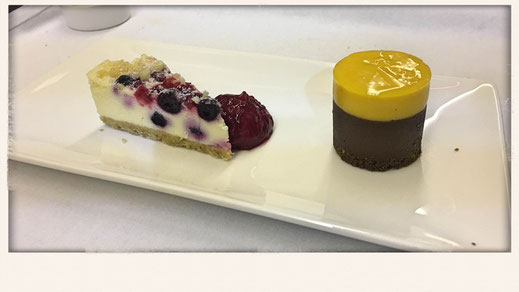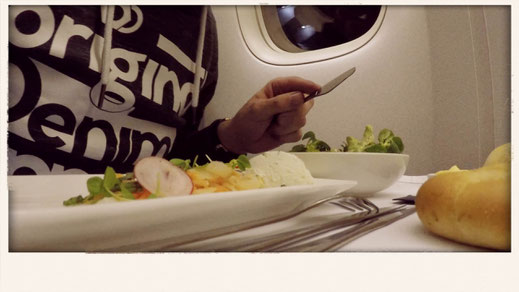 In-flight entertainment
British Airways offers more than 200 entertainment options. It is getting you through the flight alright. The British carrier doesn't offer onboard wifi like most major airlines these days so in terms of entertainment you literally have to rely on the screen in front of you. You have some decent movie choices and sitcoms. I also found some rather interesting documentaries.
I found the TV not particular responsive and my finger would literally hurt after scrolling through most of the options. However operating the system with the remote is highly recommended especially if you have sausage fingers like me.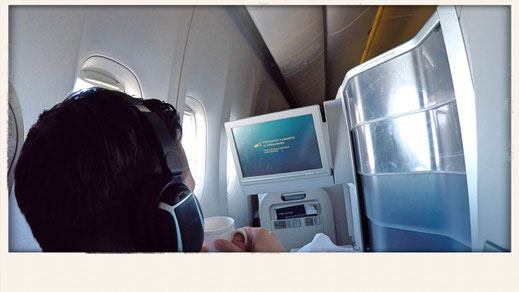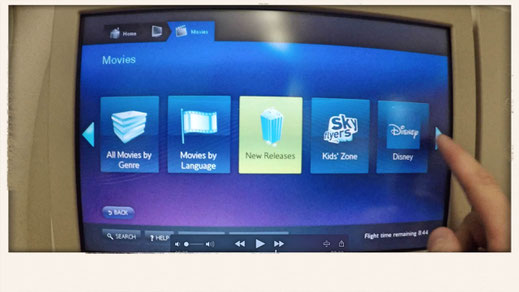 A Lovely English Breakfast to start the day
I had a lovely sleep and woke up 3 hours prior touching down in Beijing. After my morning hygiene the crew started to offer coffee, water and juices. They also offered some smoothies. The breakfast started off with some mixed berry granola with natural yoghurt and rhubarb compote. Alternatively, some fruits were offered instead. Both lovely!
Also a basket with very fresh and warm bread rolls, French croissants and pastries was offered. The bread came straight out of the oven and was super delicious, especially with jam.
Once Jo noticed that I finished my bread she would immediately offer more. How could I say no to that? I also liked the coffee which was full of flavour.
For the main I could pick between a traditional English breakfast consisting of scrambled egg, bacon, pork sausage, tomato and hash-brown or the continental breakfast option.
All I can say is that I really loved this great, rich breakfast and it boosted my mood.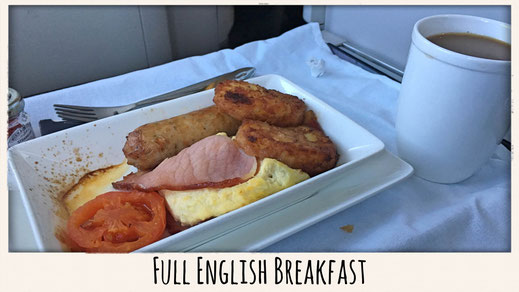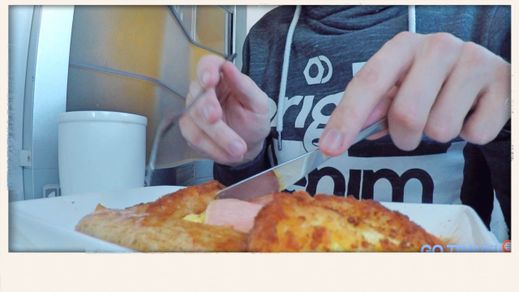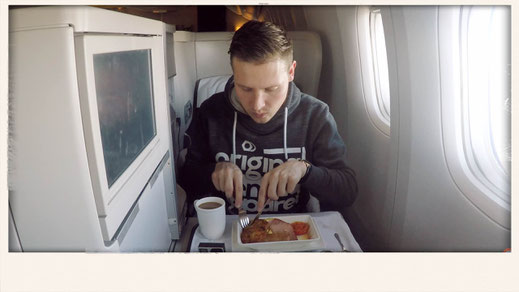 Economy and Economy Plus on the Boeing 777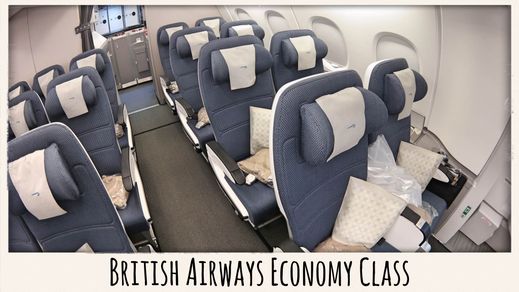 Personal 8.9" Touchsreen
One Personal USB Port
Shared In-Seat Power Socket
Adjustable headrest
Complimentary Food and Beverages
Newest Generation Economy Class Seat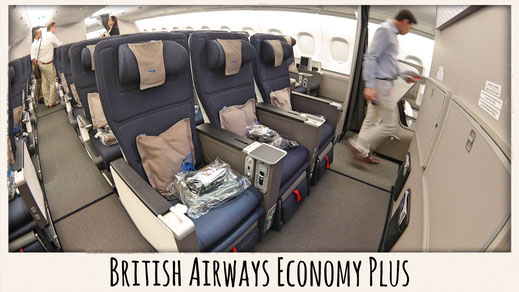 Personal 10.6" Touchscreen
200 Entertainment options
Two Personal USB Ports
In-Seat Power Socket
38" Pitch hammock-style seat
Upgraded Food Service
British Airways 777-300ER Business Class Club World Bottomline:
Only two airlines are operating between London to Beijing on a daily basis. One is of course British Airways and the other on is the worlds worst airline of all time, Air China. Given the choices, I'd always pick BA over Chinas flag carrier, even If I had to travel in the cargo section. However, I think England's biggest carrier offers a solid product. I love the seat, the service was exceptional, fast, authentic and professional.
I enjoyed the window seat in particular and the food was perfect, to my surprise. The entertainment is a bit average but given it was an overnight fly I couldn't care less. I appreciate when the dinner service doesn't take too much time so I get enough time to rest or work. This is what was most outstanding for me.
My Travel Hacks shared with you!
As a Frequent Flier, I usually book my trips on JustFly (cheapest fares) or CheapOair (great Business Class deals). Check it out!
I put together a whole article with my best Business Travel Hacks and Trips. Including how to get cheap lounge access, affordable airport pick ups or how to find the best seat on your next flight, check it out!
---
Before you go, Read another story.
---