After experiencing a few other Chinese Airlines such as Hainan Airlines or China Southern, I was quite eager to experience China Eastern, the Shanghai based carrier who offers incredible cheap fares between Australia and Europe. I get a lot of emails inquiring about the product they serve so I booked myself a flight to Shanghai to review their Economy Class.
For their long-haul flights, China Eastern is mainly operating their Airbus A330-200 which comes in a 2 Class configuration with 30 Business Class Seats in a 2-2-2 configuration and a 2-4-2 Economy Class set up.
I started my trip in Beijing. The Check-In was uncomplicated and fast. I asked her to add my SkyTeam frequent flier number I have with Aeroflot and she confirmed but I needed to follow up a month later because no points were added to my account. But that wasn't an issue in comparison to my whole flight experience... Keep on reading.
Flight Details:
Flight China Eastern MU5106
Beijing to Shanghai Hongqiao, Friday December 16th
Airbus A330-330 B-6119
Duration: 2:20 hours.
Seat: 44C (Economy Class)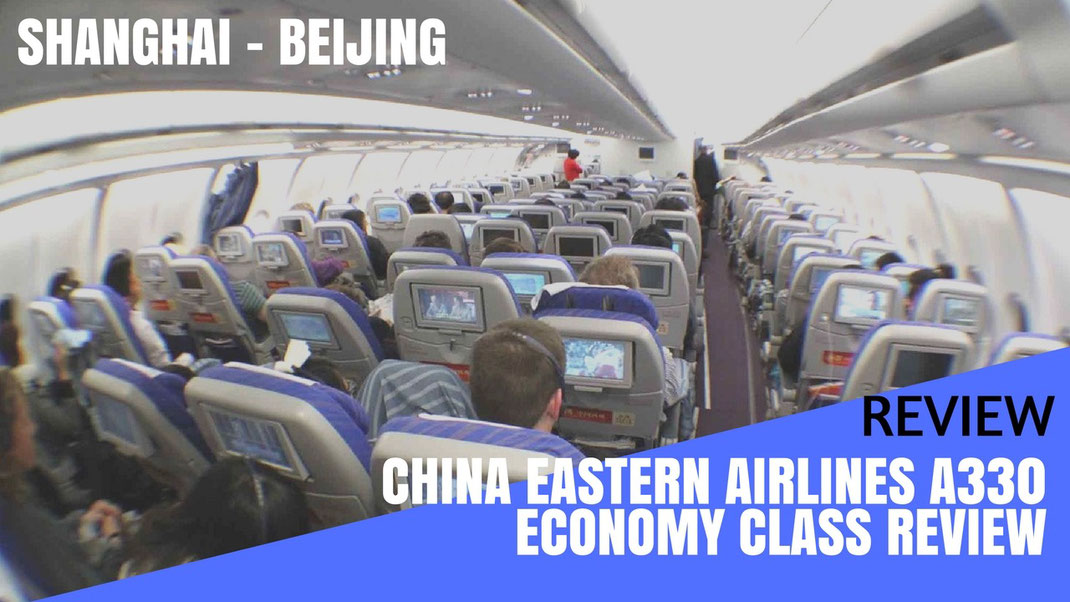 No Safety Video was shown
At the gate everything seems to be going smoothly, 2 busses were provided for Economy Class travellers and one seperate one for Business Class passengers. It was a fairly long drive on the tarmac and once we reached the airplane the rat race kicked off. Even though everybody was assigned a seat the Chinese crowd would sprint to the Airbus like I have never seen before.
I'm actually surprised that nobody was getting hurt. People would push, their luggage would hit other people and their was literally no mercy for one and another. I'm used to those scenes since I have been living in China for quite some time but for Westerners who have never been exposed to the 'Chinese Dream' can find this a little disturbing, however I don't really mind.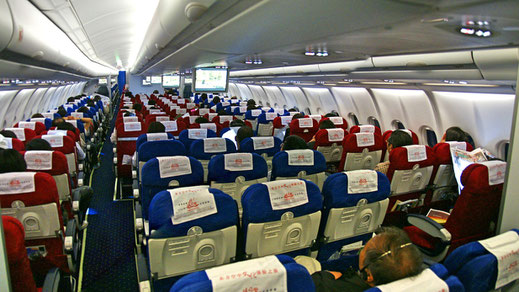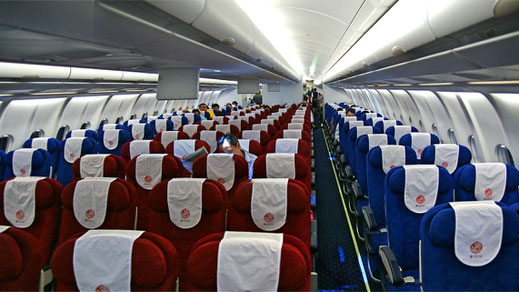 Old and very firm seats.
I was greeted by China Eastern staff right at the door and I was directed to my seat. The cabin was pretty full. Once everybody was seated the crew would close the doors and I was expecting safety instructions or the safety video to be shown on the screens above us... but no nothing happened. I don't know, but I think that is highly illegal. Instead newspapers were offered and headphones were given out. We taxied to the runway and took off without any safety briefing.
I find this totally irresponsible of China Eastern and I don't know how they can get away with it. The cabin crew wouldn't even care whether you reclined your seat for take off or not or if your seat belt was fasten. I was told though that I can't use my phone, not even in flight mode which I find a little dumb, considering that this was their only concern.
Check out the China Eastern Airbus A330-300 Seat Map.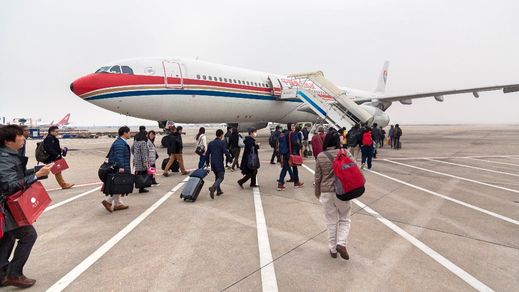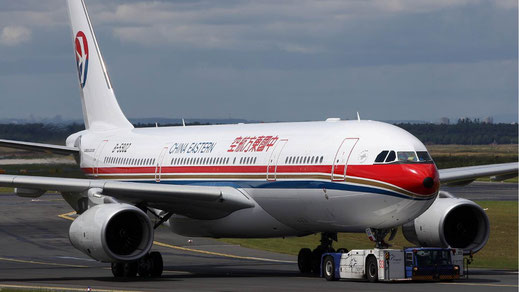 No Personal Entertainment or food.
When I flew to Yinchuan in central China on Shandong Airlines, I was served a proper western breakfast. The flight time was only 1:50 hours and they got the whole service done in no time. China Eastern gave out cold beverages and nuts. That's all you will get. Also the entertainment options are very limited.
You won't have a personal screen which can be quite a pain for a longer flight, especially to Australia or Europe. Instead, a documentary about San Francisco was screened on the small overhead TV's which are installed every fifth row. I don't know why they don't show anything related to Shanghai or perhaps show a movie but however, I like San Fran and I couldn't be bothered much.
The Plane was filthy and the Cabin badly maintained.
The crew was nice, considering their very poor English. But I appreciate their efforts. Most of the flight they were busy telling people to switch off their phones and one hour prior landing they offered coffee and tea. The coffee was just the way I like it, with a lot of milk and a little sweet. If you like your coffee black, you won't have a choice unfortunately as my seat mate experienced.
The airplane overall was very filthy and quite old. The seats very firm and my table tray wasn't working which means I had to hold my coffee since I had nowhere to put it.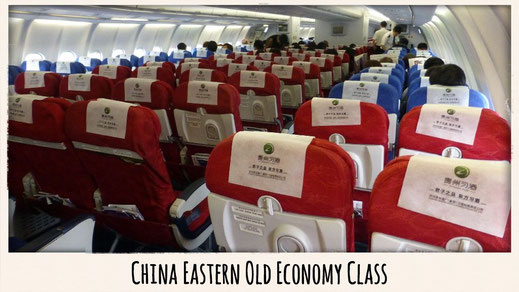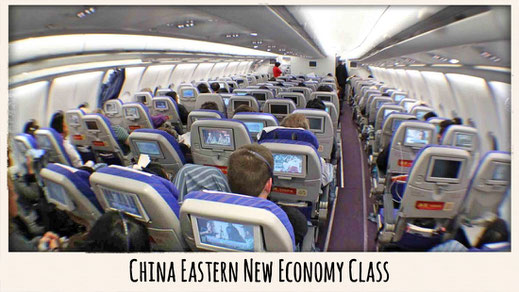 Very Attentive Crew
I could tell that there was more crew on the flight than you usually have because some of them had to take regular seats for take off and landing. Throughout the entire flight, you would have flight attendants standing at the end of each aisle keeping an eye out on passengers need or perhaps prevent some Chinese passenger to open the emergency exit mid flight, which, believe it or not has been attempted on Chinese airlines. Extra crew usually improves the service so I don't think that this is an issue. 
After giving out nuts and beverages the crew would put stickers in front of each passenger which were sleeping, saying that they would serve them later if they wish to. That is a nice gesture I think and shows some dedication.
China Eastern Airlines Business Class: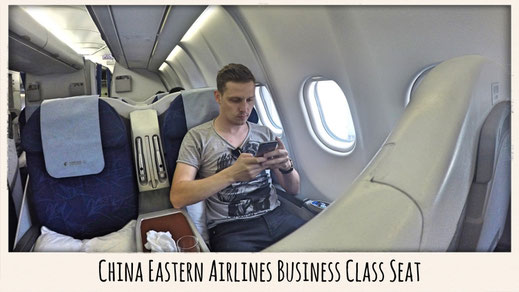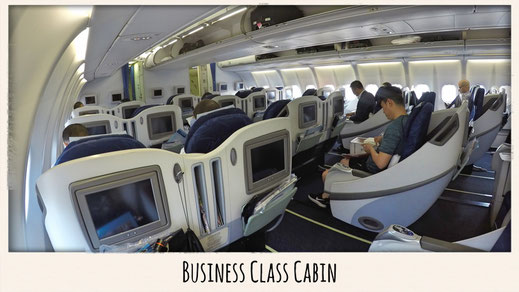 Shanghai Hongqiao is pretty decent and well connected
I'm not joking but from disembarking the airplane to getting on the subway took me exactly 6 Minutes 21 seconds including one minute at the ticket machine. This is really something I like and within no time I was in downtown Shanghai surrounded by sky scrapers. Also getting to Hongqiao or Pudong couldn't be any easier.
All you need to do is hop on Subway Line 2 and it will take you right into the heart of China. If you have a layover of more than 5 hours you can definitely visit the bund, take a selfie and head back to the airport.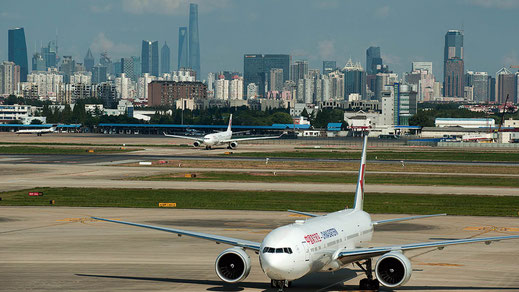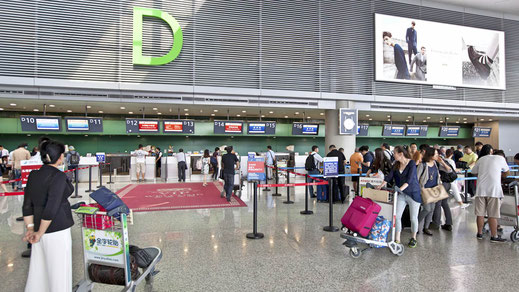 China Eastern Airlines Bottomline:
China Eastern Airlines is not competing for the worst airline award as this one will stick with Air China for the next years, however I think there is a lot of room for improvements. You can tell that the airline is trying to improve their service and also target western travellers since they offer great and cheap fares between Europe and Australia, which is also the shortest way. I definitely didn't appreciate the fact that no safety instructions were given which should be every airlines number one priority.
Otherwise I think you get what you pay for. If you are lucky you get to travel on one of the newer aircrafts which offer personal entertainment, especially on North America routes. I say, if it's a great deal, book it, but otherwise, the $50 you might save ain't worth it.
My Travel Hacks shared with you!
As a Frequent Flier, I usually book my trips on JustFly (cheapest fares) or CheapOair (great Business Class deals). Check it out!
I put together a whole article with my best Business Travel Hacks and Trips. Including how to get cheap lounge access, affordable airport pick ups or how to find the best seat on your next flight, check it out!
---
Before you go, Read another Review.
---