I found a very cheap air fare from Prague to Bangkok with a stop over in Kiev with Ukraine International on Momondo for just $250. I was a bit skeptical whether the Ukrainian airline is any good or safe but every airline operating in and out of Europe must meet the same safety standards. It was more a question of comfort and whether I want to compromise on it.
I had a great experience with Aeroflot before and I decided to book the flight. My journey started at the Aria Hotel right in the heart of the Golden City. Prague is one of my favorite cities in the world and Vaclav Havel Airport is probably one of the best airports I know. It offers the best facilities, fast and free internet and it is easy and cheap to reach.
It would have also been the first time for me flying a Boeing 767, an airplane you don't see that often anymore. Read about my entire experience below...
Flight Details:
Flight Ukraine International PS271
Kiev Boryspil to Bangkok Suvarnabhumi, January 21st
Boeing 767-300ER UR-GEA
Duration: 09:10 hours.
Seat: 30C (Economy Class)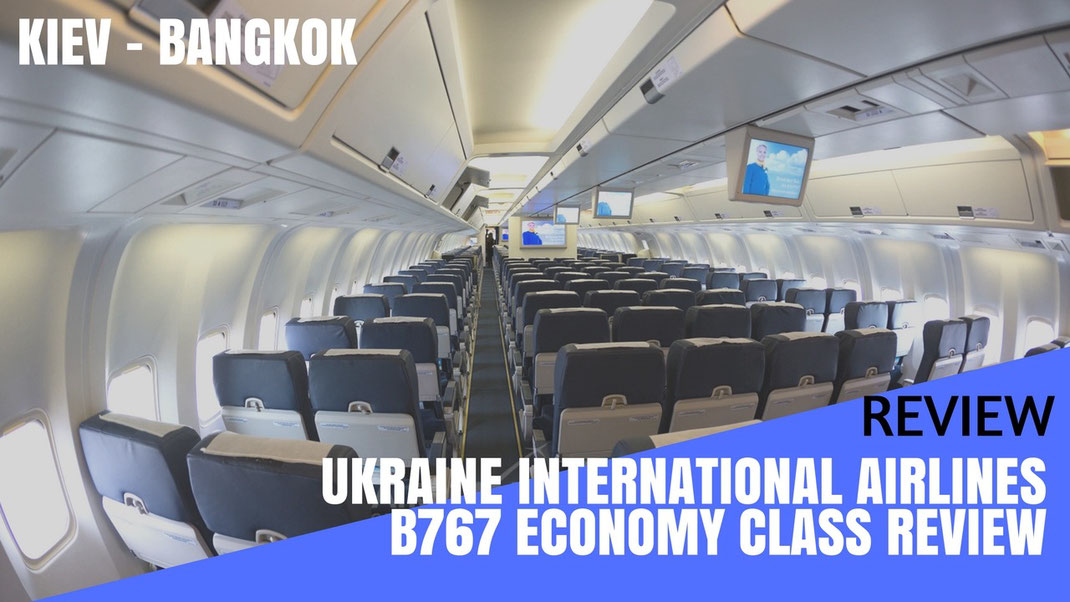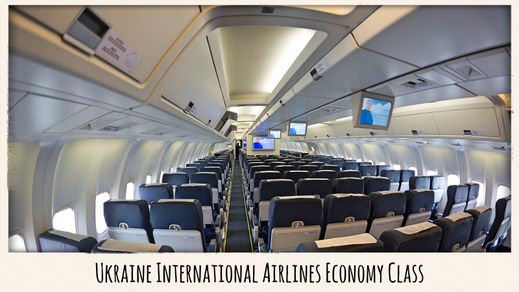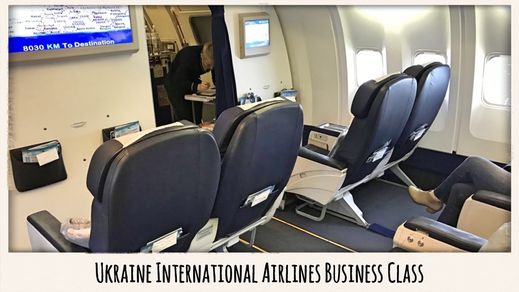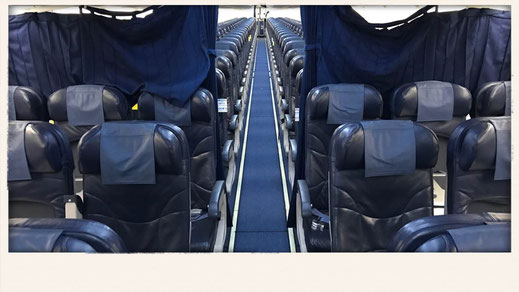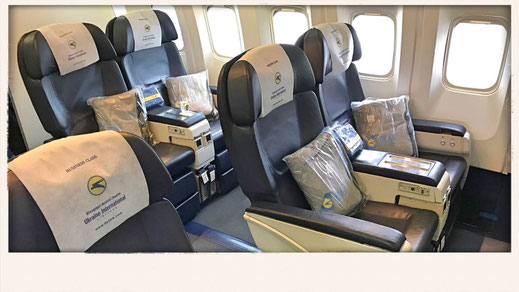 From Prague to Kiev on a 737
The check-in was easy and fast and the baggage allowance was 23kg per person plus 7kg of carry on. The flight time to Kiev was around 2 hours and I was gonna face a 7 hours layover at Kiev Boryspil International airport.
The flight was smooth with no delays and the onboard service was lovely. A young, eager and friendly crew and the comfort was just as good as any other airlines Boeing 737. No complaints at all. Now I was a bit worried about the condition of the airport but also that should turn out to be no problem at all. The main terminal is brand new and very spacious. It offers a great view over the tarmac. The internet was fast and free.
The only issue I faced was the lack of restaurants. You won't find any western restaurants, instead you have a handful of cafe's which serve some local food, such as blini pancakes.
Here are some useful information regarding your baggage allowance and a seat map for Ukraine Airlines:
- Ukraine International Airlines Baggage Allowance for domestic and international flights.
- Ukraine International Airlines Boeing 767-300ER Seat map.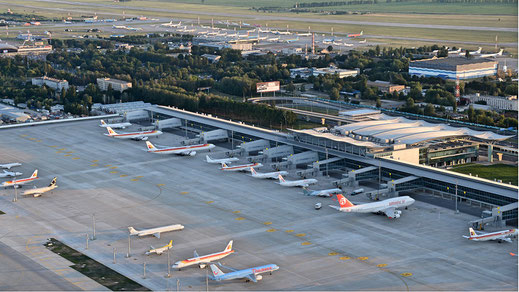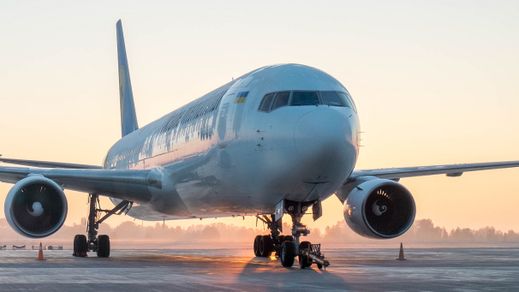 Ukraine Airlines Boeing 767-300ER
Ukraine International is serving just a handful intercontinental flights including New York JFK, Beijing Capital, Colombo and Bangkok Suvarnabhumi. All those destinations are being served by their 767 long haul fleet with an average age of 25 years. 3 out of 4 of them are old Royal Brunei Airlines planes which are now being leased by the Ukrainian carrier.
The airline purchased 4 brand new Boeing 777-200 which are expected to join the fleet in 2018. They are most likely to replace the 767 fleet.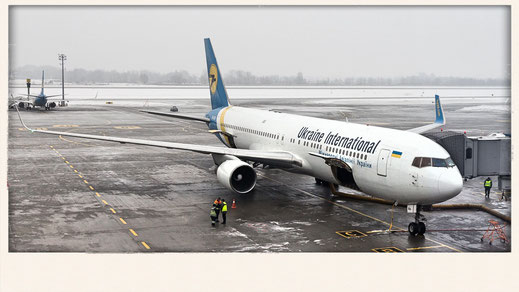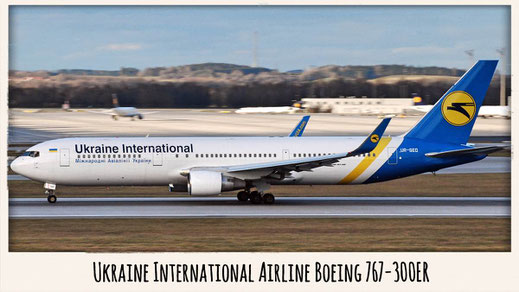 Cabin Crew, Dinner and Seat
You will probably be able to tell that the interior of the aircraft is a bit nostalgic if you are a frequent flier. The audio controls were located in the arm rest and the sound quality was dreadful, after all those years of service, I wasn't surprised. Since there's no personal entertainment unfortunately, those were just for what was showing on the overhead monitor. The entertainment started off with a flight map and later Charlie and the Chocolate factory was shown.
The crew was extremely young, good looking and very helpful. This was definitely a plus and put a huge smile on my face. Every time they would walk pass, they checked on me whether I needed something. Even if they didn't ask, I could tell by the way the looked at me. I knew I was in great hands. Also their English was good enough for a little small talk.
The dinner service was fast and efficient. For dinner a chicken potato dish was served and 2 hours prior landing we were given breakfast. Both meals were nice though nothing special. However It was quite filling and I enjoyed it.
The rear bit of the airplane was vacant and I secured myself a complete middle row in the back and turned it into a bed. I grabbed a blanket, 2 pillows and made myself comfortable. I had a very good 6 hour solid sleep and woke up just in time for the breakfast service. It was as comfortable as a business class bed and I really mean it.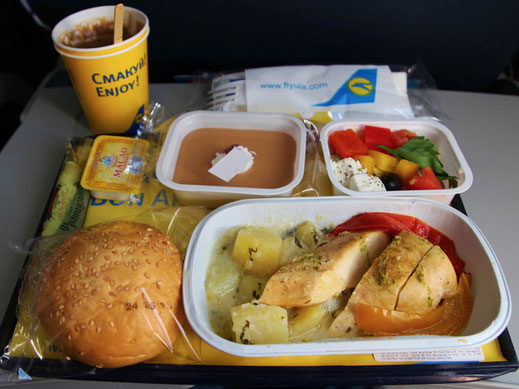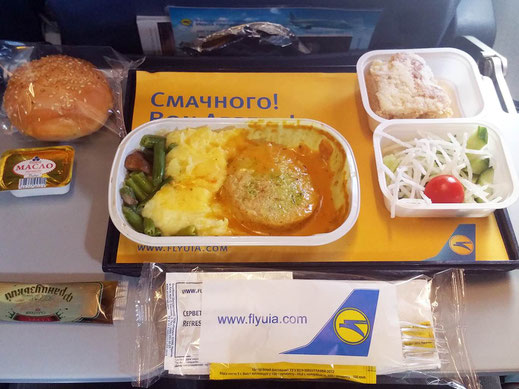 We didn't fly over Eastern Ukraine or Russian Occupied Crimea
The biggest concern flying Ukraine International Airlines is probably the flight route. Especially since the downing of Malaysia Airlines flight MH17 over Eastern Ukraine in July 2014. After the incident the Ukrainian air space is a red flag for airlines heading eastwards to Asia. Also the Ukrainian carrier avoids both, flying over the Russian occupied Crimea or the troubled zone of Eastern Ukraine.
Instead the airline flies between the little corridor between the city of Odessa and the Crimean Peninsula. Once over the Black Sea the Boeing turned sharp to the East enroute Bangkok.
UIA 767 Economy Class Bottomline:
Considering the very cheap fare, I was quite satisfied. The crew was very friendly, the food was good and given that I was flying on an airplane that had been in service for 25 years, it was actually quite comfortable. UIA was $200 cheaper than the next best fare with Aeroflot or Norwegian. There is nothing to be worried about and even the airport in Kiev provides everything you need. I'd certainly fly the Ukrainian airline again.
My Travel Hacks shared with you!
As a Frequent Flier, I usually book my trips on JustFly (cheapest fares) or CheapOair (great Business Class deals). Check it out!
I put together a whole article with my best Business Travel Hacks and Trips. Including how to get cheap lounge access, affordable airport pick ups or how to find the best seat on your next flight, check it out!
---
Before you go, read another review.
---