At 2:50AM my alarm woke me up at the Rosewood Hotel in Beijing. I was gonna be part of Thai Airways very first flight from Beijing to Phuket, the famous holiday destination in Thailand. Branded as the "PhuketExpress" the national carrier will serve the route 4 times a week on their 787 Dreamliner.
Chinese tourist numbers are on the rise and stunning holiday destinations are rare in China. The alternatives are either the Phillipines with Cebu Pacific for example or now straight to Phuket with Thai Airways. Two other Chinese carriers are serving the same route at the moment. Those are Hainan Airlines and Air China which is the worst airline in the world.
Given the fact that Hainan is only operating a Boeing 737 on the 6 hour flight, I'd also choose Thai on this particular route. But let me give you a comprehensive review of Thai Airways...
Flight Details:
Flight Thai Airways TG685 "Phuketexpress"
Beijing Capital to Phuket, March 27th
Boeing 787-800 TS-TQC
Duration: 05:50 hours.
Seat: 12K (Business Class)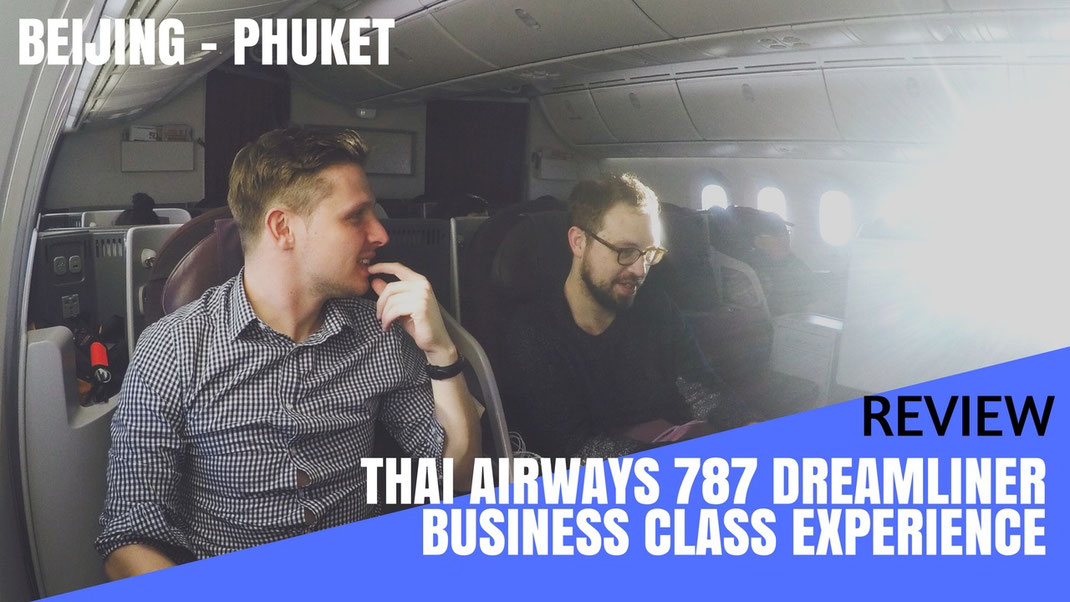 Check out my Thai Airways Video Review ->
If you don't want to read the review (I know, too many words) you can just lean back and enjoy my video report which gives you a detailed inside of what it's like to travel with Thai Airways Business Class.
Enjoy and if you liked it please give it a thumbs up and subscribe to my channel for more airline reviews.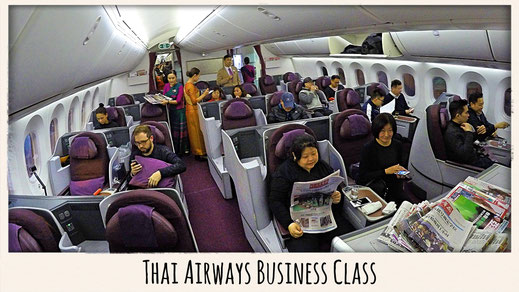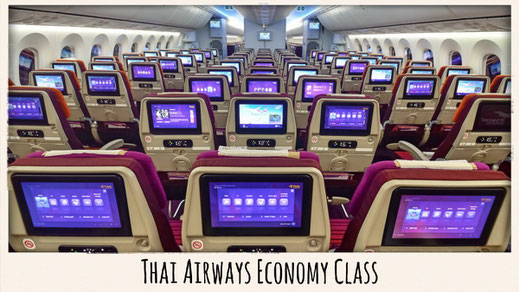 Check-In and Air China Lounge
I arrived at the airport at around 3:30 in the morning and Beijing Capital Airport was still asleep. No waiting lines at Starbucks, No domestic flights until 6AM, it almost felt like a regional airport.
Thai Airways check-in counters are centrally located at Gate E. I checked-in my bag and my boarding pass, including lounge access was handed to me in less than a minute. I didn't make use of the 40kg baggage allowance but I guess that is good to know as well.
Thai Airways grants access to the Air China lounge at Beijing Airport at Terminal 3. It's a very basic lounge, often out of food and definitely an embarrassment given that this airport is actually Air China main hub. However I don't want to get more into it since I reviewed the lounge on my recent trip to Doha with Qatar Airways.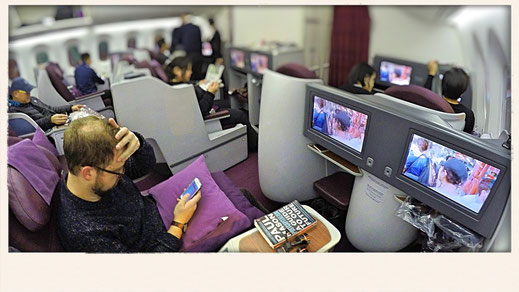 Thai Airways Business Class
I was quite excited to experience Thai Airways Business Class and it's well known on-board service. I was greeted by the cabin manager with a huge smile and a "sa-wad-dee khrab". I decided to go for a window seat even though I knew that Thai's Business Class comes in a 2-2-2 configuration. Which means If you sit at the window you won't have direct aisle access.
However the seats are designed to give you a lot more privacy than you think. Unlike Hainan's Business seat which leaves you totally exposed to your seat neighbour. I also enjoyed it more than Qatar Airways old Boeing 777 seats.
Once I made myself comfortable I was offered a pre-departure drink and also my food order was taken before take off. Instead of giving out menu's the crew would just read it out to me.
I could choose between a traditional Thai breakfast or an omelette. After the food order I received my amenity kit. It had all the basics but nothing beyond that. I noticed the slippers though in the kit which you barely get these days in any Business Class, long life the King of Thailand...haha.
Find the best seat on Thai Airways 787 Dreamliner. (Business 24 seats/Economy 240 seats)
All seats feature personal entertainment (also in Economy Class).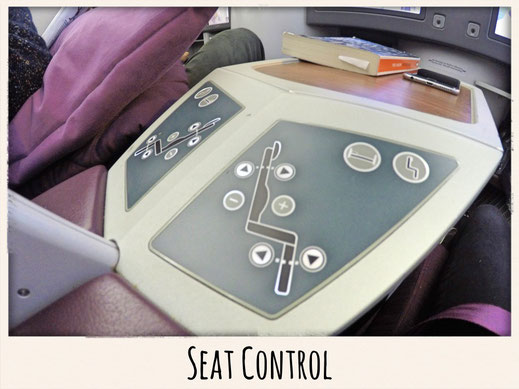 The Seat and the Crew
I used the time between take off and breakfast to play around with the seat panel. The seat can be turned into a very comfortable flat bed which pretty much isolates you from your seat neighbour. The sleep quality was great and so was the blanket. Instead of giving out water bottles the crew would just top up your water glass every now and then.
The seat offers storage space behind your right shoulder, this is also where the USB port and the power outlet are located. There is enough room to place a small bag or headphones. Also a reading light is located above your right shoulder. Another facility to store things is underneath the TV screen in front of you.
I found the crew extremely attentive and someone would be in the cabin at most of the time. They even showed some genuine interest and engaged me in a few conversations which I really quite enjoyed. I didn't see a false not anywhere and honestly Thai Airways seems like a extreme capable airline, considering that this was my third flight with the South East Asian carrier and I was always quite satisfied.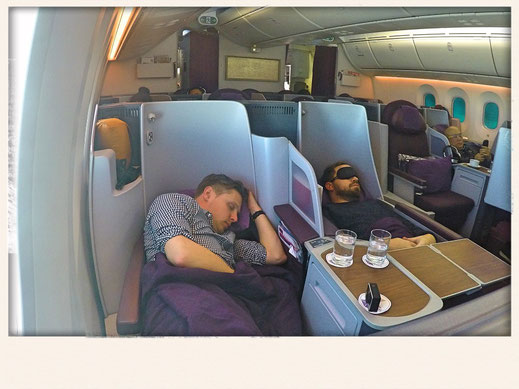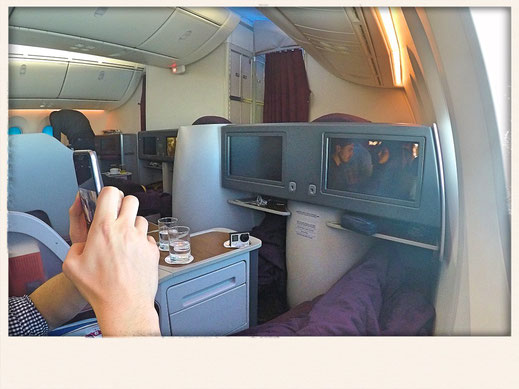 The Business Class Breakfast
The breakfast started with a fruit platter, warm croissants and bread rolls. Butter, strawberry jam and yoghurt to round it up. I found the fruits fresh and the jam was extra yummy. Also the bread made it's way straight onto my plate from the oven.
Something I absolutely dislike is when the bread basket has been sitting on the trolley for too long and the bread gets stale. For some reason this always happens to me when I fly Cathay Pacific...
After the fresh fruits, my omelette arrived. The portion was great. It was a lovely breakfast and completed with some freshly brewed coffee.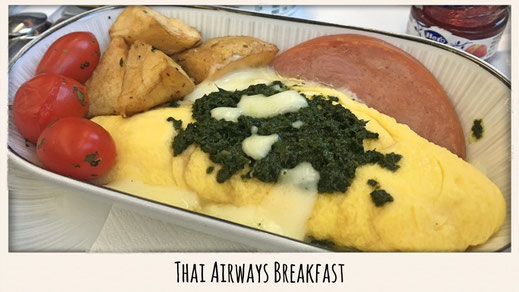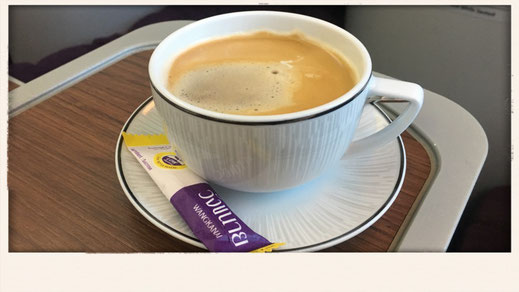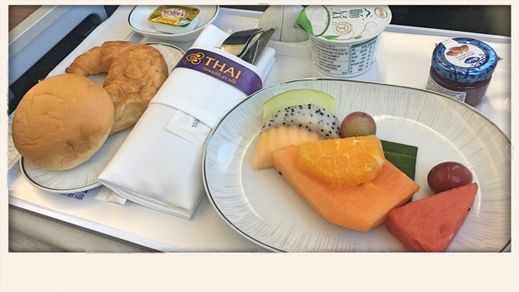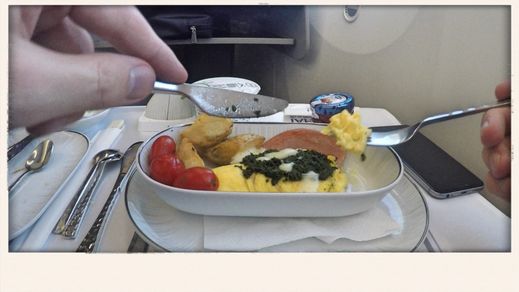 1,000 hours of Entertainment but No Wifi on board.
Thai Airways offers a great range of movies, games and sitcoms. The airline claims to offer around 1,000 hours of solid entertainment. You can choose between new movies such as the new Star Wars story "Rogue One", Manchester by the Sea with Casey Affleck or Arrival with Jeremy Renner, just to name a few of them.
If you want to stay connected throughout your flight I need to disappoint you. Thai Airways Boeing 787 doesn't offer onboard wifi unlike other Dreamliners. However, the Boeing is equipped with the necessary technology to do so. Perhaps in the near future Thai Airways will consider it. Currently you can go online on all A330, A380 and the new A350.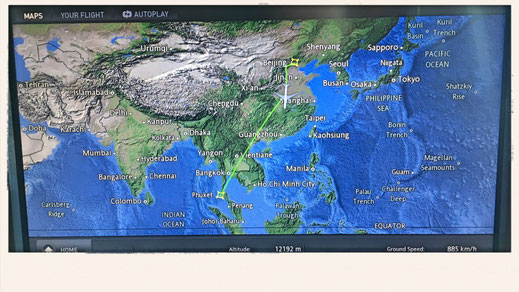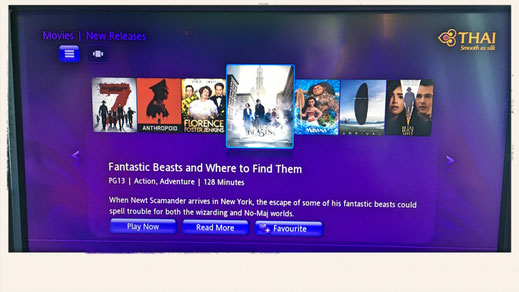 Thai Airways Economy Class
Around 2 years ago I flew from Bangkok to Kuala Lumpur on Thai's new Dreamliner in Economy Class. The seats are configured in a 3-3-3 configuration with 240 seats in total. This is 19 fewer seats than Norwegian Air offers or 8 more than Qatar Airways 787-8 Dreamliner for instance. I personally find the seat very standard and comparable to Qatar's product.
30kg Baggage allowance and 7kg of Carry-on.
Shared Power Ports are available in each row.
Personal Entertainment Screen.
Thai Airways Bottomline:
Thai Airways is a great airline which comes across very natural. The flight attendants on my flight were fantastic, friendly and very charming. The crew assigned to my row would even notify me before she went on her break saying that the Cabin Manager would now take care of me. While I'm not a big fan of the 2-2-2 configuration in Business Class I was surprised how much privacy this particular seat offers. It must have been the best seat I have experienced in this configuration.
The food was solid, and also the Economy Class product is great. To be honest, there isn't much to improve and I'm glad to see Thai Airways doing a great job.
My Travel Hacks shared with you!
As a Frequent Flier, I usually book my trips on JustFly (cheapest fares) or CheapOair (great Business Class deals). Check it out!
I put together a whole article with my best Business Travel Hacks and Trips. Including how to get cheap lounge access, affordable airport pick ups or how to find the best seat on your next flight, check it out!
---
Before you go, read another review.
---