This time I was travelling from Beijing to Istanbul on Turkish Airlines Boeing 777. The Istanbul based airline serves more destinations than any other airline in the world and was awarded best carrier in Europe for 6 consecutive times. I have tried their Economy Class a few times and I was always very impressed. Let's see what was awaiting me in their award winning Business Class...
My trip kicked off at the 74th floor of the China World Summit Wing Shangri-La Hotel alias the World Trade Centre of Beijing with a magnificent view over the Chinese Capital. If you ever come to Peking, make sure you give this place a try.
Flight Details:
Flight Turkish Airlines TK21
Beijing Capital to Istanbul Ataturk, May 31st
Boeing 777-300ER TC-JJH
Duration: 10:15 hours.
Seat: 3K (Business Class)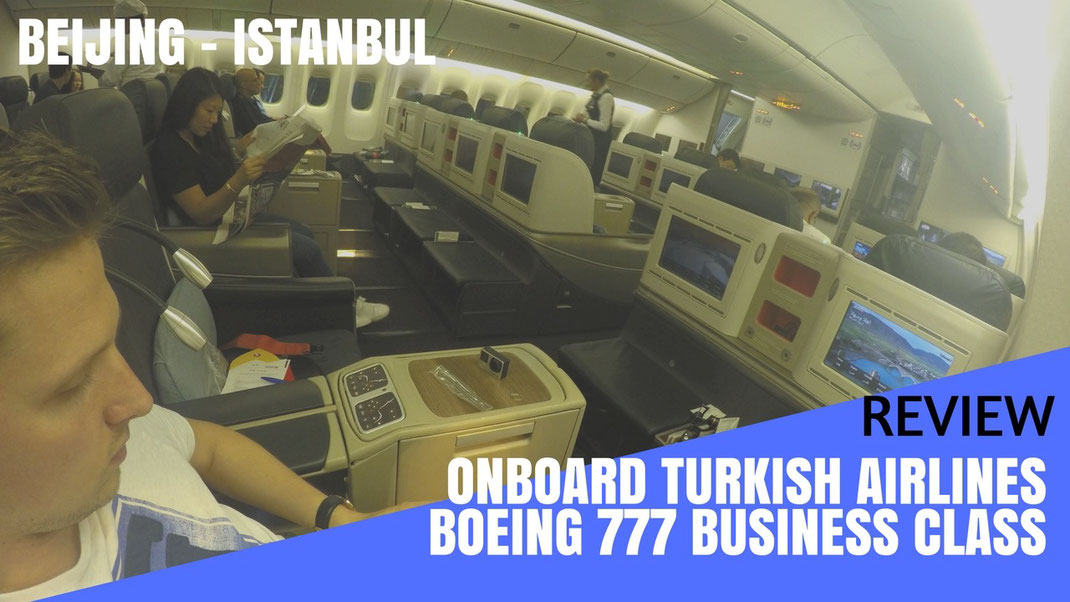 Check out my Turkish Airlines review ->
If you don't want to read the review (I know, too many words) you can just lean back and enjoy my video report which gives you a detailed inside of what it's like to travel on Turkish Airlines Business Class.
Enjoy and if you liked it please give it a thumbs up and subscribe to my channel for more airline reviews.
Air China Lounge Beijing Airport
Turkish Airlines doesn't operate an own lounge at Beijing Capital Airport. As a part of Star Alliance, the airline offers access to the Air China Business Lounge at Terminal 3. To be honest, the lounge isn't very impressive, especially if you compare to the TK lounge in Istanbul which is simply amazing. However it serves it's purpose. It offers a little buffet, hot and cold beverages and a few cozy couches and arm chairs... However, there is Starbucks at the entrance of the lounge!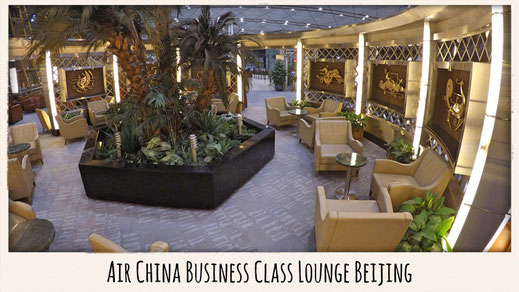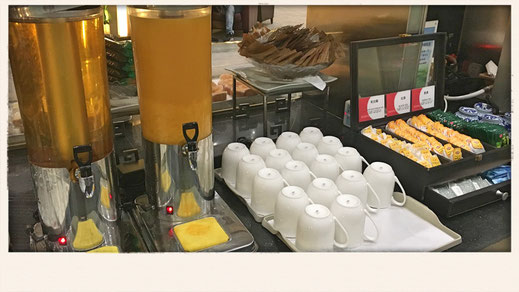 The Turkish Airlines Business Class Seat
Boarding started approx. 40 mins prior departure and I was welcomed by the cabin manager at the door who pointed out my seat. The configuration of the cabin is a 2-3-2 which means that their is one seat in the middle which doesn't have direct aisle access. It's similar to Emirates Business Class on their Boeing 777. The seat is quite comfortable with plenty of leg room. It can turn into a complete flat bed and becomes one with the ottoman for maximum length.
Storage room is provided between the two screens, underneath the ottoman and the armrest. This is also where the remote control, the USB port and the power plug are located. The seat controls are on top of centre console, which are quite straight-forward. Before take off a welcome drink was offered and the Sky Chef introduced himself and talked me through the menu. I was also asked to fill out my breakfast order which I was happy to do.
Shortly after take off hot towels were given out and the dinner service kicked off. I also liked the fact that slippers were available, which Qatar Airways doesn't do anymore! The cabin was only half full and the seat next to me stayed empty. The crew was efficient and fast but lacked a bit of personality, however, the Sky Chef was great and took huge pride in his job when introducing the food.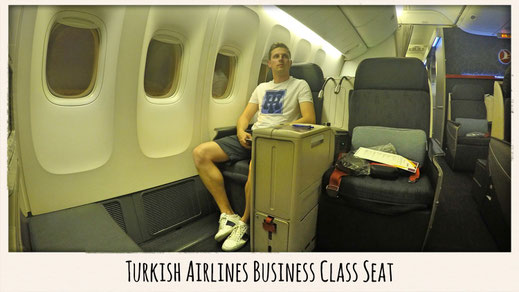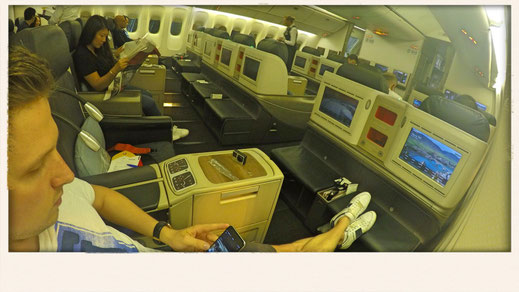 The entertainment system featured a few good movies and the sound of the Denon Headphones was spotless. I watched "The Founder" which is the story of Ray Kroc, the man who turned McDonalds into what it is today. Pretty good movie, I enjoyed it. The second movie I watched was "Live by night" starring Ben Affleck. The movie was super lame and one of the worst I have seen in recent months. However, the screen was very responsive and scrolling through the movies went smooth as butter. 
After dinner service (more details below) I went to sleep. The crew actually attached an extra layer to your bed before the dinner service starts so you can go straight to sleep afterwards. This is just so much more convenient since it's hard to get hold of the crew during the busy periods and to ask them to get your bed prepared. Turkish Airline offers internet onboard for a fee. I was just too tired to try it out since I rather wanted to sleep but there is an option if you wonder.
I had a solid 7 hour sleep and I gotta admit that the seats are extremely comfortable and wide. The one downside to the seating is that there's very little seat storage, so unless you get up and place something in the forward console there's really nowhere you can store things.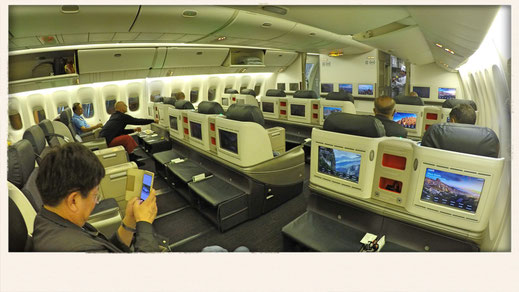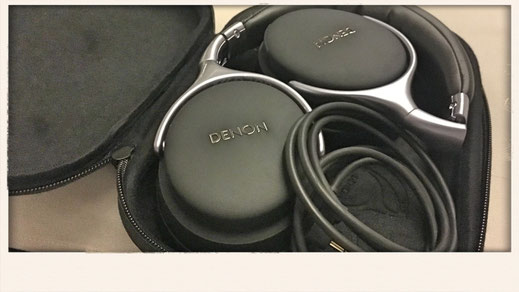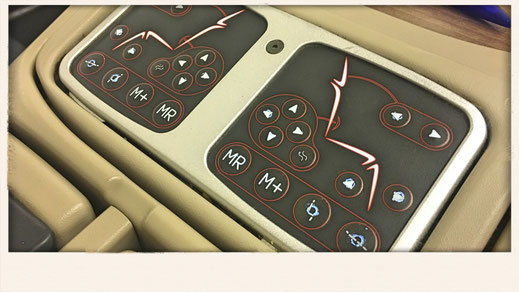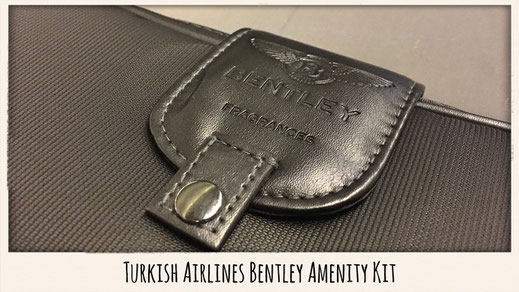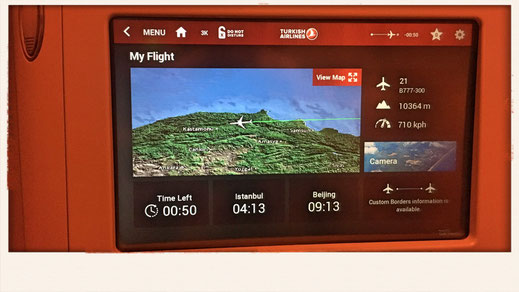 Turkish Airlines Award Winning Business Class Food
Turkish Airlines food starts to amaze the moment you receive your first tea and nuts. Usually I never touch them but when I tried the pistachios I was totally surprised. They were lovely as well as the tea. I couldn't wait for the starter. A pistachio (again!) Chicken Roll with Prawn. The whole set up needs to be mentioned as well. You get a tray with bread and butter, olive oil and a little bowl of Turkish seasoning. The real highlight was the little fake candle which had "Candle light dinner in the skies" written on it. Awesome!
I decided to give the 'Catch of the Day' a try since I really love sea food. British Airways took my joy away from being too eager when it comes to fish on board since they served the driest salmon I have ever tried but the Turkish carrier totally restored my faith. The Sea Bass was probably the most delicious food I ever had on a flight. Full of taste, juicy and fresh. I was extremely satisfied.
After the main service, the dessert cart was rolled around with a wide choice of sweet pleasures. It was nicely presented and I gave the Lemon Tart a go and It was just the perfect ending of a delicious candle light dinner in the skies...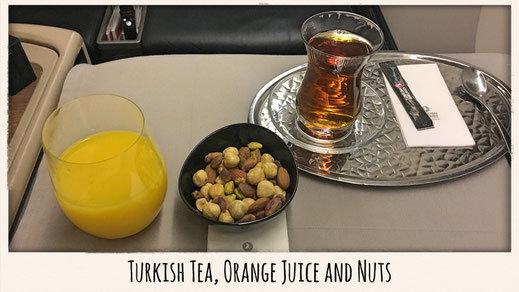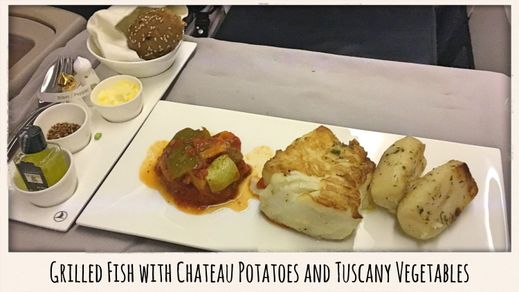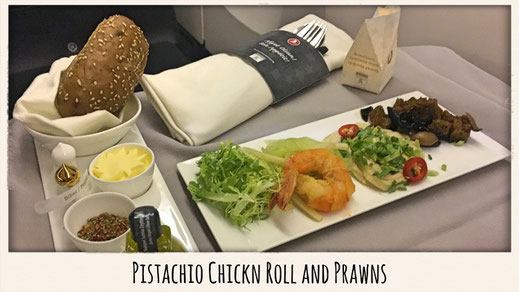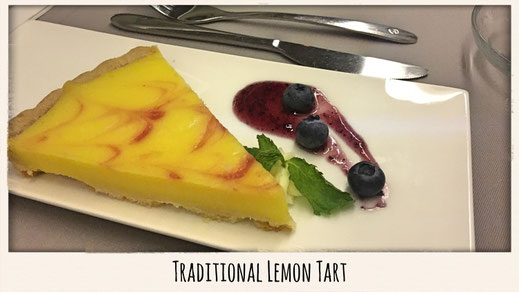 Breakfast Service
I woke up 2 hours prior landing and to my surprise everybody else in the cabin was still vast asleep. On my way to the bathroom the SkyChef checked on me and asked whether I was ready for breakfast "Sure go ahead" was my answer. He took my order shortly after take off so he could just go ahead since he knew what I wanted.
The breakfast consisted of a plater of fresh fruits and was later completed by a cheese omelette with potatoes and a grilled tomato. I had a fresh orange juice and a coffee with it. Shortly we would start our descent into Istanbul, with rain clouds on the horizon.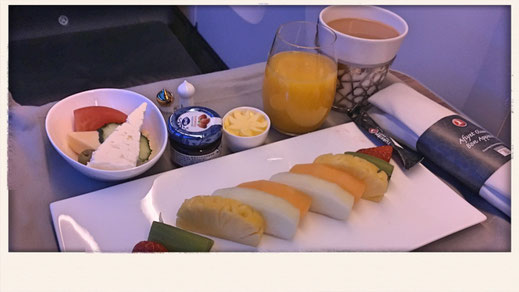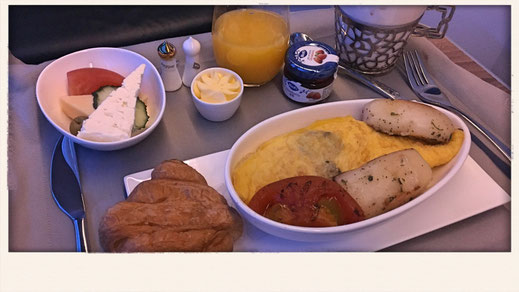 Turkish Airlines Bottomline:
To sum up my experience in one word? I'd say 'delicious'. The food quality is outstanding and was close to fine dining. It does really leave an impression on you. The seat was extremely comfortable and spacious, however the 2-3-2 configuration is a bit outdated. The entertainment was spot on, WiFi is available and overall the crew is performing well, even though they could have been a bit more engaging. I'd definitely fly Turkish Airlines again on any international flight.
My Travel Hacks shared with you!
As a Frequent Flier, I usually book my trips on JustFly (cheapest fares) or CheapOair (great Business Class deals). Check it out!
I put together a whole article with my best Business Travel Hacks and Trips. Including how to get cheap lounge access, affordable airport pick ups or how to find the best seat on your next flight, check it out!
---
Before you go, read another review.
---