Finally I got to try Aegean Airlines award winning product. The airline was named as Europe's best Regional Airline in 2017 and from my experience, flying domestically in Europe is always a pain. However, I found that this flight was actually a very pleasant experience nonetheless...
Flight Details:
Flight Aegean Airlines A3865
Prague Vaclav Havel to Athens International, January 25th
Airbus 320-200 SX-DVT
Duration: 02:30 hours.
Seat: 28F (Economy Class)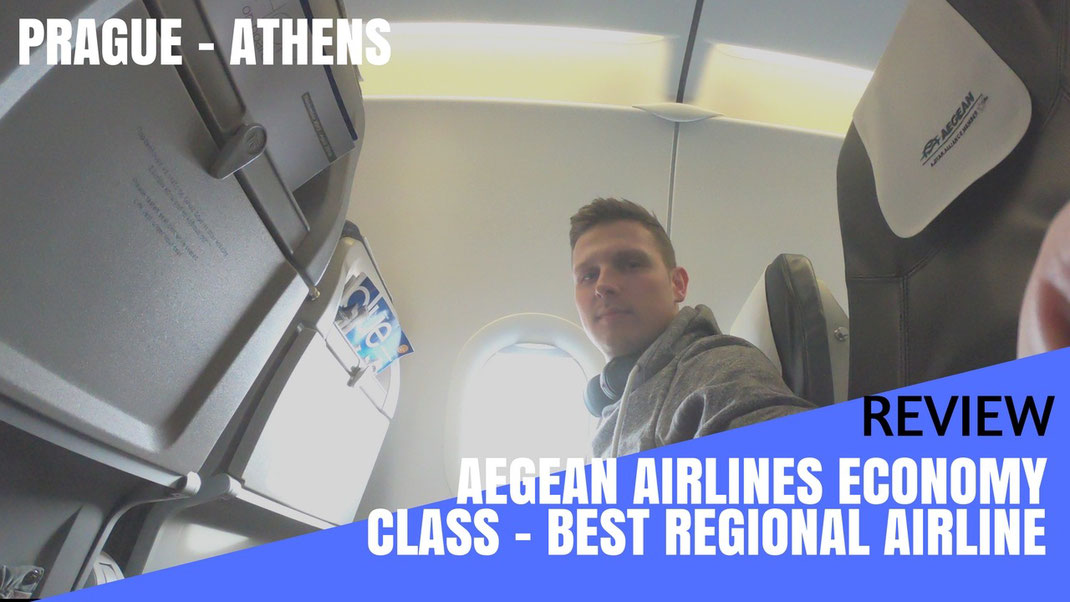 Check out my Aegean Airlines Video ->
If you don't want to read the review (I know, too many words) you can just lean back and enjoy my video report which gives you a detailed inside of what it's like to travel on Hong Kong Airlines Business Class and experience their lounge.
Enjoy and if you liked it please give it a thumbs up and subscribe to my channel for more airline reviews.
Aegean Airlines Economy Class Seat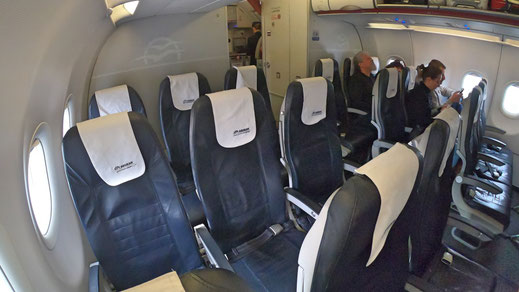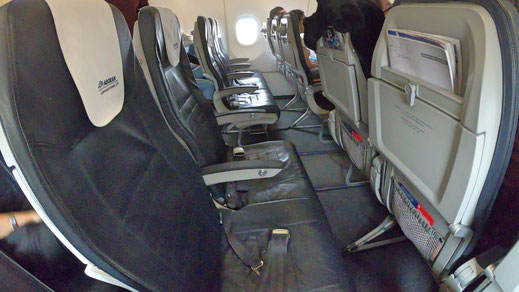 The first thing I noticed upon boarding was the young and friendly crew. That was the same case on my connecting flight to Egypt. The seats are very basic with a standard recline and without personal entertainment. You have overhead screens every 5th row but they were only showing a 2-minute video about the best sights in Greece. Before take off the crew was also handing out candy, a very nice gesture. That's what Turkish Airlines used to do.
I was allowed to Check-In 1 bag (23kg) and to take another one on board with me. This is a pretty fair baggage-allowance. You can find more information on Aegean Airlines website though.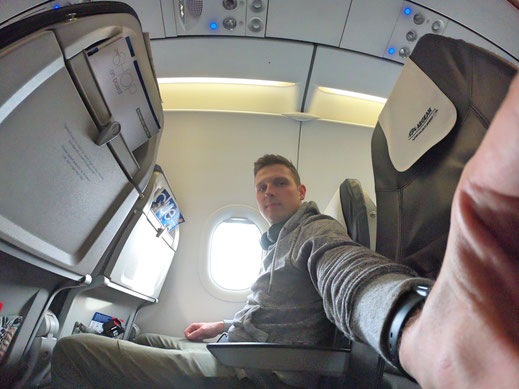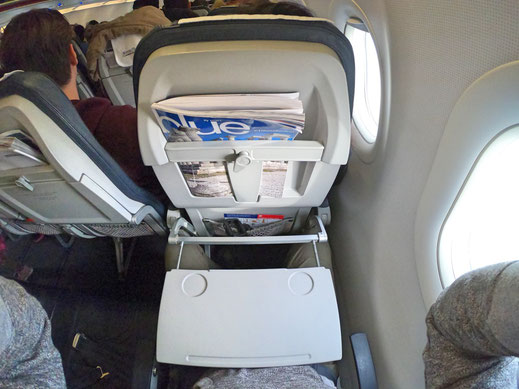 If you still feel hungry you can purchase other snacks and hot meals. You can find the 'Shop on Board' magazine right in front of you, also duty free items are on sale. I personally didn't buy anything since the snack box did the job for me. For entertainment options I recommend you to download some music to your phone of bring your iPad to watch a movie. My latest recommendation: Wind River!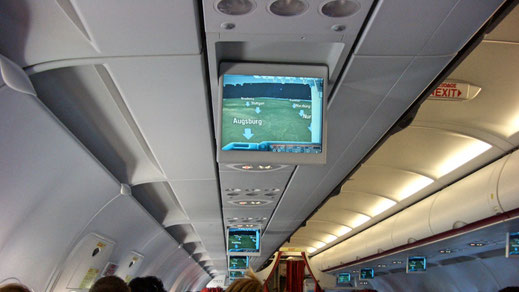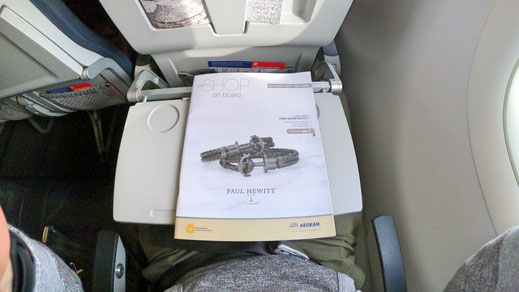 the Aegean Airlines snack box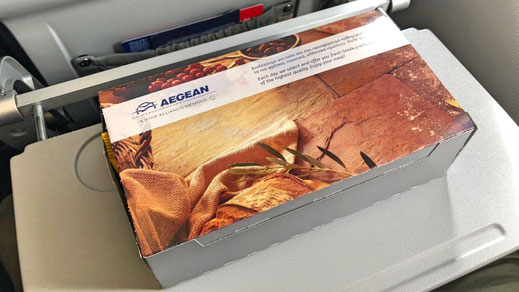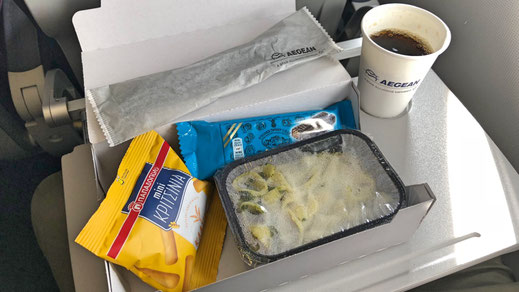 Shortly after take off the crew started the service. First they offered drinks, followed by the snack box. A concept I totally love. It contains a small warm meal, a chocolate bar and crackers. On top of that cutlery, including salt and pepper as well as towel. The food was actually of great quality and this is way more than you get on other carriers.
Remote Gate and Easy Transfer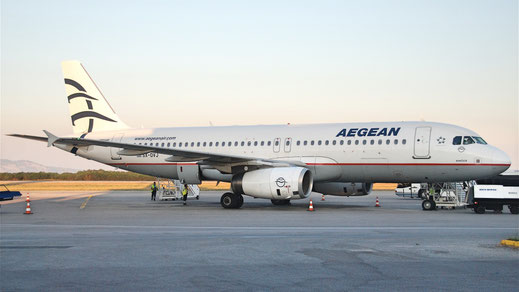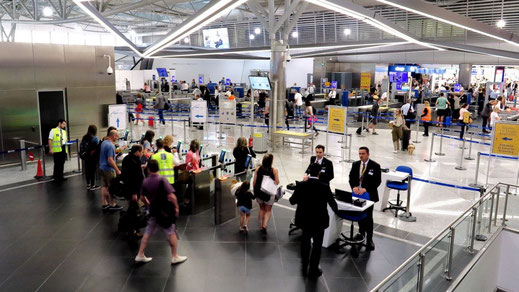 Aegean Airlines is using remote gates for most of their flights at Athens Airport. That also happened in my case, so please take this into consideration when transferring at ATH. I had 8 hours to kill so I decided to take the metro to check out the city. The ride cost you 18 Euros for a return trip, which I found very expensive. The airport however offers Free WiFi and lots of shops and restaurants. Very pleasant hub.
Aegean Airlines Economy Class Bottomline:
There are a lot of things I like about Aegean Airlines, especially the snack box and the generous baggage allowance. The seats are pretty standard and unfortunately there is no entertainment system onboard. However I did like the crew and their attitude. They were really helpful and did a great job. I wouldn't hesitate to fly them again on any route within Europe.
My Travel Hacks shared with you!
As a Frequent Flier, I usually book my trips on JustFly (cheapest fares) or CheapOair (great Business Class deals). Check it out!
I put together a whole article with my best Business Travel Hacks and Trips. Including how to get cheap lounge access, affordable airport pick ups or how to find the best seat on your next flight, check it out!
---
Before you go, read another review.
---