I was looking for a good deal from Beijing to Prague and I came across LOT Polish Airlines which is operating their 787 Dreamliner between China's Capital and Warsaw. I wasn't expecting much but I can honestly that this must have been one of my worst flights in 27 years of flying... Continue reading for the full story.
Flight Details:
Flight LOT Polish Airlines LO92
Beijing Capital to Warsaw Chopin, February 2nd
Boeing 787-8 SP-LRG
Duration: 09:10 hours.
Seat: 7J (Economy Class)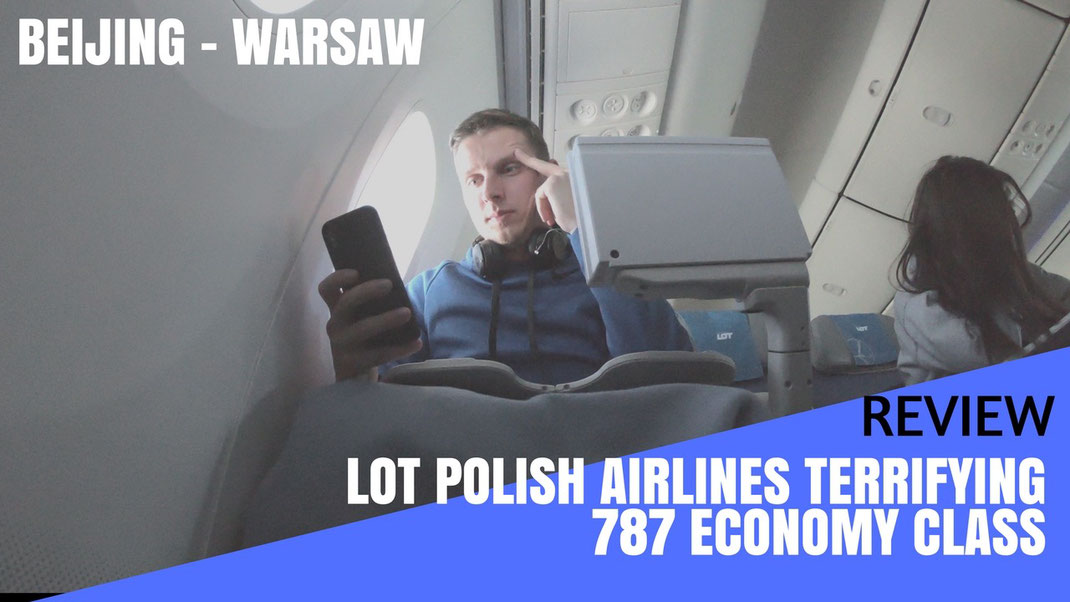 Check out my LOT Video Review ->
If you don't want to read the review (I know, too many words) you can just lean back and enjoy my video report which gives you a detailed inside of what it's like to travel on LOT Polish Airlines 787 Economy Class.
Enjoy and if you liked it please give it a thumbs up and subscribe to my channel for more airline reviews.
Check-In at Beijing Capital Airport
Everything already started at the Check-In counter where an old Polish dude in a black coat would randomly pick Polish people to have them checked-in at the Business Class desk. It was kinda weird and It didn't make much sense to me. Anyways, I received my boarding pass without hassle and proceeded to the security checks...
Luckily I did an online check-in beforehand so I was able to score a bulkhead seat which is a bit more generous in terms of space.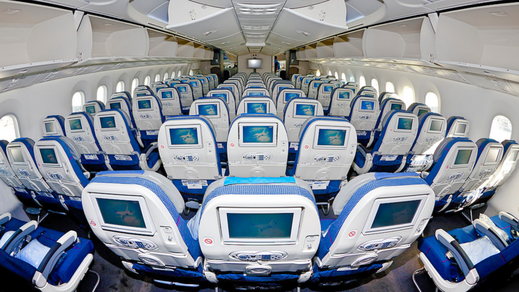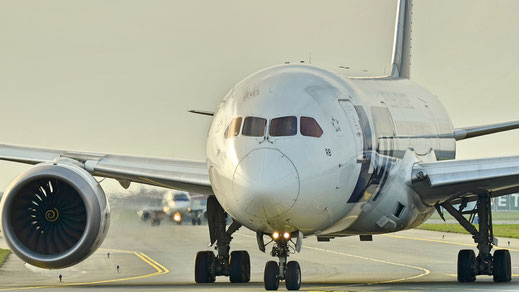 Boarding the Dreamliner
This is when things got really weird. At the door 2 cabin attendants were positioned as if they would guard the aircraft, just like soldiers. They gave me that "What do you want?" look instead of just saying "Welcome onboard" in their super scary looking gestapo coats. They literally did that to every passenger. As I continued walking to my seat I passed by 2 more crew members with the exact same impression on their faces. I felt like I was flying to a funeral.
My seat was 7J right behind the Premium Economy Class cabin. The seat has extra legroom, however the tray table and TV are in the arm rest, slightly reducing the seat width. There was also a pillow and a blanket provided. Later the cabin crew would distribute headphones.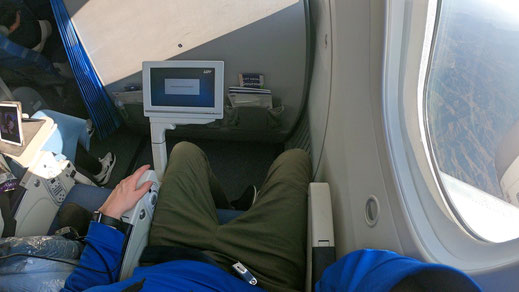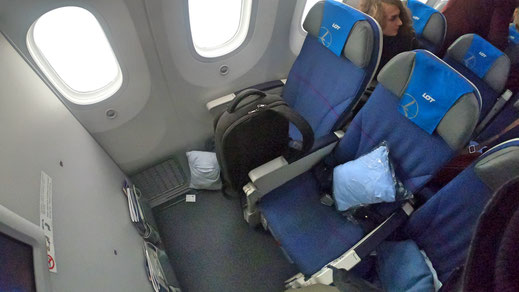 The moment when things got really bizarre...
I took my small little GoPro Camera out of my bag to take a few photos of the menu and all of the sudden one of the crew members started to shout at me "Don't do it, just don't do it". I was totally caught by surprise and I didn't know what to say. She walked towards me and shouted once more "Don't take photos or film". She was standing right next to me and I kept on saying that I should put my camera away. This was super scary and in order to save my life, I did say "Alright, chill".
I literally got the attention of the entire cabin. This was a really weird encounter and I have no idea why she would assault me in such a rude manner. She then disappeared to brief the rest of the crew I guess, because the entire 9 hours I was treated like a prisoner by all the other crew members as well.
The food was an absolute nightmare...
I noticed that the woman who assaulted me changed aisle and another one took her place instead, I guess she didn't want to serve me. The new crew member was a little nicer, even though she tried to avoid any eye contact with me. It was super awkward. She wouldn't even ask me what I wanted to eat but just served me the chicken instead.
However, the food was an absolute nightmare. The rice was extremely dry. If they would have served it raw, it wouldn't have made any difference. Also the chicken was not too enjoyable. The bun that was served with the meal was as hard as a stone... Unfortunately I was very hungry so I ate a bit of it. It was the worst food I was served though in years of flying...
If you fancy a snack in between, you can purchase drinks and chocolate bars in between meal services.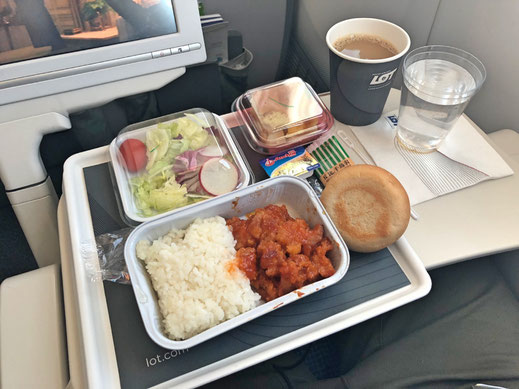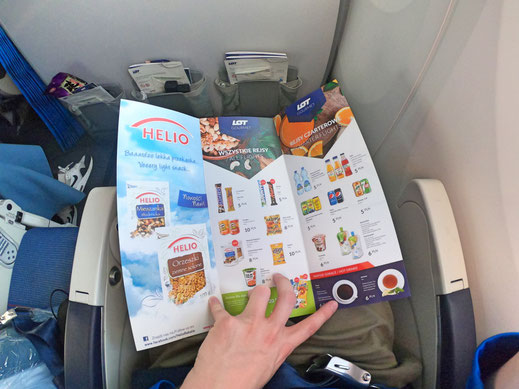 Very average entertainment...
The entertainment left a lot to be desired. A total of 50 movies were available, 60% of them were either Chinese, Indian or Polish. One of the few blockbusters offered are Titanic and The Fountain. I ended up watching The Battle Of Sexes with Steve Carell and Emma Stone which was alright.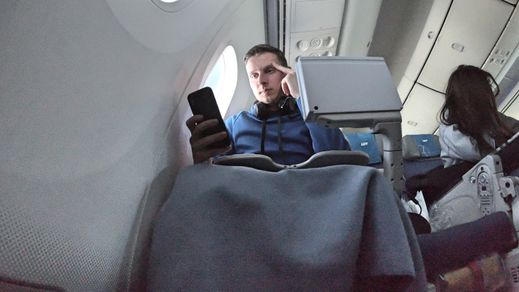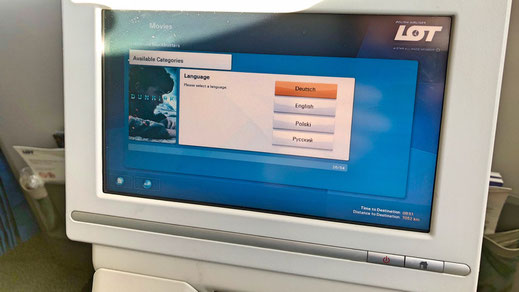 Second meal service...
A few hours prior landing the second meal service started. Everyone was given a box with an odd-looking sandwich and a yoghurt. Once again the plastic-wrapped sandwich was rather dry and I don't think even Ryanair would serve them to their passengers. It was simply not good...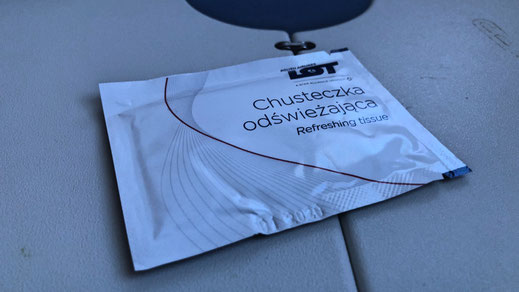 LOT Polish Airlines 787 Economy Class Bottomline:
What shall I say, I think LOT is the most unwelcoming airline I have ever flown with. In fact I was the happiest person once we disembarked. The crew was extremely rude, passive aggressive and definitely working in the wrong industry. The seat was average and the food dreadful. Also the entertainment left a lot to be desired. I wouldn't recommend anyone to fly LOT and I certainly won't ever try them again.
My Travel Hacks shared with you!
As a Frequent Flier, I usually book my trips on JustFly (cheapest fares) or CheapOair (great Business Class deals). Check it out!
I put together a whole article with my best Business Travel Hacks and Trips. Including how to get cheap lounge access, affordable airport pick ups or how to find the best seat on your next flight, check it out!
---
Before you go, read another review.
---