After my nightmare flight with Jet Airways I was very much looking forward to give FlyDubai 737MAX a go in their brand new Business Class Cabin. The budget airline started off a few years ago with only Economy Class, later added a basic Business and now they rolled out their new Premium Class on their 737MAX which is outstandingly good...
Flight Details:
Flight FlyDubai FZ781
Dubai (DXB) to Prague Vaclav Havel Airport (PRG), April 6th
Boeing 737MAX-8 A6-FMC
Duration: 06:10 hours.
Seat: 2B (Business Class)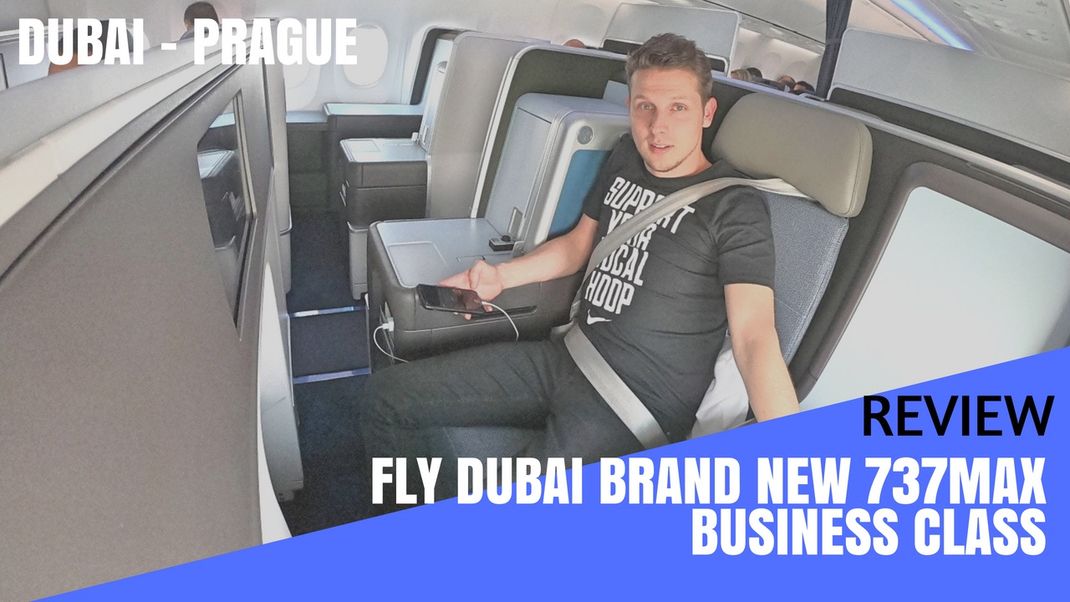 Watch my FlyDubai Video Review ->
If you don't want to read the review (I know, too many words) you can just lean back and enjoy my video report which gives you a detailed inside of what it's like to travel on FlyDubai's new 737MAX Business Class.
Enjoy and if you liked it please give it a thumbs up and subscribe to my channel for more airline reviews.
The new FlyDubai 737MAX Business Class Seat
The new seat is probably one of the best on any single aisled aircraft and even better than the one Qatar Airways offers on their A320. The Business Cabin offers 10 seats with 2 'Throne' seats in the second row. Those seats offer more privacy and storage space. It's a very neat product I must say. I could immediately tell that this was a massive improvement to their old products...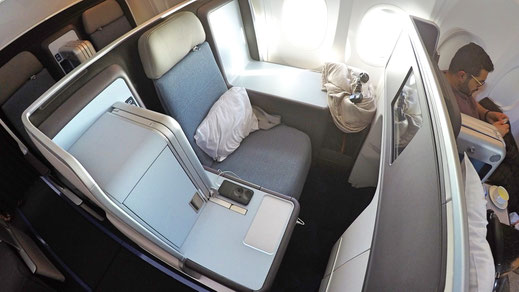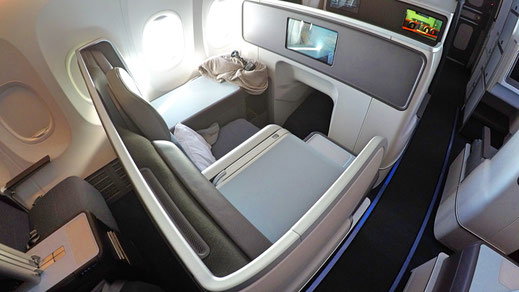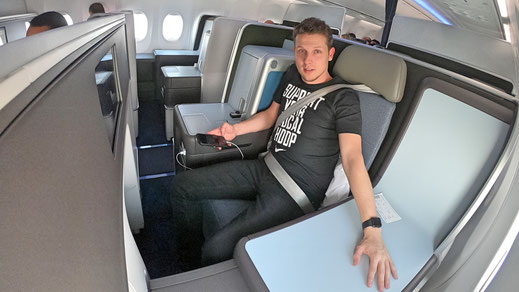 Coffin-like sleeping experience
Every seat comes with a personal entertainment screen, noise-cancelling headphones, blanket and a pillow as well as a power socket, USB slot and a compartment for personal belongings. The seat can go completely flat and kind of slides into a little whole. You literally put your feet into that 'tube' with gives it the feeling of a coffin. It didn't bother me much though.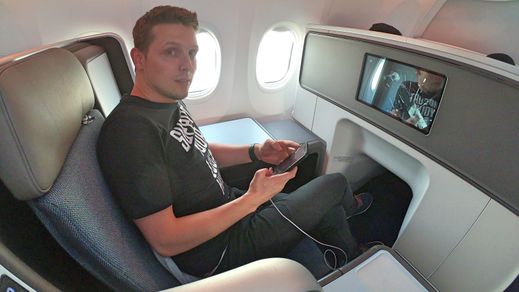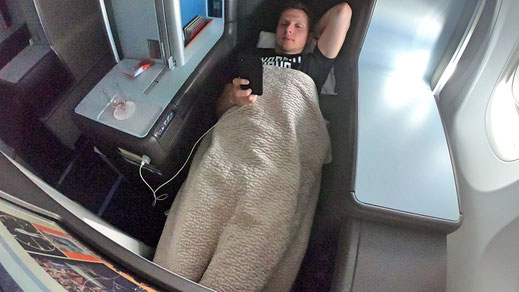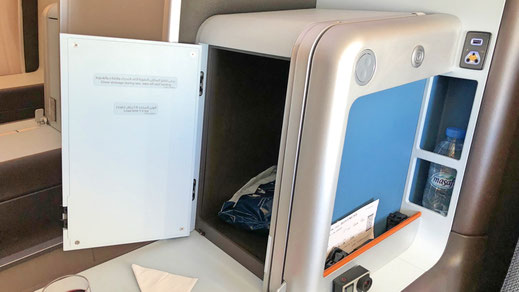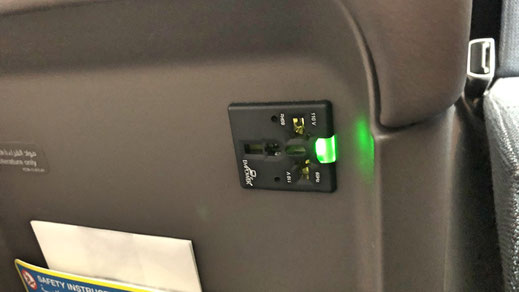 Personal Entertainment and Noise-Cancelling Headphones
The personal entertainment screen in front of you was very clear and not as grainy as you probably know from other airlines. It was also extremely responsive and had a handful of good movies. The headphones did a great job cancelling the noise of the engines. On majority of FlyDubai 737 you can even browse the internet but the MAX doesn't have the option yet.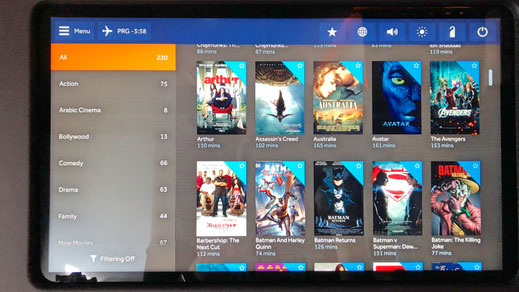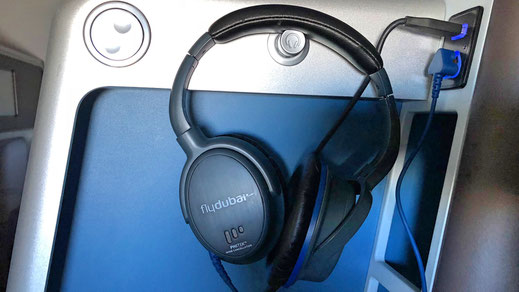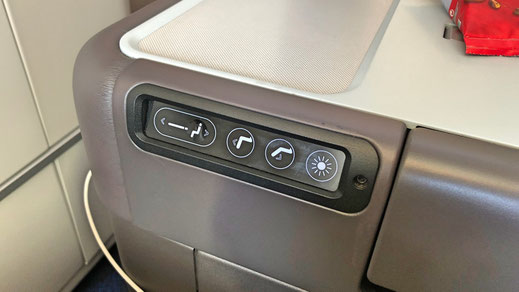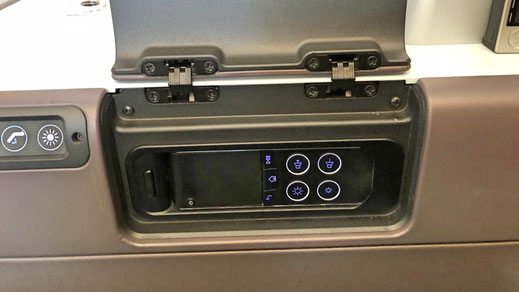 Great Service and Delicious Food
FlyDubai's Business Class does feel like a real Business Class. Welcome drinks, hot towels, wine list and a very nice crew. A lovely young lady from the Philippines would look after me and she did an incredible job. I was very pleased with her performance. She would constantly check on me. Also the food was good. Everything was served at once, starter, main and dessert on one tray.
As for the main I could choose between Braised Beef, Georgian Chicken and Potato Croquettes. The real highlight was the amazing Vanilla Cake though. Great dining experience.
A few hours into the flight the crew would offer me a chicken wrap and would constantly check on my drinks.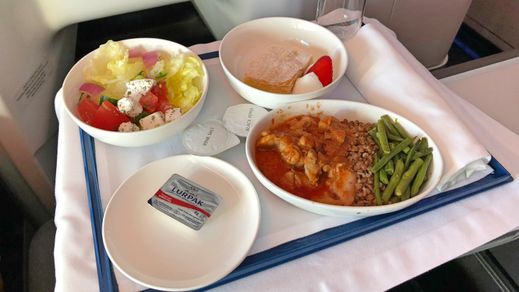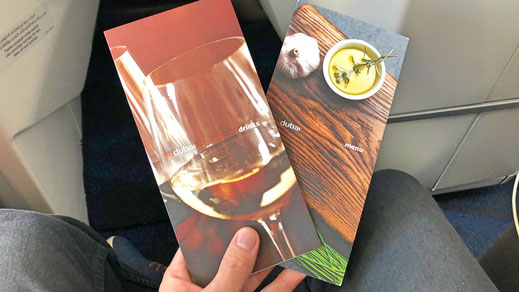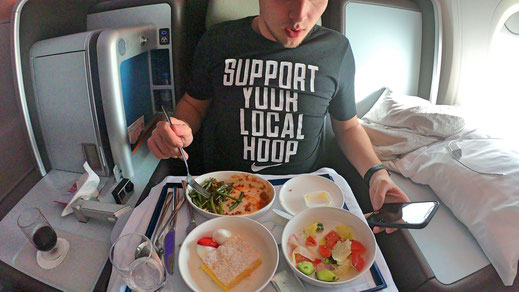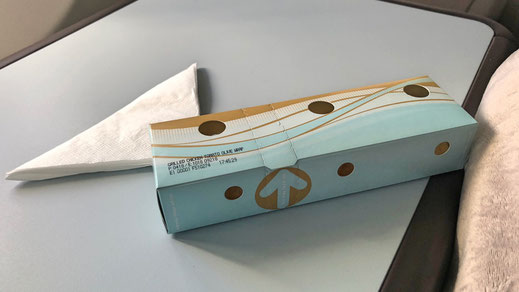 FlyDubai's 737MAX New Business Class Bottomline:
If I would need to sum up FZ's new Business Class I would say 'wow'. I was never expecting such an experience with a low budget airline. The seat was really nice, especially the 'Throne' style ones. The FlyDubai lounge at Terminal 2 doesn't really match the new product but that must be the only negative thing I have to say. The service was outstanding, the food delicious and overall I was more than satisfied.
My Travel Hacks shared with you!
As a Frequent Flier, I usually book my trips on JustFly (cheapest fares) or CheapOair (great Business Class deals). Check it out!
I put together a whole article with my best Business Travel Hacks and Trips. Including how to get cheap lounge access, affordable airport pick ups or how to find the best seat on your next flight, check it out!
---
Before you go, read another review.
---