The most surprising flight of 2018 was definitely on Air Astana. Literally everything was perfect, starting from the seat, the crew, the service and especially the food. The Kazakhstan-based carrier definitely deserves a 5-Star rating and without a doubt, I would fly them any time again... Read my full review to find out more...
Flight Details:
Flight Air Astana KC921
Astana Airport to Frankfurt Main, May 24th
Boeing 767-300ER P4-KEA
Duration: 06:10 hours.
Seat: 7K (Business Class)
Check out my Air Astana Video Review ->
If you don't want to read the review (I know, too many words) you can just lean back and enjoy my video report which gives you a detailed inside of what it's like to travel on Air Astana Business Class experience.
Enjoy and if you liked it please give it a thumbs up and subscribe to my channel for more airline reviews.
The Air Astana Business Class Seat
Air Astanas Boeing 767 features 30 seats in Business Class in a 1-2-1 with direct aisle access. Due to the smaller body of the 767 the seats are a bit narrow if you happen to be a big guy. The seat goes fully flat and is very comfortable. It also comes with a few pockets to store stuff. The screen in front of you is from great HD quality. The design is very charming and the Business Cabin feels very bright and welcoming as well as the crew.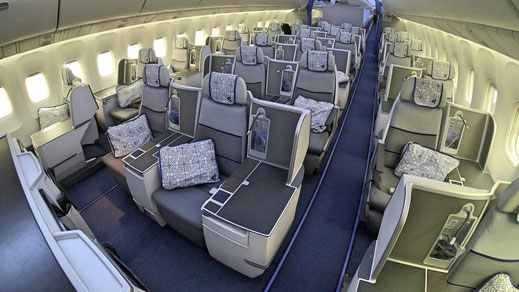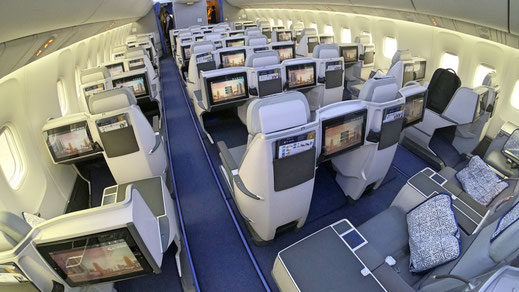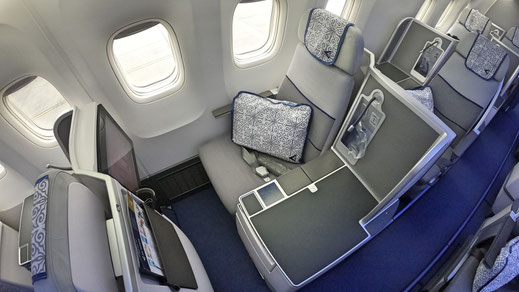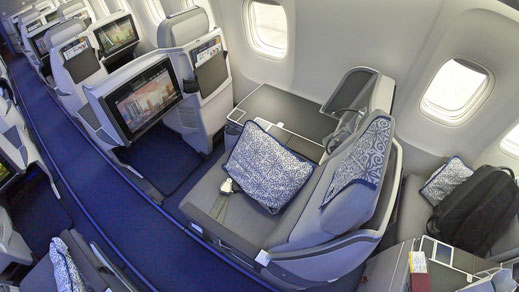 Air Astana Economy Class
The Economy Class offers 190 seats in a 2-3-2 configuration. Each seat features a Personal Entertainment screen as well as an Amenity kit, something barely any airline offers in their Economy. Great to see! I noticed a lot of happy faces when the Economy Class passenger disembarked the airplane, so I guess the service is spot on too.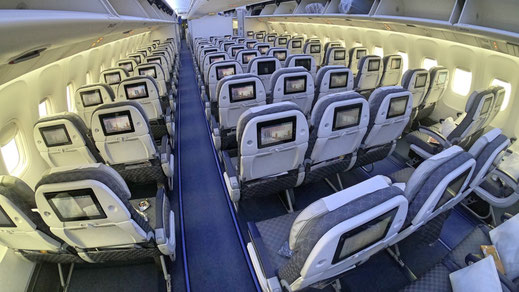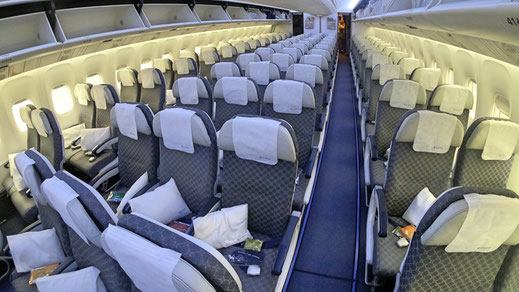 Air Astana Dinning Experience
The food options given on my flight were amazing. You can choose among a few dishes and the presentation was even better. I was seriously impressed. I love the whole concept, the tableware and the portions. I was also impressed with the speed of the service. After the main course the crew came through the aisle with a cart, displaying all the dessert options. It was all very well presented and you get an actual look at the dessert before picking one. I also liked the wine list and the other beverage choices, very well done.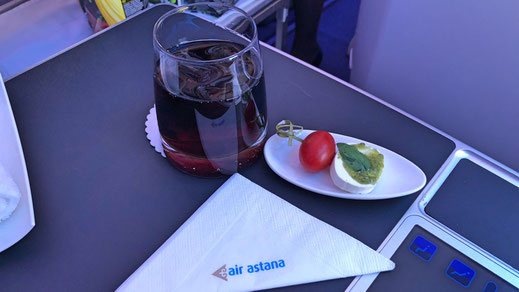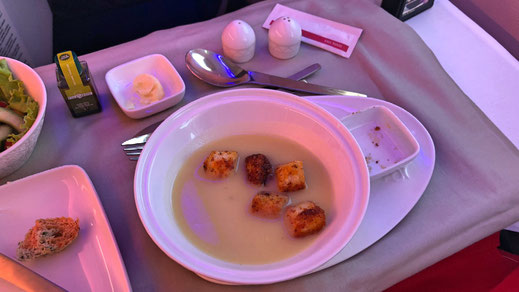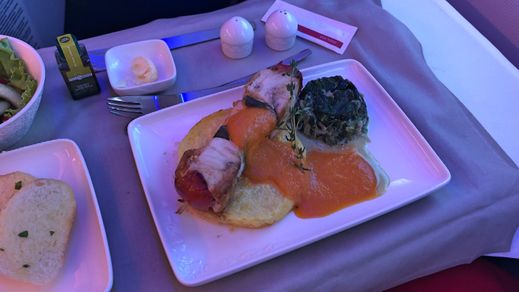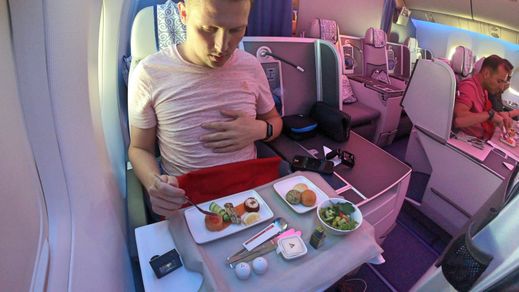 Air Astana Entertainment and Internet
The entertainment was ok, nothing extraordinary but it gets you through the flight. Air Astana offers inflight WiFi for a fee. I wish Air Astana would offer a free 20MB allowance or such, like most other airlines. The speed of the internet was great though. As a Business Class passenger you also get an amenity kit as well as a fast track voucher.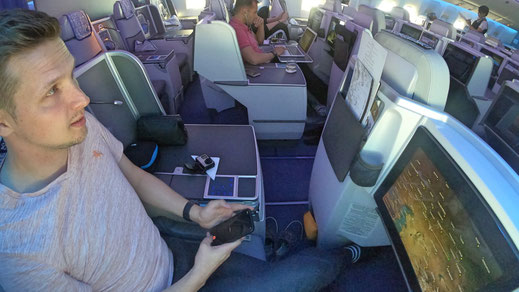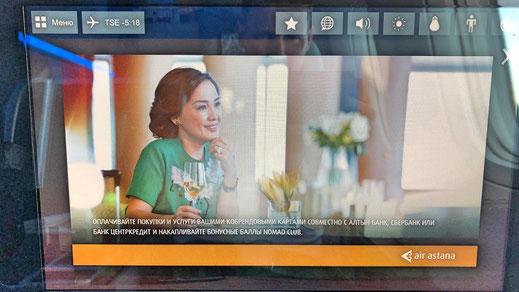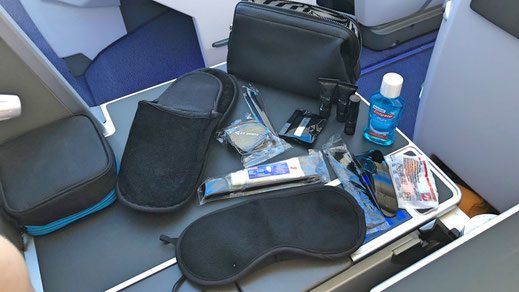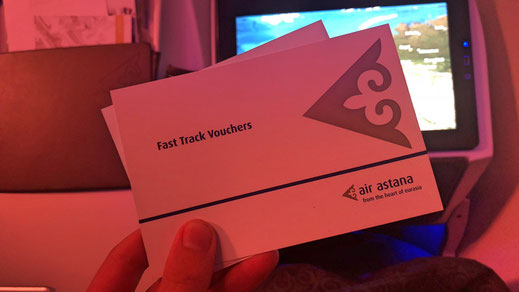 Air Astana Business Class Bottomline:
Air Astana is an absolute gem and a world-class airline which knows how to look after its customers. The service was brilliant, the crew extremely welcoming and the seat very comfortable. The food was lovely and fresh. The entertainment was ok, nothing special, also the internet was bit expensive, however It didn't bother me much. I would, without hesitation, book a ticket on Air Astana any time again.
My Travel Hacks shared with you!
As a Frequent Flier, I usually book my trips on JustFly (cheapest fares) or CheapOair (great Business Class deals). Check it out!
I put together a whole article with my best Business Travel Hacks and Trips. Including how to get cheap lounge access, affordable airport pick ups or how to find the best seat on your next flight, check it out!
---
Before you go, read another review.
---