I'm a big fan of Chinese Airlines since they have done a great job improving their products over the past years. I was very keen this time to try China Southern Airlines First Class to London Heathrow after experiencing their A380. It's an very interesting product and let me introduce it to you...
Flight Details:
Flight China Southern Airlines CZ303
Guangzhou (CAN) to London Heathrow (LHR), June 15th
Boeing 787-8 B-2788
Duration: 12:10 hours.
Seat: 1K (First Class)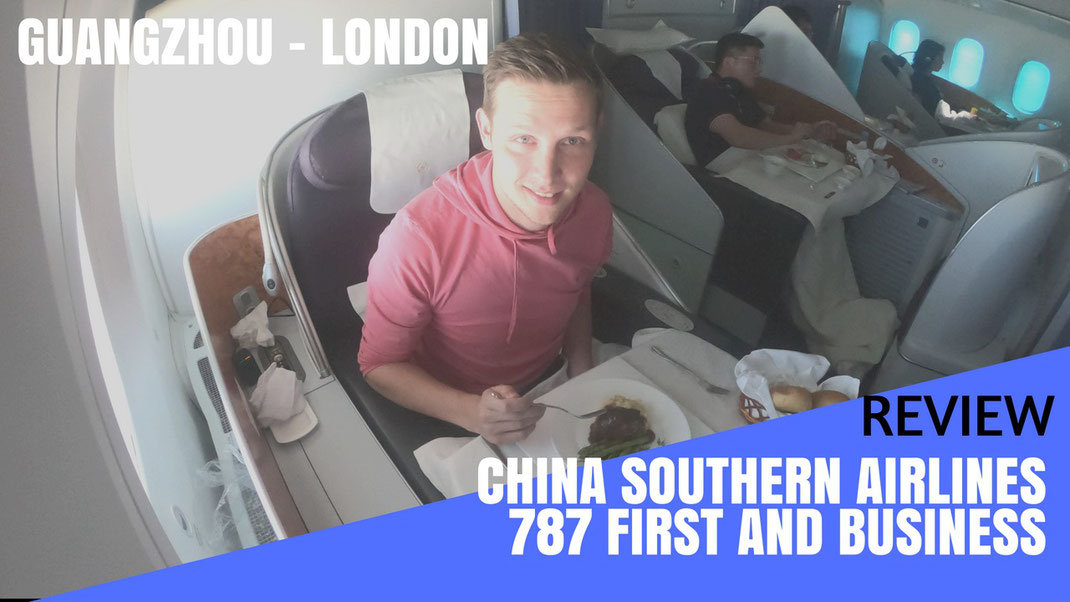 China Southern 787 Video Review ->
If you don't want to read the review (I know, too many words) you can just lean back and enjoy my video report which gives you a detailed inside of what it's like to travel on China Southern Airlines First Class.
Enjoy and if you liked it please give it a thumbs up and subscribe to my channel for more airline reviews.
The China Southern Airlines First Class Seat
On China Southern's 787 the First Class Cabin feels very exclusive and comes in a 1-2-1 configuration. The seat is extremely spacious and goes fully flat. It features a personal entertainment screen right in front of you. I found the screen to be too small though, considering the distance between you and the TV.
The seat also comes with a universal power outlet, USB-slot and a ottoman with a lot of room for personal belongings. A foldable table is stored to your right. The table is very spacious and solid. I must say though that China Southern's A380 First Class offers even more privacy. You also get noise-cancelling headphones and an amenity kit which was very basic.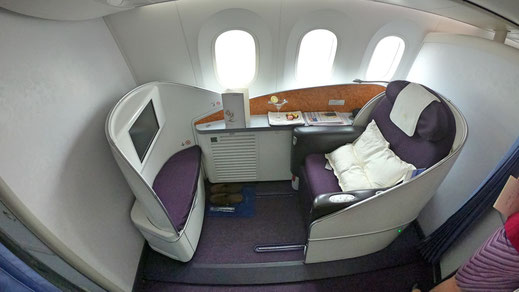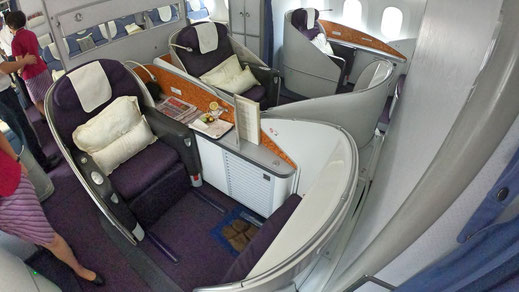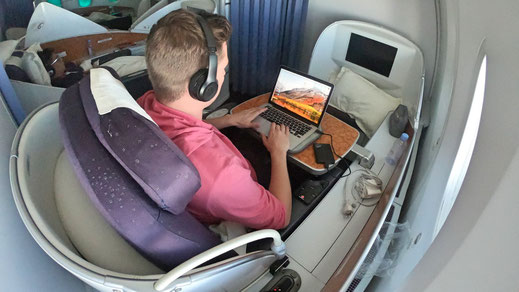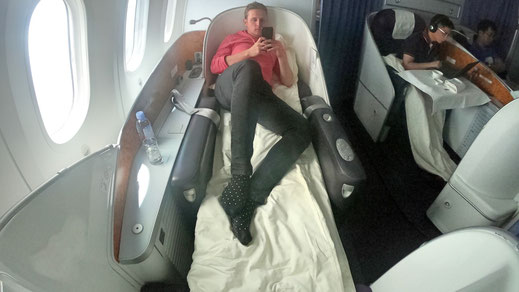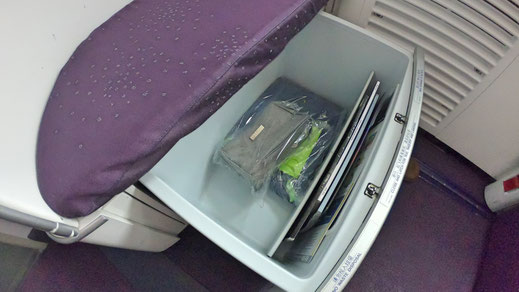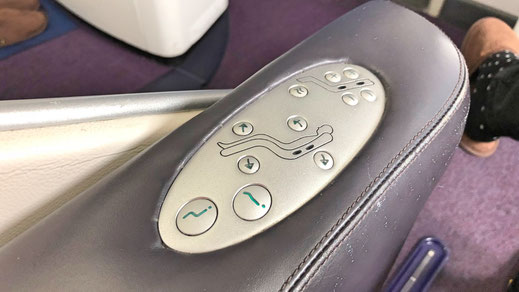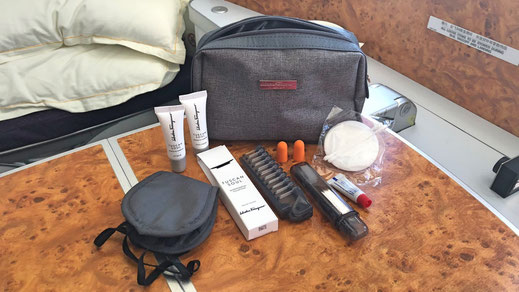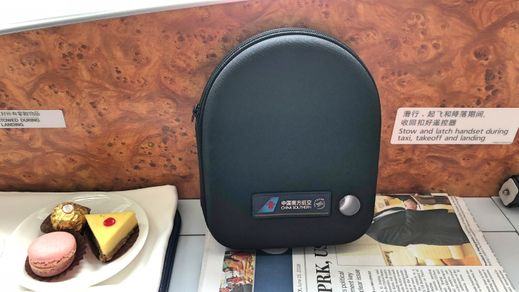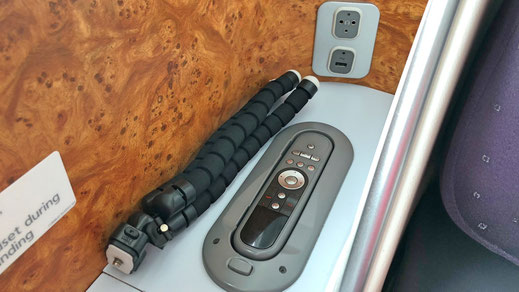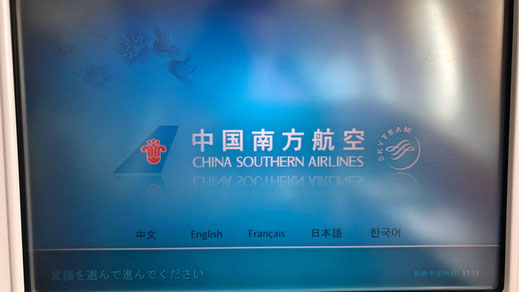 China Southern Airlines Business Class Seat
China Southern's 787 Business Class cabin comes in a 2-2-2 configuration with 24 seats in total. Also those seat go completely flat. Every seat comes with Personal Entertainment and the screen is even bigger than the ones in First Class. They feature a personal power outlet as well as an USB-slot.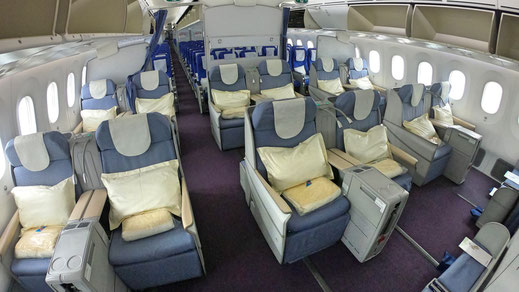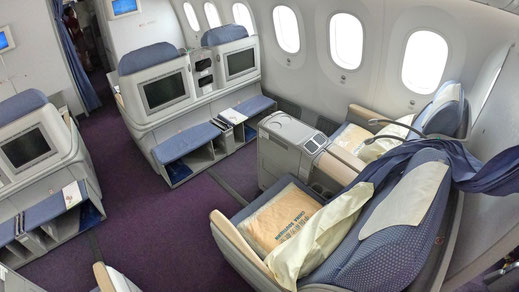 China Southern Airlines Economy Class
China Southern's Economy Class looks a bit outdated in comparison to the new recently introduced cabin on the new A330-300. The cabin features 200 seats in total in a 3-3-3 configuration. Each seat has a personal entertainment screen, a USD-slot but no power outlet. The airline also provides headphones as well as a blanket and pillow. The 787 doesn't offer WiFi onboard.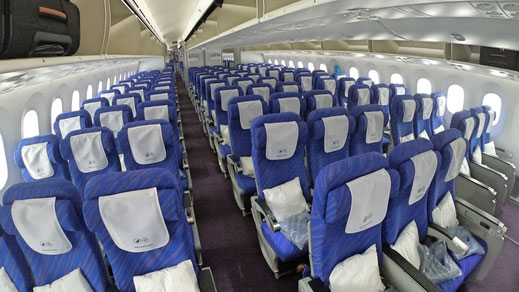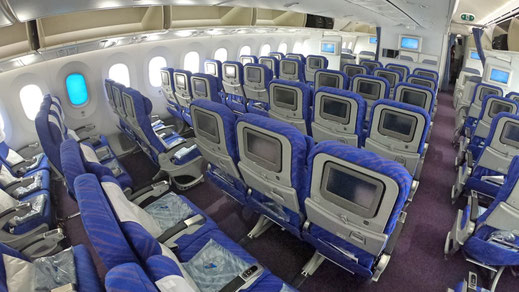 China Southern First Class Breakfast
The breakfast service started once we reached cruising altitude. I was able to pick between a western brekky or the Chinese option. The service kicked off with cereals and fruits, followed by poached eggs, with sausages, spinach and a cherry tomato on top. The presentation was lovely and the food service extremely fast and efficient.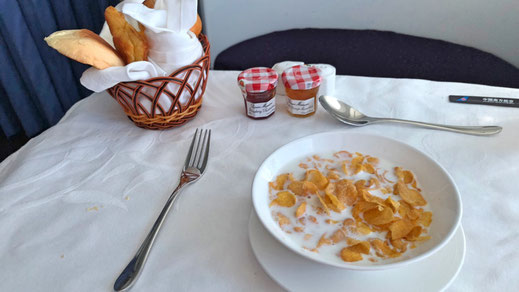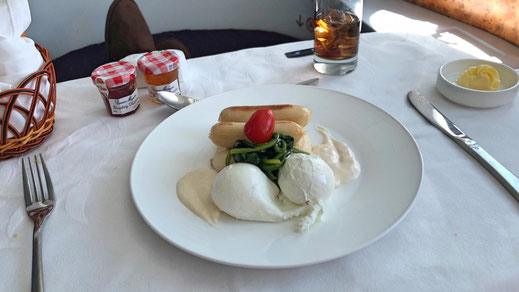 China Southern First Class Dinning
The dining started 3 hours prior landing. Once again my lovely crew from Korea got my table ready. As a starter I was served a Chinese Meatballs Soup, followed by ham and prawns with a mango side, I didn't really like it. The main course consisted of a Beef Tenderloin, with a side of mashed potatoes and asparagus.
I usually like my steak raw but this one was extremely well done. On Hainan Airlines the crew literally asks you how you'd like your steak done. Still the best steak I ever had on an airplane. As a dessert I got more fruits. Once again, the service was great and very efficient.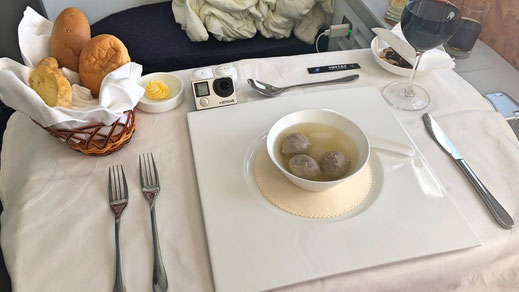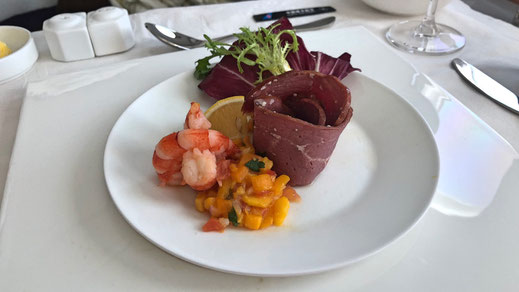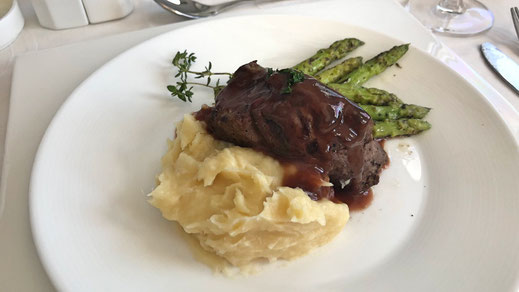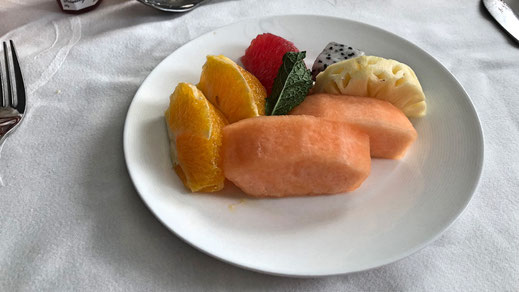 China Southern Airlines First Class Bottomline:
You can't compare China Southern's First Class with those of Emirates or Air France, but it's definitely an upgraded Business Class. The seat was great, the sleep quality outstanding. Also the service was very personal and efficient. The screen could have been bigger, also the amenity kit was rather disappointing for a First Class journey. The new Terminal in Guangzhou is amazing though. Very bright and spacious. I'd fly them again!
My Travel Hacks shared with you!
As a Frequent Flier, I usually book my trips on JustFly (cheapest fares) or CheapOair (great Business Class deals). Check it out!
I put together a whole article with my best Business Travel Hacks and Trips. Including how to get cheap lounge access, affordable airport pick ups or how to find the best seat on your next flight, check it out!
---
Before you go, read another review.
---