1. Operates transatlantic flights from more UK cities than British Airways.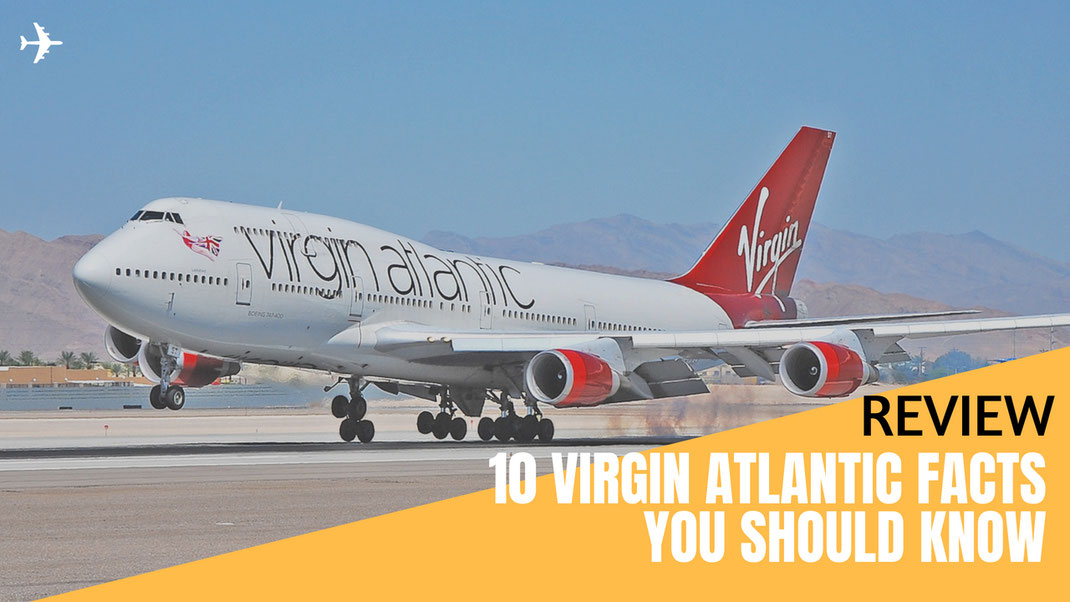 While British Airways operates all of its transatlantic long-haul flights from its bases at London's Heathrow and Gatwick Airports, Virgin Atlantic has a secondary base in Manchester in Northern England, as well as operates numerous seasonal point-to-point routes from smaller cities throughout the Great Britain and Northern Ireland, in addition to its bases at both Heathrow and Gatwick. These point-to-point routes include Glasgow and Belfast to Orlando using the Boeing 747-400.
British Airways, sticking to its purely hub-and-spoke route network, requires all travelers from these smaller cities throughout the country to connect in either Heathrow or Gatwick before continuing on. This is mainly because Virgin doesn't have a short haul fleet to transport passengers from throughout the country to its main hubs, but it does benefit passengers in the North in that they can take a nonstop flight without having to go through London.
2. Virgin Atlantic flies old Air Berlin planes.
The fan blade issues with the Trent 1000 engines that power Boeing 787 Dreamliners greatly affected Virgin Atlantic. One of the first European airlines to place an order for the 787-9 Dreamliner, the medium size variant of the type, the airline wanted to replace its aging fleet of A340-600s and Boeing 747s. However, the problems with the engines have caused the airline to push back those plans.
To compensate for the issues, Virgin reinstated two of its previously retired A340-600 aircraft to its fleet to operate popular long-haul routes such as London-New York, as well as leased 4 Airbus A330-200 aircraft used by Air Berlin, which ceased operations in 2017. Once the 787 problems are fixed, the airline intends to retire its 747 and A340 fleet, replacing it with a streamlined and fuel efficient A330, A350 and Boeing 787 fleet.
3. Started by Sir Richard Branson.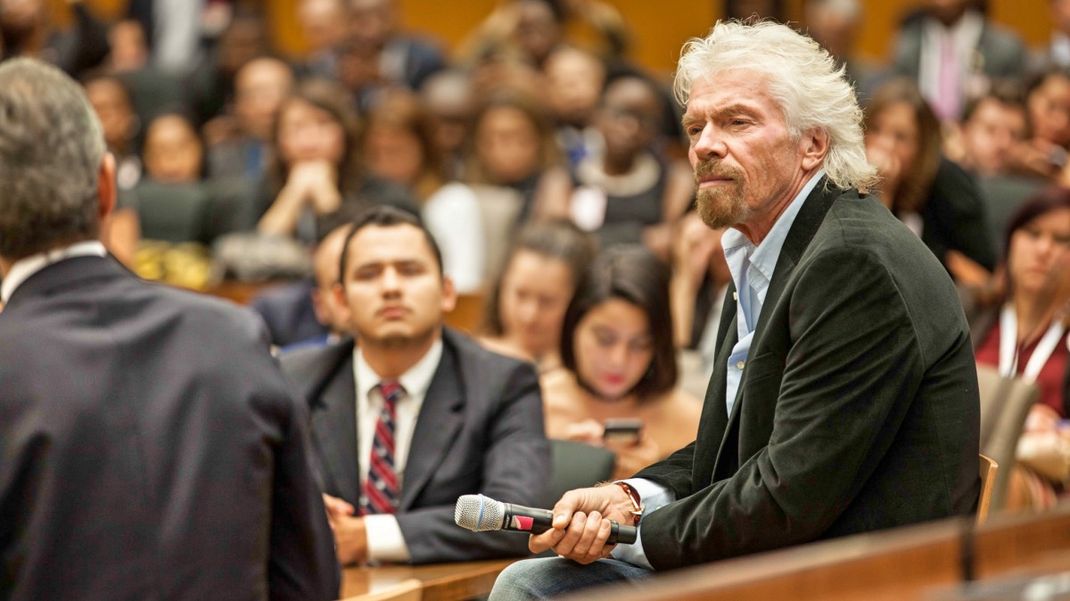 Virgin Atlantic can trace its roots back to eccentric British entrepreneur Sir Richard Branson of Virgin Group fame. Largely trading on the Virgin Groups existing success and popularity amongst the British public, Sir Richard was able quickly expand the airline from its humble beginning operating a Boeing 747-200 from London to Newark.
Sir Richard applied his famous strategy of giving the business one year and if not profitable in 12 months, leave the market. Once the airline proved successful, Sir Branson expanded the airline with additional 747s and new routes such as London to New York, Tokyo, Los Angeles, Boston and Orlando. Long haul routes were the key focus but short haul routes to neighboring countries were also operated.
4. Virgin Atlantic offers an In-flight bar.
In the airline's premium cabin, known as Upper Class, an in-flight bar is featured and allows passengers to sit and have a drink while cruising 7 miles above the Earth's surface. Common areas are seldom found on airplanes due to space constrictions and the desire to pack as many seats as possible into them. However, the bars allow for a place to go other than one's seat and have conversation with fellow passengers.
While the feature is nothing new and is available on airlines such as Emirates, Korean Air and Qatar Airways, Virgin's in-flight bar is available on all of its long-haul aircraft (except the ones it leases from Air Berlin). In addition, Virgin's in-flight bar was featured in the James Bond movie Quantum of Solace where Bond orders a Vesper martini enroute from London to South America while everybody else is sleeping.
5. One of the last A340-600 Operator.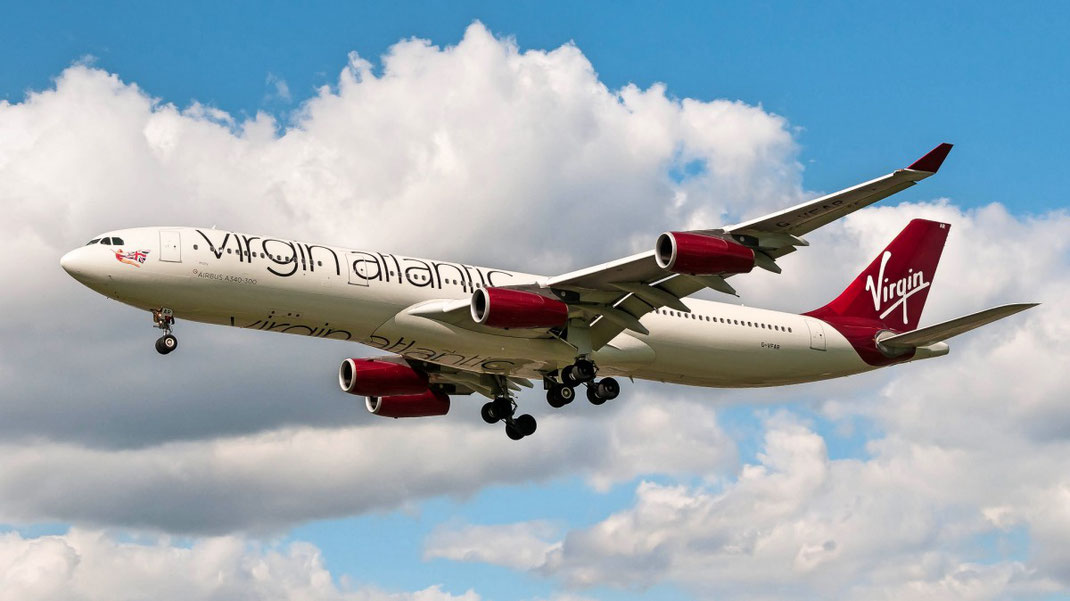 The Airbus A340-600 is a dying breed of aircraft for numerous reasons. Its size is too big, and weight is too much for some taxiways at even the world's busiest international airports, including New York's JFK Airport, and it's a fuel in-efficient aircraft. Virgin plans to retire the quad engine aircraft but must wait until the problems with its 787 aircraft are completed.
Once the 787 problems are squared away, the airline can continue its replacement of the A340-600 with more fuel-efficient aircraft including the Airbus A350XWB. Until it does, it joins the likes of Lufthansa, South African Airways, Iberia and a handful of others as one of the few remaining A340-600 operators on routes such as London to New York and San Francisco.
6. Has or had sister airlines throughout the world.
Seeing the name "Virgin" on the side of a plane is not exclusively a British thing. Three other countries have or had airlines that the bare the Virgin name, including Australia, Nigeria and the United States. In Australia, Virgin Blue, now Virgin Australia, was started by the Virgin Group in 2000, competing against Qantas as a lower cost alternative. In Nigeria, Virgin Nigeria Airways was founded in 2004 as a joint venture between the Virgin Group and investors in Nigeria. However, airline rebranded as Nigerian Eagle Airways in 2009, then Air Nigeria in 2010 and collapsed in 2012.
In the United States, Virgin America came on the scene in 2007 and operated transcontinental flights using Airbus A319 and A320. A hit amongst Americans due to its groundbreaking features such as touchscreen televisions with remotes, on-demand food and drink service the screens and massage features in first class, the airline was a huge success. However, as its fame grew bigger, it became the target of major carriers in the U.S. and was bought by Alaska Airlines. The airline ceased operations in 2018.
7. Main bases are London Heathrow and Gatwick with a secondary hub in Manchester.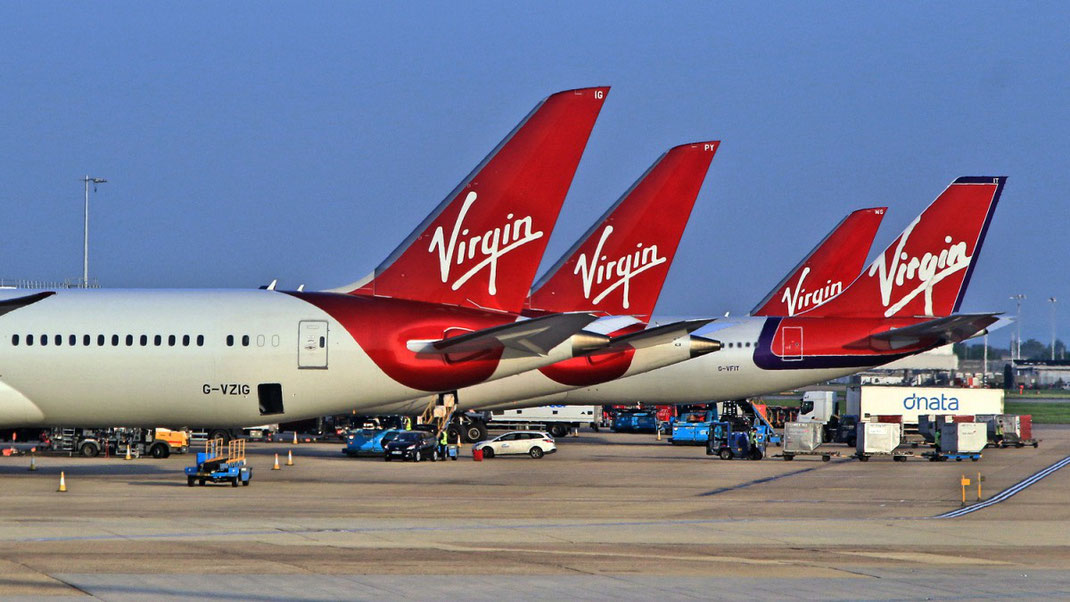 Like British Airways, Virgin Atlantic splits its London operations between the capital's two main international airports, the larger Heathrow Airport and the smaller Gatwick Airport. From Heathrow Airport, Virgin Atlantic operates its routes that are more geared towards business travelers such as London to New York, Hong Kong, Shanghai, Los Angeles, Dubai and Washington, while at Gatwick, the airline serves more holiday-type destinations such as Barbados, Havana and Saint Lucia.
In the North, Virgin's Manchester hub serves a combination of business and holiday routes. Business-wise, the carrier operates Manchester to New York and Boston, while holiday-wise the airline operates Manchester to Barbados, Orlando and Las Vegas.
8. Virgin Atlantic doesn't have a short haul fleet.
While the new norm for airlines nowadays is to operate a hub-and-spoke route network where smaller aircraft serve short haul routes to connect numerous cities to an airline's main hub where they can connect to longer flights, Virgin Atlantic doesn't have any short haul routes that feed into any of its hubs. The airline used to operate a fleet of A320s under the "Little Red" brand from London to cities in Northern England and Scotland such as Manchester, Edinburgh and Aberdeen. However, the brand was unprofitable and ended operations in in 2015.
However, as previously mentioned, the airline does operate select routes from non-hub cities including Belfast and Glasgow, as well as maintain a secondary long-haul base at Manchester Airport. The select routes and Manchester hub allow for travelers in Northern Great Britain and North Ireland to avoid having to go to London, but for most routes, you'll have to find your way to London on a different airline – including Flybe, which Virgin has a codeshare agreement with - or a Virgin train.
9. Virgin Atlantic serves Ice Cream and fresh Coffee in Economy.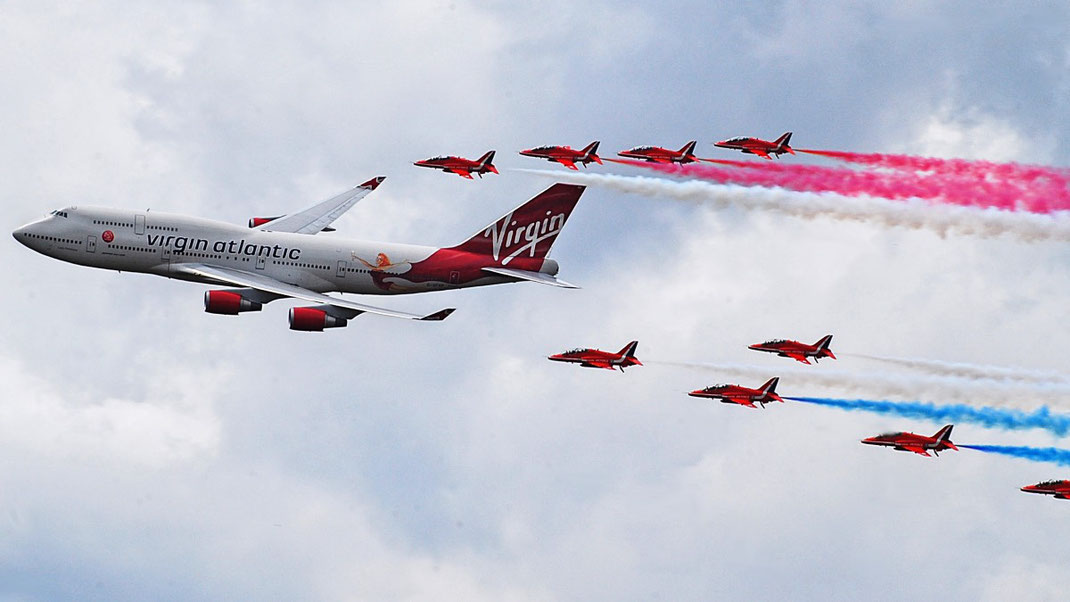 While ice cream in-flight is usually a treat reserved for premium class passengers, Virgin serves its economy class passengers ice cream on select routes. The cold treats are served as a snack during long haul flights and required special refrigerators to keep cold in-flight without melting. The airline plans to install soft serve ice cream machines in the galley for passenger to enjoy as they please.
Additionally, the airline is experimenting with on-demand barista machines to make fresh coffee made to order. Features of the new machine are slated to include a slider to adjust the amount of milk to be put in the cup. The special coffee will be a coffee lover's dream and a great replacement to the standard regular coffee currently served.
10. Virgin Atlantic isn't part of an Airline Alliance.
Unlike many of the world's long-haul airlines, Virgin Atlantic isn't part of an airline alliance, preferring individual codeshare agreements. The lack of an alliance means that the carrier has less options to give passengers in terms of connecting flights both abroad and at home, but also less ways for frequent flyers to earn miles on partner airlines. However, the carrier does have code share agreements with Air China, Air New Zealand, Delta Air Lines, Flybe, Jet Airways, Singapore Airlines and Virgin Australia, which it relies on for short haul flies.  
Additionally, Virgin is member to a potential joint venture between Air France-KLM and Delta Air Lines, both SkyTeam alliance members. The joint venture would allow for increase long haul flight offerings, better connecting options, streamlined service at airports and benefits for frequent flyers. Virgin signed an agreement outlining the terms of the joint venture just recently.
My Travel Hacks shared with you!
As a Frequent Flier, I usually book my trips on JustFly (cheapest fares) or CheapOair (great Business Class deals). Check it out!
I put together a whole article with my best Business Travel Hacks and Trips. Including how to get cheap lounge access, affordable airport pick ups or how to find the best seat on your next flight, check it out!
---
Before you go, read another story!
---