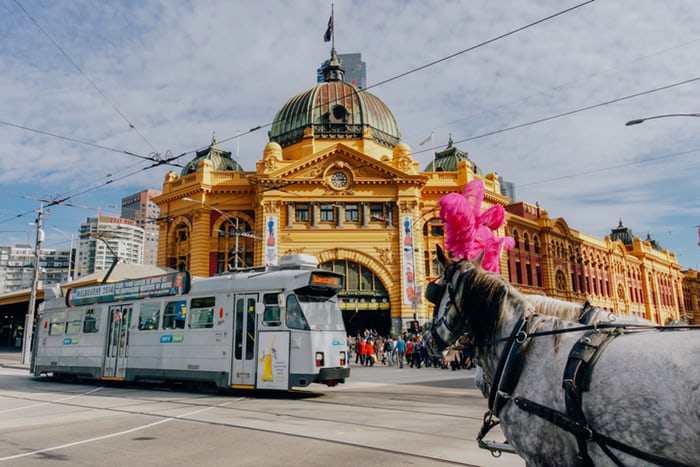 Whilst Melbourne is not the official capital of Australia, it certainly is the land down under's capital of creativity, coffee and culture. Very few places in the world are further south than it, but despite its coastal location, it's not considered one of Australia's best beach destinations. Instead, the real appeal of Melbourne is its chilled, city atmosphere that encapsulates metropolitan Australia. 
The city is packed with restaurants, galleries and museums - and when the sun goes down there are plenty of things to do at night. Melbourne is very much a modern, liberal city, with its diverse population that embraces multiculturalism. It's best navigated on foot or by public transport, with buses, trains and trams available. It is home to the country's intelligentsia, fashionistas and trend setters. Architecture is an interesting mix of modern construction, Victorian cityscape, and open parks, providing plenty of variety. 
Here are some highlights.
Horse Racing
Visiting Melbourne during the Australian Spring (same time as Autumn in the northern hemisphere) will give you access to many celebrations and festivals. Included in these are the many horse racing events that take place in October and November. 
The prestigious Melbourne Cup runs in early November, with the day being a public holiday for most of the state of Victoria. Another is the Cox Plate, which is held a couple of weeks earlier at the Moonee Valley Racecourse. The winner of the Cox Plate is automatically granted entry into the Melbourne Cup. This year's race is likely to be a close one with Lys Gracieux and Avilius currently being given similar odds.
Sports
If you are a fan of other sports, Melbourne has you covered too. The city is home to Melbourne Cricket Ground which hosts 4 Australian Football Clubs, the Australian national cricket team, and three league cricket teams. The ground is located inside the Melbourne Sports and Entertainment Precinct, which also contains other actively used stadia.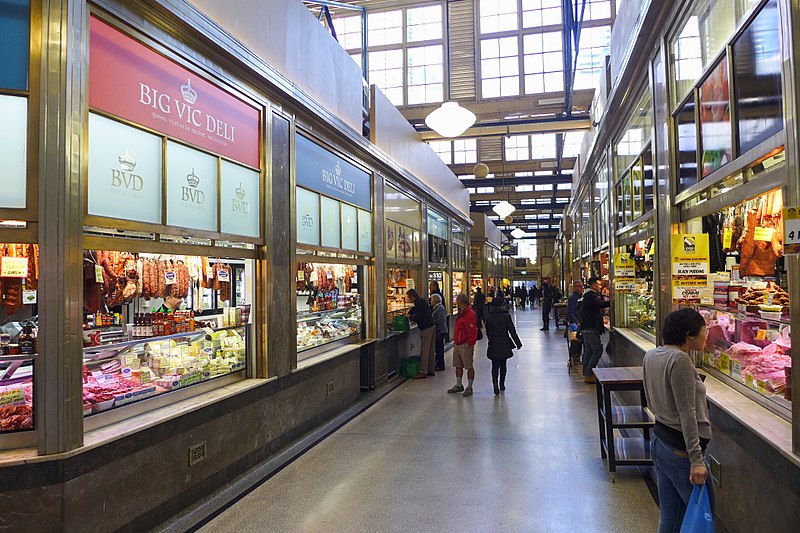 Queen Victoria Market
The Queen Victoria Market is one of the major architectural sights in Melbourne. It is the largest open air market in the Southern Hemisphere, covering seven hectares. Located in the Central Business District, it spans two city blocks and was opened in the 1860s and has been developed and extended ever since. 
Whilst initially being used as a wholesale and retail market that served an important function in the day to day economy of Melbournians, the market has become a major tourist destination in recent years.
During the summer, you can also visit at night when the market turns into a selection of live entertainment venues, bars and restaurants, creating a very different experience.
Royal Botanic Gardens
There are two Royal Botanic Garden sites in the state of Victoria, one in Cranbourne and the other in Melbourne. Work began on the gardens in Melbourne back in 1846, creating an area on the side of the Yarra River that spans 36 hectares. 
The Royal Botanic Gardens in Melbourne has 8,500 different species of plant, with a total of around 50,000 individual plants on display spanning 30 collections. Aside from the nature, the gardens have plenty of facilities including cafes, shelters, barbecues, toilets and a gift shop, and convenient access is available by train, tram, and bus, but you can also drive if you prefer that.
Sightsee on the Tram
The City Circle Tram is a free service that runs between the city's main sights, including the Old Treasury Building, the Princess Theatre, Parliament House, and Federation Square. You can hop on and off at multiple points and a recorded commentary gives you all the information you need to understand the history and significance of what you're looking at. 
State Library of Victoria
Built in 1856, the State Library of Victoria has grown to become more than just a house of books. 8 million people pass through its doors every year to use the desks to work from, stand in awe at the octagonal central rotunda and book lined walls. You can navigate the library yourself, or take advantage of the free tours that will teach you about the building's history and architecture.
Melbourne is a beautiful city with a mix of old and new. Its built environment and natural parks help to provide a balance that feeds to cosmopolitan atmosphere that makes Melbourne one of the must visit places in the country.
---

---
Leave a Comment below: